VALENTINE'S DAY BEAUTY
By Gerrie Summers
Roses are red, chocolate is oh so good! Here, our top Valentine's Day beauty essentials that are rosy, red, and chocolatey for you! These products will have you looking and feeling great for that special day—and night.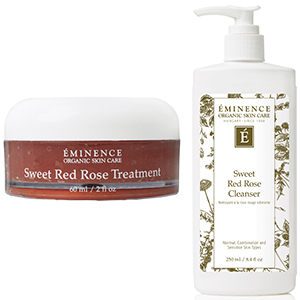 EMINENCE
Sweet Red Rose Collection
Start Valentine's Day with a revitalized face. Sweet Red Rose Cleanser (especially great for sensitive skin and those with rosacea) has sweet red rose extract to replenish skin's moisture barrier (so needed this time of the year). Sweet Red Rose Treatment is a skin regenerating treatment for normal, dry and sensitive skin. It has a combination of sweet red rose petals, honey and other ingredients to improve skin's complexion and appearance. Info: Cleanser, $36; Treatment, $58; buynaturalskincare.com.
---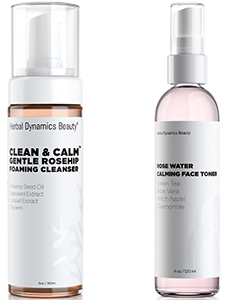 HERBAL DYNAMICS BEAUTY
Clean & Calm Foaming Face Cleanser/Rose Water Calming Face Toner
A lovely face starts with a good cleanser. Clean & Calm Foaming Face Cleanser helps balance skin's natural pH while gently cleansing away impurities. It contains rosehip seed oil for smoother, more elastic skin. Follow with Rose Water Calming Face Toner, which soothes the skin with rose, green tea, chamomile and witch hazel plus aloe and hyaluronic acid to hydrate. Apply before your serum and moisturizer. Info: Cleanser, $22; Toner, $12; herbaldynamicsbeauty.com.
---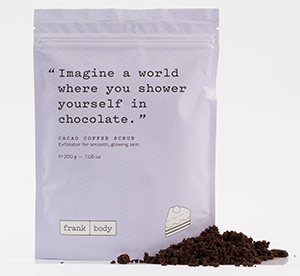 FRANK BODY
Cacao Coffee Scrub
This fabulously scented Cacao Coffee Scrub features two of my favorite things— chocolate and coffee, without the calories and the jitters! Coffee grounds are great for exfoliation, stimulating circulation and promoting collagen production. Organic cacao extract hydrates skin. Along with nourishing cold pressed macadamia oil and sweet almond oil (helps fade discolorations) you'll be left with soft, smooth, touchable skin and you'll also smell amazing. Info: $18.95; frankbody.com.
---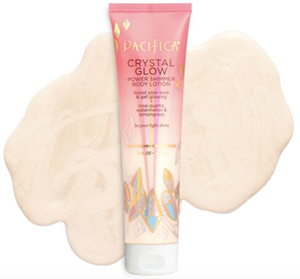 PACIFICA BEAUTY
Crystal Glow Power Shimmer Body Lotion
Shine bright like a diamond…or crystal. Crystal Glow Power Shimmer Body Lotion will have you looking like you're glowing from within. Rose crystal extracts are blended with aloe and sunflower oil for moisturized skin with an energized glow. Rose quartz is known as the romance stone, used to attract love and is a healing crystal for the heart. Info: $15; pacificabeauty.com.
---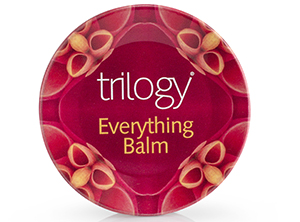 TRILOGY
Rose Hand Cream/Everything Balm
If you were tempted to soak in a hot bath (instead of tepid), you probably feel relaxed and wonderful, but hot water strips your skin of much needed moisture, especially in cold weather months. Here's help to get your hands and body soft and smooth, great to touch and be touched! Everything Balm is a multi-purpose balm that can be used on the lips, heels, knees, hands, face and body where skin needs a soothing salve for nourishment and healing. Rose Hand Cream hydrates hands, soothes cuticles as well as strengthens nails. Both contain certified organic rosehip oil and have a sweet rose scent. Info: Rose Hand Cream, $28; Everything Balm, $22; trilogyproducts.com.
---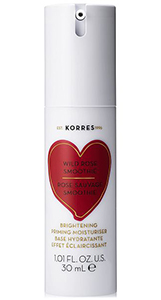 KORRES
Wild Rose Vitamin C Active Brightening Oil/Wild Rose Smoothie Brightening Priming Moisturiser
Wild Rose Vitamin C Active Brightening Oil is quick absorbing and infused with real rose petals and a powerful form of Vitamin C for glowing, radiant skin. You can also add a drop or two into your foundation sponge and brush before applying makeup, for a flawless finish. Or use the Wild Rose Smoothie Brightening Priming Moisturiser, a silicone-free priming moisturizer also infused with Vitamin C, as well as wild rose oil and turmeric extract as an all-in-one makeup primer, moisturizer and skin brightener. Info: Vitamin C Active Brightening Oil, $54; Smoothie Brightening Priming Moisturiser, $45; korresusa.com.
---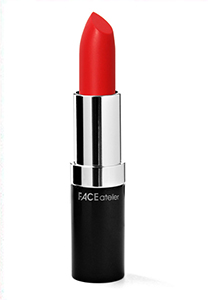 FACE ATELIER
Lipstick
What's perfect for your Valentine's Day look? Why, beautiful red lips of course! Try Kona (orange-red matte), Strawberry (yellow-red matte) or Red Fuchsia (blue-red matte) for soft, kissable lips. All are vegan, long-lasting and hydrating with organic seed oil and natural waxes. Info: $24; faceatelier.com.
---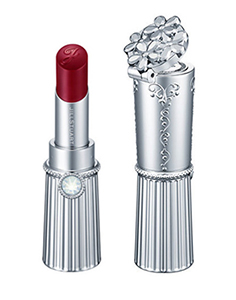 JILL STUART
Lip Blossom Velvet
For lips that are soft and lush as velvet, try Lip Blossom Velvet in 01 Romantic Camellia, a deep romantic red. It is a long-lasting semi-matte, with a velvety texture and infused with the Crystal Floral Bouquet scent. The lipstick case is designed to look like a bouquet, with a white opal Swarovski crystal and a relief of four flowers on top opens to reveal a secret mirror. It's pretty enough to present as a gift along with a box of chocolates. Info: $24; jillstuartbeautyusa.com.
---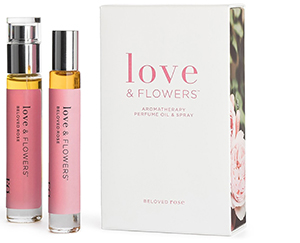 EO ESSENTIAL OILS
Love & Flowers Aromatherapy Perfume Oil & Spray
The Beloved Rose scent is a soft, sensuous fragrance with notes of Damascus rose, Sandalwood and Himalayan cedar wood essential oils, which will leave you unforgettable. Info: $95; eoproducts.com.
---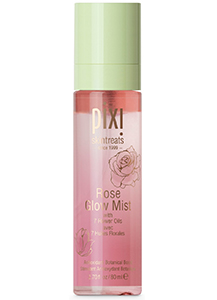 PIXI BY PETRA
Rose Glow Mist
For a natural glow, spray your face and neck with Rose Glow Mist. It's infused with seven types of rose flower extracts, as well as avocado and argan oils. You can also use it after applying makeup for a natural, dewy finish or when you need a hydrating boost. Info: $15; target.com.
---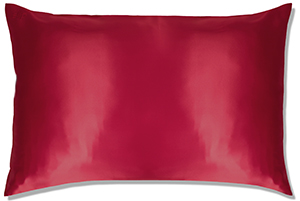 SLIP
Pure Silk Pillowcase
Perfect for pillow talk is this pillowcase of gentle silk fabric—and is not damaging to your hair. Avoid sleep facial wrinkles and creases... and have yourself pleasant dreams! Info: Pure Silk Pillowcase, $85; slipsilkpillowcase.com.