BITS & BAILEY
The Who, What, And Wow Of NYC's Luxury Scene
By Bailey Beckett
Cheers, dears! 2019 is upon us, and what better time to put on that Fendi chinchilla coat, your beloved Chanel Après ski boots, and Karl-centric Caussee leather gloves and see what this month's hubbub is all about. It might be cold outside, but this month's Bits & Bailey is scorching hot with Valentine's Day fever. Love has never been chicer.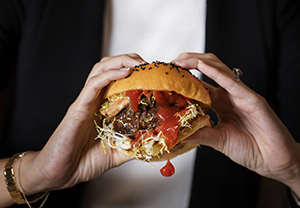 PACK!
Flowers are so 2018. Up your ante with a surprise trip across the pond, where the legendary Mandarin Oriental hotel off Hyde Park re-opened its doors after last year's grueling fire left it closed for much of 2018. It's one of the UK's most luxurious love nests, filled with romantic restaurants, bars, and lounges for canoodles galore. Queen Elizabeth and Prince Phillip have a long association with the hotel (it's where she learned to dance), and theirs is the love story of a generation. Combining town and country at one address, the grand dame recently invited guests back to its public spaces, and come they did! London was abuzz with excitement over Bar Boulud, the brasserie by celebrity Chef Daniel Boulud, who has passed the knife to new executive chef John Barber. The gourmand, who helped open the restaurant in 2010, is infusing its menu with British twists on French classics (think Moules a la Crème, with steamed Cornish mussels, white wine, parsley, and crème Fraiche). But fear not, foodies: the sacred BB Burger is still top of the menu. Its gastronomically-ingenious combination of beef, wine braised short ribs, foie gras, horseradish mayo, confit tomato on a black onion seed bun is the stuff of legend. Kate Moss famously said, "Nothing tastes better than skinny." To date, she has never had a BB Burger, but we'd be happy to oblige. Info: mandarinoriental.com/london/hyde-park/luxury-hotel.
---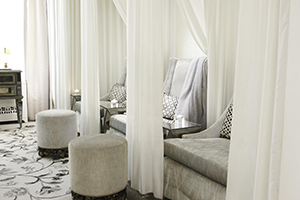 PAMPER!
Closer to home, prepare for your champagne and roses night with the hottest spa treatment stateside: The Caviar Oxygen Reparative Quech, a 90-minute facial at the Cornelia Spa in The Surrey providing nourishment and oxygen that will restore firm, beautiful skin. Creating a protective shield, the caviar masque traps moisture within the cellular layers of the skin, maximizing hydration while providing a natural lifting effect. The facial is done in several stages. First, a Seaweed & Sea Mud exfoliation provides a powerful enzymatic deep pore cleansing. Then, an ultra-nutritive Caviar Masque is peeled back to reveal newly fed skin while your neck and décolleté are indulged with a deeply hydrating masque of revitalizing ocean botanicals. Next up, a double dose of patented Liquid Oxygen and an Oxygen Enrichment Masque treats skin to a rich infusion of "fresh, breathable air." Finally, custom stem cell serum is applied, revealing a refreshed face that is wonderfully dewy, taught and velvety. The genius behind this treatment is Cornelia owner Ellen Sackoff, who lured legendary aesthetician Viorica Dragoi back to the spa to perform the famous ritual. Info: thesurrey.com/spa.
---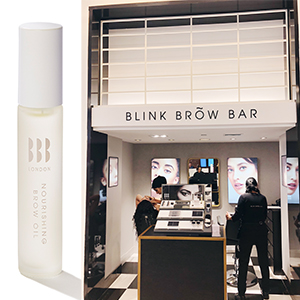 PERFECT!
Once you've perfected the skin, continue your beauty on-the-go preparation and head over to Saks Fifth Avenue for Blink Brow Bar, a walk-in destination for all your eyebrow needs. Founded by Vanita Parti, the UK-brand made famous the ancient technique of threading; an art passed down through generations known for its speed, precision, cleanliness, and durability. Celeb devotees include Emma Watson, Jessica Alba, Rosamund Pike, and even Lady Gaga, though Bailey has the best brows of them all, and is awaiting his invitation. Parti opened the first ever Blink Brow Bar in 2004 and has since grown it into a global brand with a full line of products that are carefully sourced and inspired from India. Among its most popular are its Brow Oil, the first to use natural oil with Rosemary, its Rose Gel serum, Kabuki brush, concealer, and styling gels. Blink Brow Bar also offers a menu of signature shades, including sandalwood, chai, cinnamon, India chocolate, saffron, clove, and cinnamon. What are you waiting for? Info: blinkbrowbar.com.
---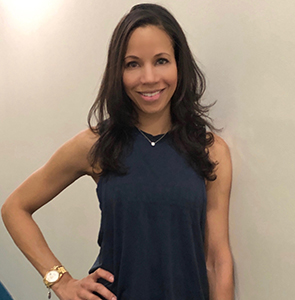 PERFORM!
Looking beautiful is one thing, but you need to feel it as well. Enter Stephanie Garland, a finance genius and single mother of two who has created a whole new life and career as an in-demand Pilates instructor. "The inventor of this technique, Joseph Pilates, used to say it was about 'purifying the blood,'" says Garland. "In essence, supplying the bloodstream with oxygen to stimulate muscles. Pilates to me is engaging every muscle in your body. And it is one of the few exercises that can do this." Garland has gained buzz and a following by offering highly customized treatments and investing in her clients emotionally, physically and spiritually, and with a healthy dose of humor. She's known to check in by email and text, and offer sage advice on and off the mat.
Having worked on Wall Street and as an entrepreneur, there is not much that fazes her. A life-long athlete, Garland discovered the practice after years of doing yoga. "Through Pilates, I have learned so much more about my body," she says. "I don't get a chance to 'zone' out as much because you are constantly thinking about the movement and your alignment, but that is the whole purpose of Pilates – it's about moving the breath through the body. It can feel just as healing as yoga." Info: stephgarland@gmail.com.
---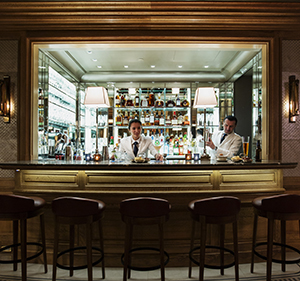 PLEASURE!
You're finally ready for your night. And there's no better way to spend it than with a romantic dinner at Upper East Side's buzzy Lowell Hotel, which is the most intimate, discreet meeting place for discerning New Yorkers. Its signature restaurant Majorelle comes from celebrated restaurateur Charles Masson and Chef Richard Brower, who has crafted a menu of French Classics with Mediterranean influences from the Riviera to Morocco. Whatever your selection, your taste buds will be aflutter along with your heart. Then end the night with a classic cocktail a Jacques, the hotel's timeless lounge. Opened in 2017 as part of its million-dollar renovation, the bar is a throwback to a more sophisticated era. Jacques has the air of an established neighborhood haunt; a place where hotel guests, visitors, and locals can gather and sip Moroccan-inspired cocktails or the classics and indulge with caviar and blinis, or perhaps hamburgers and fries. With its geometric-patterned marble floors, embossed leather-paneled walls, and low leather chairs—plus an intimate, velvet banquette-lined alcove off the bar accented with Grecian urns and a vintage-style mirrored ceiling—Jacques is the best-kept secret on the Upper East Side. I'd share more, but I'd rather not wait for a table. Info: lowellhotel.com.
---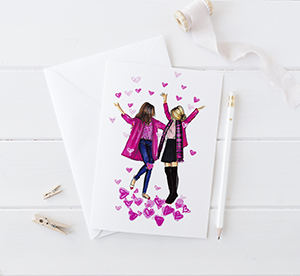 PORTRAY!
You can make Valentines even more special with an illustration by Jamel Saliba, whose drawings have earned her a worldwide following and 100,000 Instagram followers. Her company Melsys Illustrations creates girly, chic and whimsical designs perfect for invitations, shirts and even mugs. The young artist recently debuted her first stand-alone shop in Bryant Park over the holidays, where she sold illustrations to hundreds of visitors and tourists looking for something frilly and fun. Info: melsysillustrations.com.