TECH TALK
CES 2019
By Will Read
The annual Consumer Electronics Show(CES) held in Las Vegas every January is the global showcase for emerging technologies which creators know, or think will change our daily lives. With some 4,400 exhibitors on display, and 180,000+ visitors it sets the trends for each year.
My own analysis of the themes which sum up this year's Festival of Tech includes keys that may well change your life and digital assistants responding to voice commands is the hot trend. When shopping for a new home appliance this year, keep in mind if it has Wi-Fi and does it react to speech (i.e.: Alexa, Google Home, etc.). While you might think this is low priority, just wait until you meet the neighbor who gets an alert on their phone to let them know their washing machine cycle is complete, or perhaps a command from the sofa, "Alexa, turn on the dishwater." The first time you witness this will have you reaching for the credit card.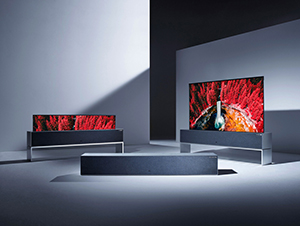 LG SIGNATURE
OLED TV R
Television technology has in recent years increased nearly exponentially. First there was High Definition (HD), then Ultra-High Definition (UHD or 4K). Now 8K displays are the talk of the tech community despite content for 4K televisions being sporadic at present. An 8K display contains four times the detail of a 4K display. Experience the TV reimagined through OLED display. Maximize your living space with infinite possibilities. LG Signature OLED TV R elevates your space into a luxury home cinema. Display that rolls out and rises on your demand. A whole new cinematic world right before your eyes. Infused colors in Perfect Black and breathtaking Dolby Vision now meets the a9 Gen 2 Intelligent Processor and deep learning AI algorithm to deliver another level of realistic imagery like never before. The display disappears without a trace, only leaving behind a true piece of art. Info: lg.com.
---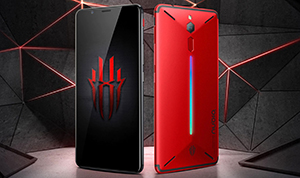 NUBIA
Red Magic Mars
The competition in gaming phones is heating up, and here's one that's not from a big player like Asus or Razer. Like the ROG Phone, the Red Magic Mars has two touch buttons on the shoulders, which adds a nice physical component to gameplay. A big battery plus a liquid-and-air cooling system complete the package. Packing an optimized Qualcomm® Snapdragon™ 835 chipset with 8GB of RAM and dual-lane 128GB UFS 2.1 storage, the Red Magic flies through intensive games and apps. But for an extra jolt of power, try Game Boost. Propel yourself ahead of the competition with higher frame rates and faster loading times—all at the flick of a switch. Info: redmagic.gg.
---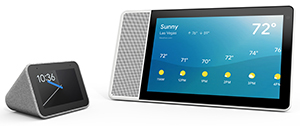 LENOVO
Smart Clock
Purposely-made for your bedroom, the Lenovo Smart Clock helps you unwind in the evening, kick start your day, control your smart home and listen to your favorite music with multi-room audio grouping. As a convenient smart home device, the Smart Clock supports voice and touch controls on an unobtrusive 4-inch IPS screen to perform tasks that are regularly carried out before and after sleep. With its compact size built for sitting on nightstands, the Smart Clock blends into your bedroom decor, with a full fabric soft-touch cover and a touch screen. Info: lenovo.com.
---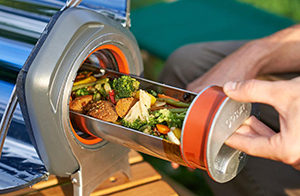 GOSUN
Fusion Solar Cooker
Day is done? Gone the sun? That's no problem for this solar cooker, which the company says can feed a family of five in the dark and stormy weather. It works by using parabolic reflectors to focus sunlight into a vacuum tube, converting almost 80 percent of it into heat up to 550 degrees. The Fusion Solar Cooker is five times more efficient than a normal oven and cooks meals with only the energy needed to power a lightbulb. Portable and rugged, GoSun lets you cook in more scenarios than ever before without a drop of fuel. That tube keeps the food hot as well. Info: gosun.com.
---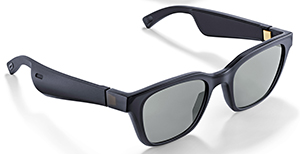 BOSE®
New Smart Sunglasses
More than just everyday sunglasses, they are enhanced with Bose technology to play music. Play music or take a call from two classic styles, Bose Frame Alto or Bose Frame Rondo. A small microphone is embedded in the frames, enabling voice control through Siri or Google Assistant and enabling the user to hold phone conversations. There is also a multi-function button near the right temple. Info: bose.com.
---

NUHEARA
IQbuds Max
Nuheara touts the IQbuds Max as the first "intelligent earbuds" to feature active noise cancellation. What does that mean? Nuheara suggests that its proprietary EarID system works "like an audiologist in a box" and will calibrate sound and cancellation to your ears. Wonderful. The big difference between IQbuds and the likes of Apple's AirPods, however, is that they are designed to manipulate the sounds coming in with their Hybrid Active Noise Cancellation—helping those who suffer from mild to moderate hearing loss. Info: nuheara.com.
---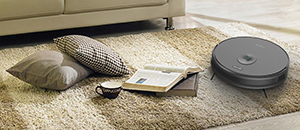 TRIFO
Ironpie
TIRVS (Trifo Intelligent Robotics Vision System) is a combination of proprietary innovative algorithms, highly optimized software and scalable reliable hardware. TIRVS provides both high performance and cost efficiency on sensing, perception, and decision, three core pillars of a robotics system. It uses sensors to track its position, but it remembers where it's been so it doesn't try to clean the same spots. Info: trifo.com.
---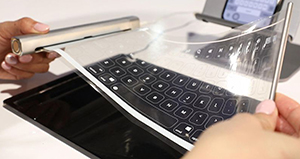 ROYOLE
Flexible QWERTY Keyboard
The Flexible QWERTY Keyboard is basically a thin, transparent layer of a sheet that features full-fledged QWERTY keys. You just have to lay it out on a flat surface and connect to your device wirelessly via Bluetooth. After use, just push the button on the keyboard twice and it neatly rolls up into a compact form factor. Info: royole.com.
---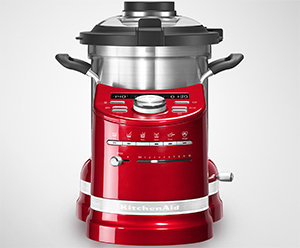 KITCHEN AID
Cook Processor
Welcome to creative, one-touch cooking. Boasting enough multi-functionality to process entire dishes, the KitchenAid Cook Processor is an intelligent and versatile all-in-one appliance set to revolutionize your kitchen. Open up a world of instant culinary creativity with an all-in-one appliance that can boil, fry, steam, stew, knead, chop, mince, puree, mix, emulsify, whip and stir, all at the touch of a button. Info: kitchenaid.com