MDRN'S WARREN KAY
An Intelligent Approach To Living In The City
By Harry Brad
New York City living poses many challenges. Apartments in newly constructed buildings are typically smaller than more established locations. Rents are always a stretch, and furniture can gobble up any resident living the urban life.
The average studio apartment in Manhattan is approximately 550 square feet with a typical rental cost of $2,300 per month (Source: Naked Apartments). New York shares one thing in common with West Coast's San Francisco: They have the smallest apartment sizes in the country.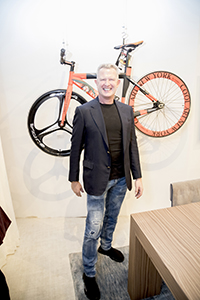 MODULAR GOES MODERN
The luxury design firm MDRN, located in Manhattan's Flatiron District, has come to the rescue with design solutions that suit any home, no matter the size. Established by the notable interior designer and futurist, Warren Kay, MDRN has realized these challenges for some time. Kay's achievement in designing a range of high-end furniture which can transform from one use into another with minimal interaction, called Intelligent Living, is unparalleled. Incredibly this saves vital space in a small apartment and at the same time offers high-quality design and craftsmanship to enjoy. The Intelligent Living collection creates a transformable, modular system which can be configured for both use and taste. The range is push-button controlled, so no heavy lifting is required to turn that sofa into a bed. Combined with desk, wardrobe and seating options, the power to be free from small living spaces is transformative and refreshing.
Kay is that particular kind of human who can see ahead, thereby imagining and bringing to life things that we may not have thought of now, but will most certainly need in the future. "I'd been unhappy with the way current apartment living is impacting people's lives, particularly younger people and their lifestyles," says Kay. "There are few jobs out there for people, and living situations have become even more compact. This is why I created a line of furniture that at least tackled the troubles of small space living."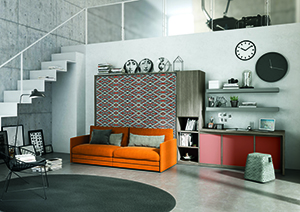 STYLISH SOLUTIONS
A perfect example for the remote worker: Intelligent Living's Home Office enables the bed to transform into a work table, which can be rotated 90 degrees to become a larger workspace or workbench. "I have become somewhat obsessed with the idea of robotics technology and the overall merging of technology with design," says Kay. "We live in an age where with the sound of our voices or the touch of a remote, we can turn lights on and off. I wanted to offer the same in furniture design without ever having to sacrifice the very best in design and quality. All of our products are made in Italy by the very best craftsmen in design." The Intelligent Living collections can also be customized with a range of Italian sourced and designed leathers and fabrics, wood finishes and even backdrop art panels in an array of colors and textures.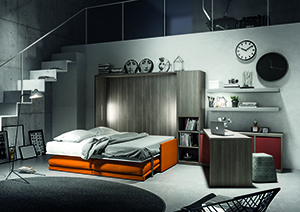 MDRN's approach to furnishings is also in tune with thinking about environmental impact. All the products in the Intelligent Living Collection range have safe, non-toxic, anti-microbial surfaces and are made from materials that are 100 percent of Italian origin. The wood panels are certified, and no new trees have been used to facilitate their manufacturing. The factory which constructs Intelligent Living furniture generates 70 percent of its electricity from renewable sources making for products which are thoughtfully designed and built to help put the 'living' back into city living in small spaces.
For more information on Intelligent Living, visit inteligentliving.com.