BarBacon
A Sizzlin' Good Time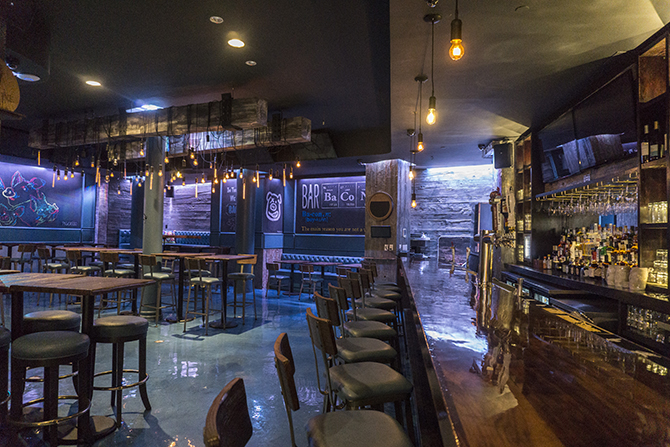 By Kelley Mason
If you're tempted to roll your eyes at the thought of a restaurant with bacon as its main theme—think again! This bacon bonanza has become New York's best-kept secret.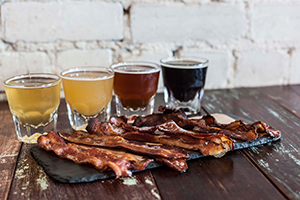 Now with two Manhattan locations, BarBacon is the brainchild of chef Peter Sherman. After many years of working in the kitchens of such luminaries including Joel Robuchon, David Bouley, and April Bloomfield, it was time to break out on his own to focus on opening the first BarBacon in Hell's Kitchen. Not satisfied with just one restaurant and bar, Sherman opened the second outpost in Union Square last year. Both are enjoying well-deserved popularity with New Yorkers and visitors alike. "For some ten years in the kitchens of predominantly French chefs," Sherman told us, "they always insisted how great French cuisine was. However, they always conceded that it was the USA which perfected bacon." That was the genesis of what became his mission to elevate bacon and make it the focus of every menu choice. "Everyone I know loves bacon, but no one was giving it the rightful respect and celebrating it as an artisanal product."
IT'S BETTER WITH BACON
We recently stopped into the Union Square location where everything—and we mean everything on the menu from appetizers to dessert elevates bacon to stardom. Its inviting rustic ambiance makes you want to stay a while and sample bacon at its best. The inventive menu is a complete collaboration with Sherman's executive chef, Nicolas Karoly. Start with one of Sherman's originals, the Kentucky Fried Bacon Bites (KFB), which are tasty bite-sized crispy pieces of battered thick-cut bacon served like chicken nuggets. The chunks are dusted in flour, dipped in egg and covered with panko crumbs. After deep frying, they are smothered with Thai chili honey and served with house pickles.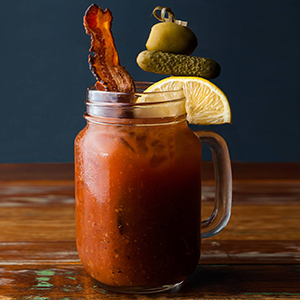 Another specialty is the Flight of Four Flavored Bacons alone or paired with a sampling of craft beers. The flight starts with a mildly flavored slice—such as Pecan Wood-Smoked—and ends with some kick. This dish typically includes a Black Peppered-Encrusted variety as well as a Jalapeno-infused Bacon. Sherman works with purveyors sampling bacon to decide which varieties to feature on the menu. "We source bacon from all over the country. Pecan, Wood-Smoked, Cracked Black Pepper, Maple, Apple Cider as well as making a few of our own varieties," he told us. Other appetizers include Brussel Sprouts with Vietnamese Glaze, and the very popular Chicharron Nachos topped with bacon, cheddar, jalapenos, sour cream, guacamole and pico de gallo.
THE MAIN EVENT & MORE
Tempting larger plates are also available. A winner is the BarBacon Grilled Cheese stuffed with a generous portion of fontina and gruyere cheeses and served with roasted tomato and eggplant soup. Another must is the All Day Sausage, Bacon, Egg and Cheese which looks more like a gigantic burger. And, of course, it goes without saying the menu offers delicious BLT's, Burgers, and Pulled Pork Sandwiches plus a fish lover's dream, the Bacon Loves Lobster Roll. There are also Tacos, Salads, and house-made Bacon Sausages to sample as well.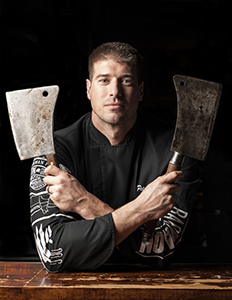 Be sure to leave room for the piece de resistance—namely dessert! Try the chocolate-coated bacon dusted with pink peppercorn and a side of house-made bacon-infused whipped cream. Incredibly delicious. Or perhaps your tastes lean more toward ice cream. If so, the BarBacon Ice Cream Sundae will satisfy. Dive into the bacon chocolate chip ice cream topped with bourbon dulce de leche, bacon-glazed pecans, brandied cherries, and extra crispy bacon crumbles all topped with bacon whipped cream. Amazing!
Of course, we mentioned everything is "bacon-ized" here including cocktails. Try their Midnight N' Molasses with bacon-infused bourbon, St. Germain, ginger-lime syrup, molasses, bacon, and Champagne. Or perhaps the Hogstorm which blends bacon-infused Goslings, ginger liqueur, ginger beer, and bacon to perfection.
With the success of two BarBacon restaurants, we wondered if there might be more on the horizon. "I will always be opportunity driven," Sherman said. "I'm certainly open to anything the future might have for me. My out of town customers always beg me to open a BarBacon in their hometowns. It would be nice to one day answer them with an okay!"
For more information on BarBacon, visit barbacon.com.