SHERRY B DESSERT STUDIO
A Sweet Work Of Art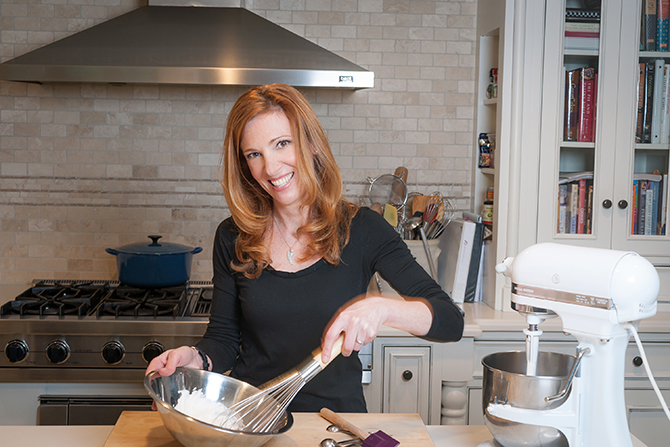 By Patricia Canole
True, plenty of us are health conscious and addicted to counting calories on computer apps. But, let's face it, there's always room in our diet for a delicious, high-quality dessert. Perhaps this is the key reason why sherry b dessert studio has seen such success and is thriving on Hudson Street.
Since Executive Pastry Chef and Owner Sherry Blockinger opened sherry b dessert studio, she's been raising the bar. After a successful career in marketing and communications, Sherry left the corporate world to pursue the pastry field and received a Grand Diplome in Pastry Arts at the French Culinary Institute in New York. After graduating from pastry school, her focus was on specialty and celebration cakes and she scored a coveted internship with master cake designer Ron Ben-Israel. Two weeks before her training was to begin, she broke both her wrists in a snowboarding accident. Sadly, she had to decline participation in the program. Initially crushed, this period of rehab and being at home with her young daughter proved crucial to her path. She spent a lot of time in the kitchen and found a love for recipe development, often working on perfecting American classics using her French pastry training. It was during this time that her vision for sherry b dessert studio was born.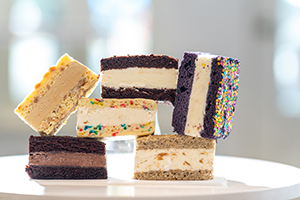 SWEETS FROM SCRATCH
Combining her love for French technique and American desserts, Sherry launched her first business in 2012, the delicious and artful sherry b dessert studio in Chappaqua, NY. Success ensued, but Sherry wanted more. Her decision: Move to Manhattan's Meatpacking District.
And we're so happy she did! Sweets from scratch are featured at the cafe on 643 Hudson Street and include her signature house-made Ice Cream Cake Sandwiches in unique combinations. Some of her best-sellers include Purple Velvet, cream cheese ice cream sandwiched between purple velvet cake; Blackout, dark chocolate ice cream with layers of fudge on a chocolate cake; Fluffernutter, peanut butter and marshmallow ice cream on sliced banana bread; and Coffee Break, counter culture coffee ice cream sandwiched between New York-style crumb cake. Can't make up your mind? Guests often opt for a sandwich flight of six flavors. Sherry's house-made ice creams are also whipped into shakes, "shimmies," and decadent treats, and are offered by the scoop and by the pint.
Sherry's other classics are wildly popular with her loyal customers. Take her Stuffed Brownies featuring Salted Caramel, Café Mocha, and Chocolate Peanut Butter fillings; or her decadent cookies such as Chocolate Chunk, Snickerdoodle and Butterscotch Oatmeal. At the sb cookie bar, guests may choose any two cookies and a filling—vanilla cream, Nutella, raspberry jam, and peanut butter fluff, for example—and sandwich them together.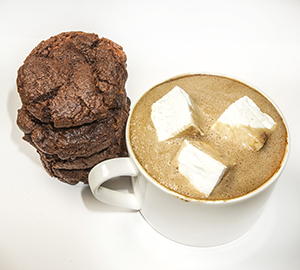 We recently met with Sherry in her Hudson Street kitchen to see her in action—and find out about how this creative force whips up such fantastic desserts.
How long before did you realize you were destined for this sweet career?
As I challenged myself to cook my way through my cookbooks—The Joy of Cooking, Mastering the Art of French Cooking, and Craig Claiborne's New York Times Cookbook—I quickly realized I was inherently a baker. I've always loved eating desserts and sweets, so the ability to bake and develop my recipes was both intriguing and exciting. Pursuing it as a career came a little later.
What's a typical work day for you?
If only I could answer this question. Perhaps the most challenging aspect of what I do is that there is no routine, no such thing as a typical day. Overall, I try to balance my responsibilities and spend time with my team in the kitchen, monitor operations, mingle with guests, and tend to business matters. Also, I personally sign cards for every package we ship and steal a few minutes each day to write. Remembering to take time for myself proves to be the greatest challenge of all.
Do you have favorite ingredients you prefer?
One of the things that I love most about baking is how ingredients affect and interact with one another. I appreciate the way simple ingredients like sugar, butter, eggs, salt, and flour work together. I especially enjoy eating and working with chocolate and remain fascinated by the science of manipulating it. In the past few years, I have been interested in discovering and experimenting with spices. A good example is a pink peppercorn which has become one of my ingredient obsessions. I've made pink peppercorns the star ingredient in my favorite salt/pepper/sugar blend.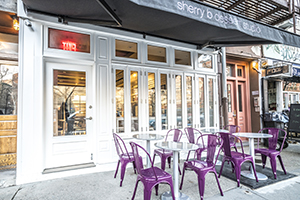 What ingredients would you just as soon not work with if you could get away with it?
While it is hard to admit, vanilla is one of those ingredients. Though it is a staple in baking and one of my personal favorites, it has become so expensive and at times challenging to procure. However, baking gives me the freedom to be creative. Often I find myself experimenting with new ingredients and testing alternatives. Currently, I'm experimenting with bourbon.
Sherry Blockinger is the Wonder Woman of sweet sensations. She likes to think of desserts as a guilt-free luxury with every bite. In other words, if it makes you happy, make room for it in your busy day—it's all about balance.
For more information on Sherry b dessert studio, visit sherryb.com.