ADD SOME SPARKLE TO VALENTINE'S DAY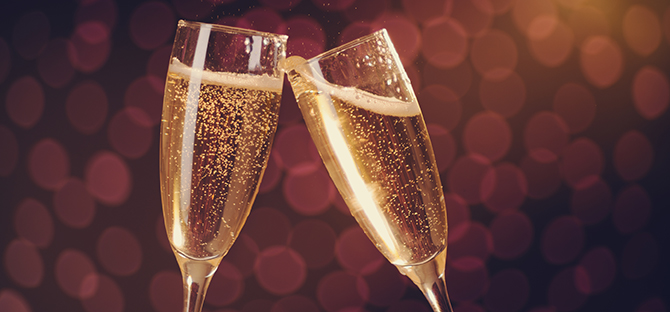 By Jenny Peters
We've got a revolutionary idea for celebrating Valentine's Day with the one you adore this year—stay home! Instead of paying those inflated prices for a fancy dinner, why not simply choose a gorgeous Champagne or another sparkling wine and have a night to remember in your warm, cozy living room?
We've chosen some unique wines for you to consider sipping (and we've even thrown a full-bodied red or two if those bubbles are not to your liking) that fit every budget, some so reasonably priced you might end up trying two!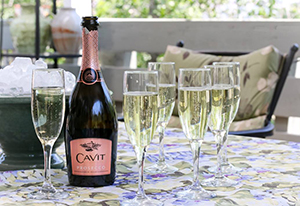 CHAMPAGNE
French Champagne is the big daddy of bubbly, with a price tag to match. It is also the only sparkling wine in the world that can legally be called Champagne and must originate from grapes grown in the Champagne region of France. Usually made from a blend of Chardonnay, Pinot Noir, and Pinot Meunier grapes, it is famous for its tiny bubbles and fresh white fruit (think peach) and citrus flavors, with an undertone of vanilla and baked bread.
For an extraordinary night, choose Champagne Taittinger Brut La Francaise NV ($60), from the family-owned company that has been making Champagne since 1734. With its lovely, bright taste, this bubbly is perfect for simply savoring or—even better—pairing with some sturgeon caviar from Calvisius, the sustainable Italian caviar producer. Other top-tasting Champagnes include Dom Perignon ($160) or Louis Roederer Brut Cristal ($260).
ITALIAN SPARKLING WINE
Prosecco Superiore is Italy's premier version of sparkling wine, grown in the Conegliano Valdobbiadene region in the Treviso province north of Venice. Here they grow Glera grapes on steep hillsides, allowing them to create world-class bubbles. Look for Bortolotti Prosecco Brut ($25) with its floral yet acidic flavors, the dry, green-apple-and-citrus-filled Cavit Prosecco ($14) or take a taste of Mionetto's Prestige Prosecco Brut ($14) for white peach and honey notes. Each one of those is a steal at the price and a lovely way to say, "I love you" without killing your budget.
And beyond Prosecco, Italians also make other fabulous bubbly wines. We adore Brachetto d'Aqui, the red sparkling ("spumante" in Italian) quaff only made in the Piedmont area of Acqua Terme. They are delicately delicious wines pressed from the Brachetto grape, slightly sweet with flavors of roses, raspberries, and strawberries with a luscious mouth feel. Look for Rosa Regale ($20), the best-known Brachetto d'Acqui sold in America or Braida ($20); both are perfect examples of this lesser-known wine.
To get a taste of what the Italians do to make Chardonnay sparkle, we suggest a bottle of Ferrari Trento Brut ($25). It's the wine that began the history of this famous Italian wine producer in 1902 and remains one of Italy's best. In fact, it's been the official wine of the Emmy Awards for the last four years, so you'll be drinking just like the stars if you celebrate being in love with this one. Don't be surprised when you taste those French qualities of baked bread and vanilla here.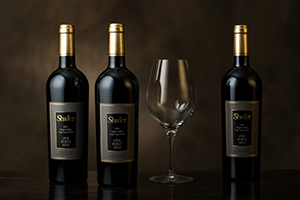 CALIFORNIA BUBBLES (AND MORE)
Napa and Sonoma are hotbeds of sparkling wine production, too, with many Old World wine companies establishing outposts in those fertile valleys decades ago. So consider a bottle of Domaine Carneros by Taittinger Brut Cuvee ($30), a cellar-aged blend of Chardonnay and Pinot Noir or perhaps test out the newest sparkling to come out of California, also a blend of those grapes. That's the Sonoma-Cutrer's first-ever Grand Cuvee ($40), a welcome addition to that renowned winery's list. It's got an excellent balance of toast, and a bit of nutty flavor melded with a tart fruit minerality, but it is a limited release, so grab a bottle if you can.
If bubbles are not your palate's idea of a love match, stick with California's best and seek out Shafer Vineyards 2016 TD-9 ($60). Named for their trusty tractor, this red blend of Merlot, Cabernet Sauvignon, and Malbec, this spicy, slightly tannic red fruit bomb is a welcome addition to that winery's legendary, award-winning Stags Leap District offerings. If you've decided to make steaks for your stay-at-home Valentine adventure, jump into a bottle of their 2015 One Point Five ($95) as well. That big, beautiful, smooth, mostly Cabernet wine will make anyone fall in love, we guarantee it.