SHAKEN & STIRRED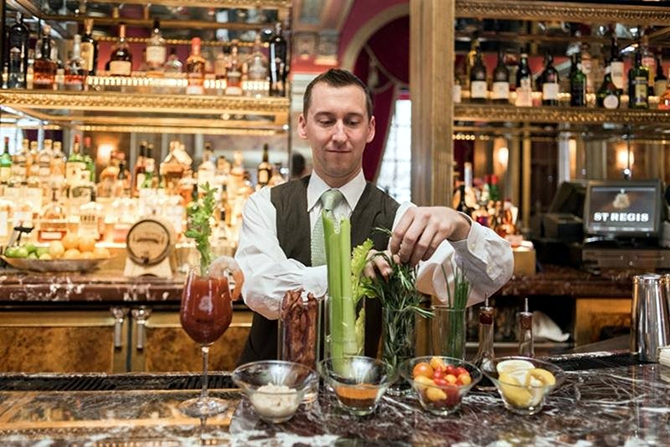 By Bailey Beckett
New York may be the cocktail capital of the country, but even the most discriminating aficionado won't mind traveling south for a taste of something truly spectacular. The St. Regis, Washington D.C., the capital's most exclusive address, is an unabashed celebration of the gilded age, yet nestled within its lobby is a more discreet enclave paying homage to a different era: prohibition.
The St. Regis Bar, a destination for D.C.'s have and have-mores, turns back the clock to treat its guests to recipes and cocktails long lost since the period ended. Leading the charge is head mixologist Andrew Cassedy, a 10-year veteran of the hotel who first came along with Alain Ducasse when he opened his Adour restaurant. Cassedy worked with the celebrated chef and stayed when the hotel transitioned the space to its own restaurant and lounge. His classic, cool pours mix tradition with creativity, making The St Regis Bar the coolest classroom in the capital. Cassedy is particularly interested in time forgotten ingredients, like bitters. Many recipes and the companies that made them did not survive past prohibition, leaving their elements to the dustbin of history. Bartenders like Cassedy are now mining those lost years for new spins on cocktails.
That history is just one swig guests will savor when they sample Cassedy's cocktail class, a 3-drink crash course in creations, libations and sensations. It begins with the 100-Year-Old Cigar, a bombastic combination of rum, bitter, aromatic and herbal liqueurs, scotch whiskey and absinthe. The secret is the mix, a delicate, expert balance of flavors that bring the drink to life. Cassedy measures each precisely and creates with the deft hand of the most seasoned practitioner.
Next is Alhambra, a potent union of Carpano Antica vermouth, dry sherry, two dashes of OJ bitters and orange zest garnish. Adding that extra zing is what gives Cassedy's drinks a unique flavor. The curation of the ingredients, he says, is vitally important. Finding those bitters, spices, fruits, and garnishes, and adding a twist of inventiveness, is what makes a drink truly signature.
Witness our last: Love Potion #923. Perfectly timed for February, it's smooth, punctuated with Rock Candy Syrup and Champagne. Finish off with Berries, and it's the perfect cocktail to toast love. Created by Cassedy, the drink is exclusive to the St. Regis.
---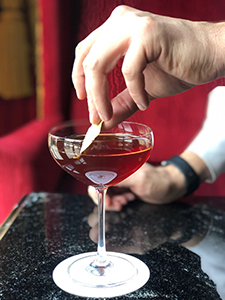 100-YEAR-OLD CIGAR
1 ¾ ounces Ron Zacapa Rum
½ ounce Cynar
½ ounce Benedictine
¼ ounce Laphroaig
1 dash Angostura bitters
¼ ounce Absinthe
Chill a cocktail coupe.
Add rum, Cynar, Benedictine, Laphroaig, and bitters to a mixing glass, then fill with ice. Stir until well chilled. Rinse chilled cocktail coupe with Absinthe, discarding excess. Strain cocktail into rinsed glass and serve immediately.
---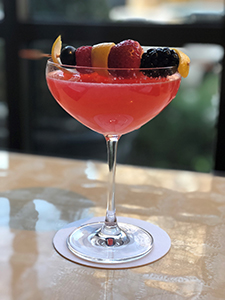 LOVE POTION #923
2 ounces Berry Infused Ketel One Vodka
½ ounce Ruinart Rosé Champagne
1 ounce Ginger Rock Candy Syrup
½ ounce Fresh Lemon Juice
Mixed Berries to garnish
Perfect for Valentine's Day, this love potion vodka cocktail is easy to make and fun to drink. Combine Vodka, Ginger Rock Candy Syrup, Fresh Lemon Juice with some ice in a shaker. Cover and shake well. Add Champagne and pour into a cocktail coupe. Garnish with Mixed Berries.
---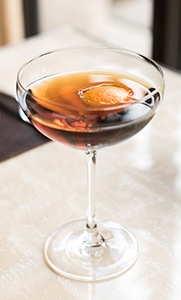 ALHAMBRA COCKTAIL
1 ½ ounces Carpano Antica vermouth
1 ½ ounces dry sherry
2 dashes of OJ bitters
Orange zest garnish
Chill a cocktail coupe.
In a mixing glass filled with ice, combine all ingredients. Stir and strain into a coupe. Garnish with orange zest.