ON THE BIG SCREEN
By Jenny Peters
ANIMATED WONDERS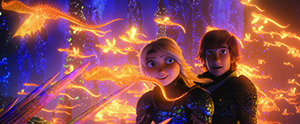 HOW TO TRAIN YOUR DRAGON: THE HIDDEN WORLD
Rated: PG
Continuing the much-loved saga of Hiccup and Toothless, his Night Fury dragon, this third installment of How to Train Your Dragon also continues the simply gorgeous animation that the franchise is known for. And naturally, there are lots of different dragons and other slightly scary elements to this action-packed film that posits the idea of a dragon utopia where those fire-breathing critters live in harmony with humans. Jay Baruchel, America Ferrera, Cate Blanchett, Gerard Butler, and Kit Harrington return for the fun, along with writer-director Dean DeBlois.
---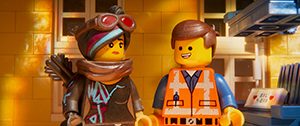 THE LEGO MOVIE 2: THE SECOND PART
Rated: PG
This sequel to 2014's gigantic hit will have kids and adults alike singing "Everything is awesome" once again, as the citizens of Legoland face an attack from invaders from outer space—who happen to be made of Legos, too. Alison Brie and Chris Pratt return as the voices of Unikitty and Emmet, who help to make sure that the bad guys both from the stars and right on earth get their comeuppance. It helps that Batman (Will Arnett), Superman (Channing Tatum) and Green Lantern (Jonah Hill) are around to help in this flick designed to delight everyone who loves Legos (and Warner Bros.).
---
FEMALE POWER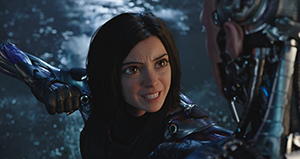 ALITA: BATTLE ANGEL
Not yet rated
Japanese manga fans, rejoice! The long-awaited collaboration between director Robert Rodriguez and screenwriter-producer James Cameron is finally coming to the big screen, as Alita: Battle Angel storms into theaters this month. After gestating for nearly thirty years (since the Yukito Kishiro manga comics introduced the cyborg character), Alita is a futuristic action flick about a female with unique fighting powers that brings all of Cameron's technological advancements and Rodriguez's storytelling skills together into a wild ride. Rosa Salazar stars, along with Oscar winners Christoph Waltz, Jennifer Connelly, and Mahershala Ali.
---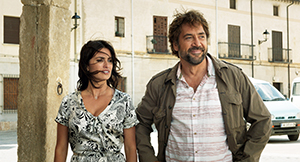 EVERYBODY KNOWS
Rated: R
Academy Award winner Penelope Cruz stars as a desperate woman on a mission to unpeel the secrets of her extended family in this intense mystery drama. Written and directed by Asghar Farhadi, the Iranian filmmaker whose The Salesman won the 2017 Oscar for Best Foreign Language Film, Everybody Knows follows a twisted tale set in small-town Spain, as a wedding is about to take place. There's intrigue, kidnapping, desperation and betrayal in this film-festival favorite that is shot in Spanish and presented with English subtitles. Cruz's real-life husband (and fellow Oscar winner) Javier Bardem co-stars.
---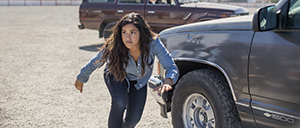 MISS BALA
Rated: PG-13
Gina Rodriguez, she the comedic star of the Jane the Virgin TV show fame, gets her name above the title in this tough action thriller set between Mexico and the U.S.A. When she's thrust into a violent world because of a chance encounter, she discovers that her ability to survive in insane situations is both empowering and frightening. As she transforms into a kick-ass tough chick, she finds empowerment with the guns and the bullet ("bala" in Spanish) that give her a new nickname. Don't mess with Miss Bala!
---
FEMALE LAUGHTER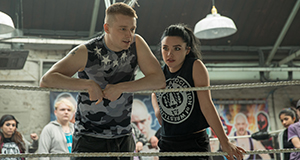 FIGHTING WITH MY FAMILY
Rated: PG-13
Florence Pugh is busting out of being serious on screen with this rowdy comedy all about a family of British wrestlers whose dream is to get into the ring as part of America's World Wrestling Entertainment spectacle. She's got the moves and the looks, and so does her brother, so when they encounter Duane "The Rock" Johnson (who plays himself in the movie), they jump on the chance to hit the big time. Lots of laughs and a bit of pathos make this one a family-friendly charmer as Pugh takes all the hits the American lady wrestlers can dish out.
---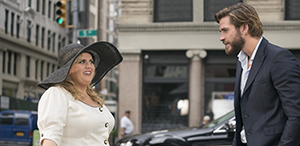 ISN'T IT ROMANTIC
Rated: PG-13
Rebel Wilson cracks us up with this romantic comedy with a goofy twist, starring as a cynical New York (by way of Australia) career woman who gets bonked on the head, which thrusts her into a whole new life. That life thrusts her into the center of a typical cinematic romantic comedy, a place she loves and hates at the same time. But when Liam Hemsworth turns up as her knight in shining limousine, she's hoping that it actually isn't all a dream.
---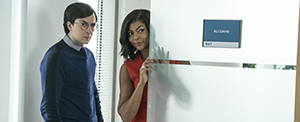 WHAT MEN WANT
Not yet rated
Women in movies this month are all getting cracked in the head one way or another, it seems. In What Men Want, Oscar nominee Taraji P. Henson tackles a reimagining of What Women Want, the Mel Gibson hit film from way back in 2000. This time, Henson is a sports agent who smacks her head hard, with the result that she can hear what all the men around her are thinking. Naturally, that creates a lot of wacky situations, especially during a comical high-stakes poker game populated by everyone from Shaquille O'Neal to Mark Cuban. We're pretty sure we can hear Henson's thoughts right about now, too—she's thinking it would be amazing to have as big a worldwide hit as Gibson did with his!