MUSEUM HAPPENINGS
The Dutch Golden Age Shines At The Met
By Isa Freeling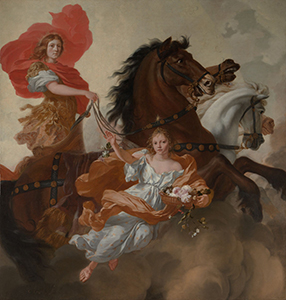 Apollo and Aurora by Gerard de Lairesse
I walked through the endless galleries of unyielding time at the Metropolitan Museum of Art into the Netherlands 400 years ago. I found myself beckoned by Rembrandt, Vermeer, Steen, Dou, Joordaens, Hals and Haverman among the august masters who occupy the sacred chambers of the museums lower levels. As I roamed, I slipped away from my mundane world in 2019 and became absorbed in 17th century Holland, sans the bustier and bonnet. I was immediately in wonder of In Praise of Painting a beautifully executed exhibition by Adam Eaker, the Assistant Curator of European Paintings for The Met. The intimate feel of this show is so well displayed, I felt the ghosts jump off the canvass and come to life as if our lives both latent and manifest had somehow collided.
Seizing on 17th century Netherlands Golden Age, In Praise of Painting is acutely alive and about as thorough a picture of the Netherlands as I have ever seen, notwithstanding what hangs from the walls of Dutch museums. It reflects the Netherlands moment of victory and prosperity, its invented land, its changing religious point of view, its modernism, opulence, expansive personality and aspirations of becoming a recognized cultural force.
During the 1600s, the Dutch were well known in Europe for being far ahead of other countries as remarkable cartographers, mariners, scientists, artists, and business people. In 1609 The Dutch East India Company, an amalgamation of Dutch concerns, hired British explorer Henry Hudson to find a northern route to the Orient and came upon New York, quite by accident, quickly claiming it for the Dutch kingdom.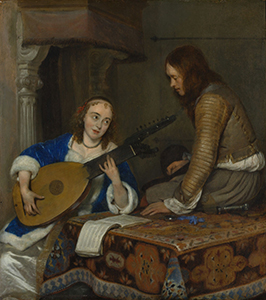 A Woman Playing the Theorbo-Lute
and a Cavalier by Gerard ter Borch
A NEW DUTCH COLONY
In 1614 Hendrick Christiaensen set up the first Dutch fur trading post in present-day Albany, where the beaver trade flourished. Native Americans emerged from the forest in Albany, then known as Fort Orange, (subsequently Beverwyck) to trade for pelts. In Kingston, New York (then called Wiltwyck) they were growing abundant amounts of wheat and in New Amsterdam Petrus Stuyvesant was creating a thriving infrastructure for the new Dutch colony. Individuals were traveling back and forth between the Netherlands and New Netherland doing business in spite of rough seas and month-long voyages. It was the Dutch West India Company known as the VOC which created the first corporation giving people from everywhere the chance to invest in commerce, thus helping blow a strong wind on the sails of the golden age.
While the economy was booming, the church was also going through a tumultuous change from Catholicism to a majority of the citizenry becoming Protestant, and so the very foundation of Holland's core values was transforming into something both religiously and socially revolutionary. Modern Holland began to progress from the dust of hardship and war.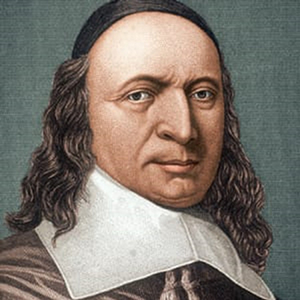 Peter Stuyvestant
LEADING THE WAY
Chronicling this moment is an array of superb painters who make their historical mark on the world. Leading the way is Rembrandt, the most significant and pivotal painter of the age, he commands the starting point for In Praise of Painting. In the first of nine thematically depicted exhibits are 67 Dutch works from The Met's own collection, some of which have been stowed away in storage for an age. Rembrandt's Aristotle with a Bust of Homer, ca 1653 is the entry point for this examination; a beautifully rich work which is viscerally received through the pores; its magnificent deep tones, light, and shadows which speak to Rembrandt's singular ability to sculpt an image from paint on the canvas. The great painter's brush ignites a tactile awareness of humanity illustrated in his masterpiece.
As the Netherlands became more affluent and the nouveau riche more cognizant of worldly things, they wanted to acquire flawless and refined paintings extolling their prosperity; more like the French, (consequently Rembrandt's work became less popular later on), thus giving way to painters like Johannes Vermeer, Gerrit Dou, Peter Wtewael, Meyndert Hobbema and Abraham van Beyeren.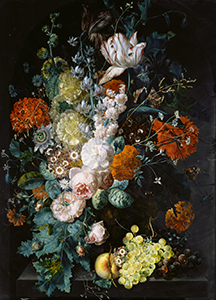 A Vase of Flowers by
Margareta Haveerman
CELEBRATED PAINTINGS
For me, the most poignant work from the entire cadre of precious treasures was Rembrandt's celebrated painting of a 25-year-old Gerard de Lairesse whose appearance was ravaged by congenital syphilis. Ironically this painting stood out to me for its subject was an artist and art critic who panned Rembrandt, disparaging his work by comparing it to "liquid mud on the canvas." Rembrandt paints de Lairesse's ravaged façade while maintaining his inner spirit, capturing his extraordinary poise and elegance. He arrests the dilemma of a refined person trapped in a souring and putrefying body. De Lairesse's work Apollo and Aurora, ca 1671 is also on exhibit, which I found grandiose and fantastical, juxtaposed to Rembrandt's intimate exquisite rendering of the subject sitting before him. It should not be taken for granted, that the disfigured de Lairesse esteemed idyllic beauty in the art which he did not possess as a person.
I gazed into jubilant eyes of women who were loud, independent and spirited in pinched corsets with bulbous bosoms that looked like flotation devices. Seen as independent and bawdy joke tellers by distant visitors, like the French, who found Dutch women shockingly liberated and forthcoming. A good example, Jan Steen known for his amusing scenes of household chaos presents Dissolute Household, ca. 1663 in the comic section of this survey capturing everyday Dutch life. In a domestic setting with things strewn all about the dining room, the family cat is after the ham laying on the stone floor, while the family happily ignorant of all the mayhem around them (from enjoying too much wine) is either falling asleep or about to fall into slumber. The extensive collection of Johannes Vermeer's works should not be missed with some of his most famous works including Young Woman with a Water Pitcher, ca. 1662 and A Maid Asleep, ca 1656-1657 as well as a single rare painting by a woman, Margarita Haverman's Vase of Flowers, ca 1716 an unreservedly breathtaking work in brilliant deep hues of grey-blue, green, burnished orange, soft whites, and red. This is an extensive show and if you want to be taken into a retro-reverie then be prepared to spend time studying these works, and they will reveal all sort of secrets to you.
The industrious Dutch forward-thinking story speaks to the culture of New York, so it is only fitting that we should have such a show at the Met. Our not so distant cousins progressive and assertive style is still felt today. If it strikes your fancy you can find more on Dutch New York in a multitude of settings throughout the state, including: The Albany and New York State Museums, as well as the Senate House in Kingston and our very own New York City and Brooklyn historical societies and the Museum of the city of New York.
For more information on In Praise of Painting at The Metropolitan Museum of Art, visit metmuseum.org.
AN INTERVIEW WITH DOLF HOGEWONING
The Dutch Consul General in New York weighs in on thoughts of The Met's In Praise of Paintings.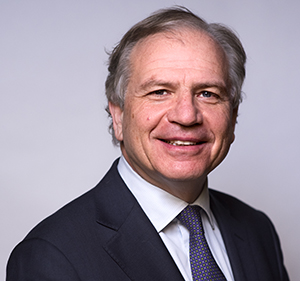 Dolf Hogewoning
Have there been points about Dutch history in New York you learned for the first time?
Indeed! After reading Russell Shorto's book Island at the Center of the World, I realized that New Amsterdam with its diversity, pragmatic tolerance and entrepreneurship laid the foundations of what was to become modern New York. The wealth of information and historic sites left behind by my Dutch ancestors is abundant and very exciting. But even more stirring is this notion of shared rights and values which was incorporated in the city rights of New Amsterdam, which were respected by the British when they took over in 1664. It's wonderful to investigate this, and there is so much here. I am always finding out some new marvelous thing.
After seeing In Praise of Painting, how did it feel to look at Dutch faces from 400 years ago?
Excellent, although Rembrandt is relentless in the way he depicts people—so realistic! He is my favorite painter of the period. You feel like you can peel away the canvas and the person is sitting there before you.
Is there a favorite painting of Rembrandt's you feel a special affinity for?
I liked the one of Aristotle laying his hand on the head of Homer. The golden chain Aristotle wears is so incredibly tangible; you can feel the weight of it.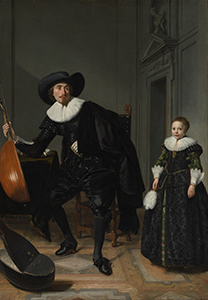 A Musician and His Daughter by Thomas de Keyser
How does it make you feel to see the sites in Albany, Kingston and New York City that were established by your ancestors?
It gives me an extraordinary sense of bonding. Of course, their names were Beverwijck, Wildwijck, and Nieuw-Amsterdam in the 1600s and you can still see their footprint here. Thanks to the work of the New Netherland Institute and the historian Charles Gehring in Albany, thousands of documents dating from those first years in the early 1600s have been saved and translated into English so that you can read about the everyday life of the first settlers (newnetherlandinstitute.org).
How far back can you trace your family history in Holland?
I believe somewhere around 1575. People living in a high house or tavern in a village in the province of South-Holland started calling themselves Hogewoning (meaning: high house).
Do you think New York City would have been different if it had remained as New Amsterdam?
It would probably have had more canals! I do however think there is a lot of continuity from New Amsterdam to New York. The changing of the name didn't change the essence of the city. A lot of people spoke Dutch for quite some time after the British took over. The progressive feel, humor, and tolerance have sustained itself through time. —IF