BRIAN d'ARCY JAMES
Actor, Singer & The Nicest Guy In Show Biz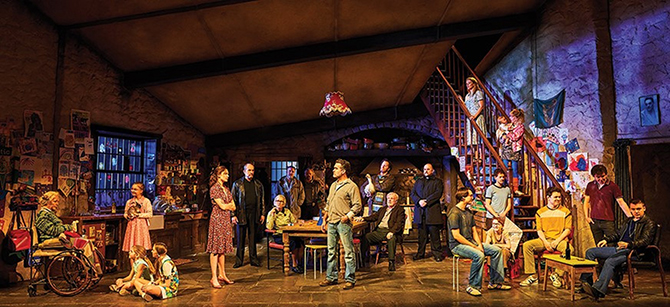 The Ferryman cast ©Joan Marcus
By Ellis Nassour
Jez Butterworth's The Ferryman is one of the most acclaimed plays of this or any season. In its London West End debut, it won numerous awards, including the coveted Olivier for Best Play and director Sam Mendes. In its Broadway transfer, playing at the Bernard Jacobs Theatre at least into July, the play has over 25 Best Play picks and a New York Times' Critics Pick. Needless to say, it's a front runner for a Tony nomination for Best Play and Director. Mendes is an Oscar and Tony winner—Best Picture, American Beauty; 1998 revival, Cabaret. Butterworth was Tony-nominated in 2011 for Best Play for Jerusalem, his Broadway playwriting debut.
One of theater, film, and TV's most talented and well-regarded actors, Brian d'Arcy James, is now starring as Quinn, the head of the large Carney farmhouse. The setting is rural County Armagh, Northern Ireland, 1981, where preparations are being made for the annual harvest of 50 acres of wheat and barley and the feasting that will follow. There's laughter, song, and dance—and the killing of a goose for the feast that lies ahead.
The out-sized family—a cast of 21, a rarity for a play—includes Quinn's wife Mary, played by longtime stage (Cat on a Hot Tin Roof, The Lion in Winter) and TV favorite Emily Bergl; Holley Fain (Roundabout's 2012 Harvey) as her widowed sister-in-law Caitlin; aunts—including Aunt Maggie Far Away (the revelation of her nickname would ruin the fun), portrayed by celebrated actress Fionnula Flanagan; an uncle; mischievous children aged from newborn to their 20s; and friends from far and near who arrive to help.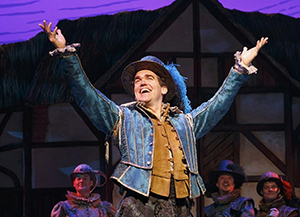 Starring in Something Rotten! ©Joan Marcus
A SHATTERING DISCOVERY
But this year they will be interrupted by an unwanted visitor. A sense of foreboding sets in due to the vengeance-obsessed conflict between Britain and Iron Lady Prime Minister Margaret Thatcher and IRA's political arm, Sein Finn as imprisoned activists die of hunger strikes. The discovery of Quinn's brutally-murdered brother creates a chain of events that race to a fierce, intensely gripping, and shattering climax.
From his first viewing of The Ferryman last Christmas on the West End and seeing the cast again on Broadway, Brian was fascinated by the play which he says is so beautifully written that it's magical. "At its core are the interpersonal relationships of a family. How they connect, or don't. How they receive love, or don't. It's wrapped in the context of the political era of the troubles in Northern Ireland, which gives the story momentum."
HIS IRISH ROOTS
Brian says the role of Quinn is a magnificent gift. And he'll definitely get the Irish brogue right. Atlantic Theatre Company's production of Martin McDonagh's The Lieutenant of Inishmore (2006, Tony nominee, Best Play) helped prepare Brian for Ferryman. "My character Brendan was from Northern Ireland so I not only studied the accent but also received an understanding of the politics and the cycle of violence that was occurring."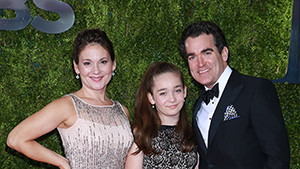 Brian, wife Jennfer Prescott,
and their daughter
Brian d'Arcy James, born in 1968 in Saginaw, Michigan, has two sisters and a brother. "Mom is Irish American, so I came from a linage of Kellys, O'Briens, and Fitzgeralds. Dad's background is Welsh. Ireland is definitely a big thread in my quilt. My identity as Irish American was something I was always conscious of, something my great-grandparents and grandparents were proud of. Naturally, there's a sense of history just by virtue of their personal stories." However, he states he's "allergic to the whole St. Patrick's Day fever. It's not a sticker I put on and wear for the day. It's something that's always with me, not something I have to tap into on one particular day."
His maternal grandfather Harry Francis Kelly was Governor of Michigan (1943-1947) and a member of the Michigan Supreme Court. "My father was an attorney, so I was always around politics. It was something on my radar by virtue of the fact that it was a realistic job opportunity. It wasn't something mysterious or unattainable, but I never really seriously considered it."
He was, however, heavily-influenced by his handsome uncle and namesake Brian Kelly, a veteran TV/film actor, producer, and director who had appearances on The Tonight Show starring Johnny Carson and Hollywood Squares. His career included guest, recurring, and starring roles on numerous TV series including The Rifleman, The Beverly Hillbillies; ABC's Straightaway; and the one he's most noted for: widowed father Porter Ricks on NBC's Flipper (1964-1967). He was also a producer of the cult classic Blade Runner (1982). "Uncle Brian wasn't just a person I saw on TV," explains Brian. "He was someone I could talk to and ask about this and that. I was lucky to have his example. It took away the mystery of what the possibilities were. It cemented the idea that it was something I could pursue."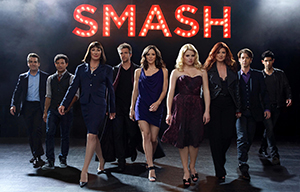 A GOOD START
And that he did following graduation from Northwestern University's School of Communication, arriving in New York in 1991. Brian has made a seemingly effortless segue from drama, to musicals, with his rich tenor, to comedy and from stage to TV and film. "I'm fortunate to have had my hand in different genres and styles. The more you learn, the easier it is to approach the style that's required. Knowledge is power. With the luxury of time, you learn how to employ them. Sad, funny, dramatic, or musical, it helps to have all cylinders firing."
Brian made his Broadway debut taking over the lead role in 1993 of Mickey in Blood Brothers opposite Petula Clark's Mrs. Johnstone. He followed with Lincoln Center Theatre and London's Royal National Theatre/Nicholas Hytner's exceptional revival of Rodgers and Hammerstein's Carousel, where, incidentally, he met his wife Jennifer (Prescott) among a cast that included Audra McDonald.
He received his first Tony nomination as Featured Actor for his portrayal of Sidney Falco opposite John Lithgow and Kelli O'Hara in Marvin Hamlisch, Craig Carnelia, and John Guare's Sweet Smell of Success, a 2002 Best Musical nominee. He was Tony-nominated for Best Actor for Karey Kirkpatrick and John O'Farrell's 2015 Something Rotten, and David Lindsay-Abaire and Jeanine Tesori's 2008 Shrek, which co-starred Sutton Foster. Brian originated the role of King George in Hamilton. He received a 2001 Obie for his solo performance as a Dublin gangster in Conor McPherson's drama The Good Thief for Keen Company.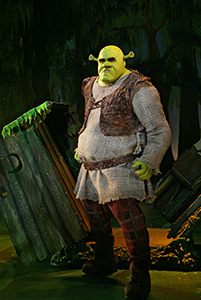 Shrek The Musical
©Joan Marcus
His first foray into TV was a 1997 three-episode arc on ABC's daytime soap The City. "That was my first time on a set. The input factor was very high. I had a lot of surgical strikes along the way in TV to gleam information on what it was like to work on a set, to work with actors." TV moves fast, then it stops, laughs Brian. "Then you wait, then it moves fast for another 45 seconds or for however long the scene is. The stage is a different process and rhythm. That takes a long time to adjust to and understand. It was a natural progression for me to get work in theater from the get-go since I'd been doing theater since high school. I'm blessed to be able to work in both. I enjoy altering the rhythm and the shifting of gears that comes with performing in different mediums."
A LESSON LEARNED
He shares one of the lessons he's learned. "No matter the medium, writers and directors are interested in telling a story in a truthful way. Styles and approach may be different, but a good artist is hoping to create a depiction of reality that an audience can be moved by. That's the common denominator."
Memorable TV outings have been his 2013 role of Frank Houston, husband to Debra Messing, on NBC's backstage musical drama Smash; and Netflix's 13 Reasons Why, based on Jay Asher's best-selling books. Recent films include last year's First Man and the 2015 Oscar-winner Spotlight. One of his most memorable experiences was performing for President Obama and First Lady Michelle at 2010's A Broadway Celebration: In Performance at the White House, which aired on PBS.
The Ferryman
The Ferryman is a sprawling family melodrama filled with seasoned cast members. "I'm so impressed with our cast and predict one-word raves for each of them." states Brian. "The amazing thing about this experience is that we're all going into this endeavor together. There's a great sense of camaraderie and responsibility. We have such reverence for Jez Butterworth's words that it's bonded us together as a like-minded force. The trick will be to be different but the same so the integrity of the play will remain the same. It's going to be a remarkable journey!"
For more information on Brian d'Arcy James, visit riandarcyjames.com.