SPRING INTO BEAUTY
By Gerrie Summers
Aren't you happy to see spring arrive? Are you also happy that everyone will see more skin? If that's a no, never fear. Here are products to help your skin look great during the warmer months ahead — plus I have new spring products, and for a little fun, a little "green" in honor of St. Patrick's Day.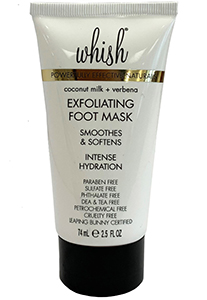 WHISH
Exfoliating Foot Mask
After months of being in heavy boots, not to mention being exposed to cold air and dry indoor heating, your feet can be left dry and cracked. Your tootsies need rejuvenation and pampering. Slather on Exfoliating Foot Mask, which contains coconut milk for much needed moisture, verbena to sooth and heal cracked skin, and pumpkin enzyme to exfoliate and sloth away dead skin cells. Your feet will be ready for spring, summer and sandals in no time! Info: whishbody.com.
---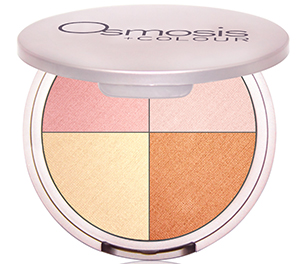 OSMOSIS COLOUR
Highlighting Quad
This highlighter collection features four illuminating shades—Rose (blush shimmer), Pearl (pale, nude shimmer), Bronze (copper shimmer) and Gold (pale, yellow shimmer) that is to be used on the cheekbones, temples and bridge of the nose for a luminous glow. The Highlighting Quad colors can be swirled together as a shimmery blend or used individually for different effects. For example, Pearl can be applied in the inner corner of the eyes to make them appear brighter. The quad features moringa seed oil which is rich in phytonutrients and has antibacterial and antimicrobial properties to help keep skin blemish-free. Info: osmosisskincare.com.
---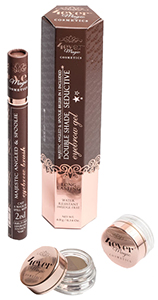 4EVER MAGIC COSMETICS
Double Shade Eyebrow Gel
For any great spring makeup look you need groomed eyebrows. Double Shade Seductive Eyebrow Gel is water resistant and smudge-free, along with being cruelty-free, vegan and formulated without parabens, mineral oil, phthalates and other unhealthy additives. The glass jar contains a lighter-to-darker gel shade duo for creating the look of natural brows. The package also comes with a 2-in-1 angled and spoolie brush for perfect application. Available in Hocus Pocus Blond, Mystical Taupe, Magic Dazzle Brown and Abracadabra Black. Info: 4evermagiccosmetics.com.
---
YON-KA PARIS
Huile Silhouette
Now that it's time to shed boots and heavy coats, you'll be showing much more skin. For smoother skin, try Aroma-Fusion Huile Silhouette Dry Body Oil. This lightweight oil has pink pepper oil, that when combined with gentle massage helps improve the appearance of dimpled skin. Cedar and cypress essential oils help keep cellulite at bay. Along with nourishing sesame, softening sunflower and antioxidant-rich baobab oil, your skin will feel like silk. Info: shop.yonkausa.com.
---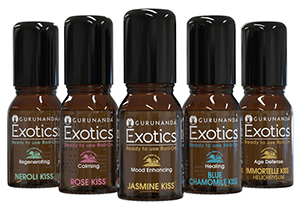 GURUNANDA AROMATHERAPY
Kissed Collection
If you love to wear scents but are sensitive to heavy perfumes or synthetic fragrances, essential oils might be the way to go. The set contains five roll-ons from the Exotics Collection: Immortelle Kiss (helichrysum essential oil with a hint of jasmine essential oil) Jasmine, Neroli, Rose and Blue Chamomile—all pre-diluted in fractionated coconut oil, so it's ready-to-use. The essential oils are also 100% pure and natural, with a dual role of imparting fragrance as well having a positive effect on mood and wellness. Info: gurunanda.com and amazon.com.
---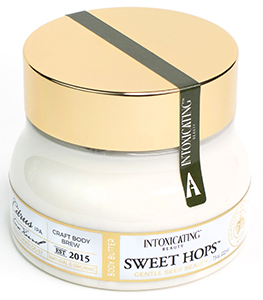 INTOXICATING BEAUTY
Sweet Hops Radiance on Tap Sugar Polish/Craft Body Brew Body Butter
This St. Patty's Day, skip the green beer and quench your skin's thirst with intoxicating treats. First polish away dry, dead skin cells and get your skin ready to show off this spring with Radiance on Tap Sugar Polish. Formulated with natural beer, hops, crushed walnuts and ultra-fine sugar crystals, this scrub makes way for soft, radiant skin. Follow up with the Craft Body Brew Body Butter, also formulated with beer to help smooth skin and get rid of discolorations. Ingredients like wheat seed extract help improve skin texture and help it retain moisture. Info: intoxicating-beauty.com.
---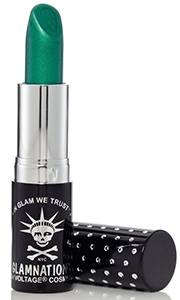 MANIC PANIC N.Y.C.
Ice Metal Lethal Lipstick in Green Envy
Hit the St. Patrick's Day Parade in daring style. Ice Metal Lethal Lipstick in Green Envy is described as a "shimmery shade of grass green." Its frosty, metallic formula is also cruelty-free and vegan and comes in a cute black case with diamond-like stones. Info: manicpanic.com.
---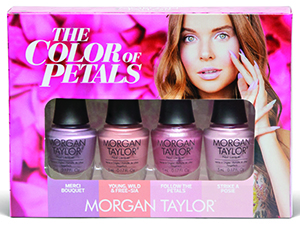 MORGAN TAYLOR NAIL LACQUER
Go for the Glow/The Color of Petals Spring Collection
For a little fun on St. Patrick's Day without being too out there — paint your nails green. A fun color to go with is Go for the Glow, a neon green shade with a crème finish. For spring colors, though, the 2019 Collection features The Color of Petals inspired by flowers in pretty pastel shades: Merci Bouquet (Lilac Crème), I Feel Flower-ful (Light Nude Crème), Young, Wild & Free-sia (Soft Peach Crème), Follow The Petals (Pink Pearl) and Strike A Posie (Blush Pink Crème). What I like about the Morgan Taylor website is you can see how a shade looks on your skin tone. Info: morgantaylorlacquer.com.
---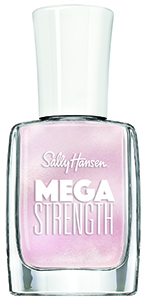 SALLY HANSEN
Mega Strength
Don't moan, but spring is the perfect time to clear out your beauty stash of products that have passed their prime, like old nail polish. Nail polish is typically good for two years, advises Skyy Hadley of As U Wish Nail Spa. "If your polish isn't going on smoothly, or seems thinner or thicker than usual, it's probably time to toss it." If it seems dry, crumbly and the bottle is difficult to open, it might be time to let it go. For new shades, try a pastel. Hadley says pale yellow, pink and blue will be big for spring, as well "anything iridescent." Her pick? Mega Strength in Liquid Power, a pale, shimmery pink that features both pastel and iridescent trends. I like Persis-tint, a metallic, iridescent purple, and if you want to go bolder and brighter try Money Pink Power. Info: sallyhansen.com.
---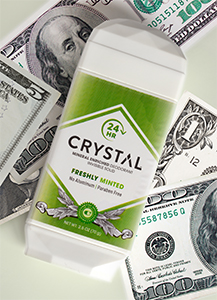 CRYSTAL
Mineral Enriched Deodorant
This deodorant is inspired by green—money, that is. Freshly Minted is a unisex scent with hints of cotton, linen and fresh mint. The best part—it's formulated without harsh chemicals, moisturizes and conditions the skin and provides 24-hour protection. Info: thecrystal.com.