LIFE & STYLE
Celebrating The Great Indoors
By Griffin Miller
With the last ski trip of the season still beckoning—or is that it in the rearview mirror?—and a long weekend jaunt to somewhere Caribbean derailed because of slush falling from the sky, the alternative seems to mean hunkering down in your Manhattan (or outer borough) digs.
I, of the overstuffed chair and SpongeBob slippers, am here to remind you that there are many unexpected pleasures to be found—and added to—on home sweet condo front. Here are 10 from my "I've Finally Reached the Winter Homestretch" swag bag.
LIFE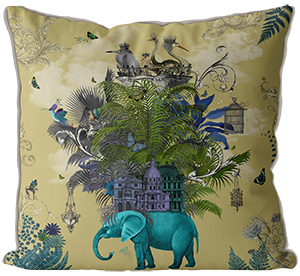 PILLOW TALK
For anyone whose playful side soars while thumbing through Victorian illustrations of birds, animals, potted plants—the wallpaper!—and whatnot, the U.K.'s Fab Funky line of cushions, lampshades, plates and art prints will prove irresistible. This phantasmagorical assortment includes the Limited Edition Suzi Gordon Cushion Collection (18"x18" throw pillow covers). We can (sadly) only show one, but check them out online and know you come away with any number of whimsical visions to plump or pile high on your favorite sofa, chaise or window seat. Info: fabfunky.com
---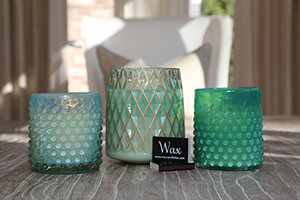 SAVOIR FLARE
Shimmering candlelight is always intriguing—seemingly created to illuminate twilight into night and to give every celebration or bubble bath a flicker of romance. So imagine if you had the ability to personalize the experience. Wax Candle Bar has created one of the first ever candle "bars" featuring 15 fragrances, 20 stunning container options and three refined waxes: soy, coconut and pure (hypoallergenic!) bees wax. Customize for year-round gifting or design your own signature illuminator… the combinations are wonderfully exquisite. Info: waxcandlebar.com.
---

RETRO REDUEX
When I was four, my mother let me pick out the clock that would hang in our kitchen forever: a smiling red Kit-Cat Klock. With its moving eyes and tail it made eating breakfast, well… happy. Of course I had no idea of its heritage that dated back to1932 when these animated felines only came in black or red. Happy 21st century: the iconic Kit-Cat Klocks® are now offered in a rainbow of colors, lady versions and more, including "Exotic Pets" (clocks dipped in premium hydrographic animal patterns). You'll covet every member of the menagerie, so choose wisely! Info: kit-cat.com
---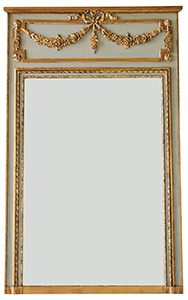 UPON REFLECTION
What would life be without a bit of neoclassical indulgence? So why not give into your most decadent decorative desires… whether it's a Gustavian desk coupled with an elegant matching chair, or console/buffet that defies genres. To start you might want to build upon a single, albeit breathtaking, mirror—one in which hand-carved gold trim meets the perfect sleek grey background. Preen…pose… vogue… or merely bask in the awesome aura of you in front of Ave Home's 64-inch tall Regent Trumeau Mirror. The ultimate Louis XVI-style heirloom-to-be. Info: avehome.com.
---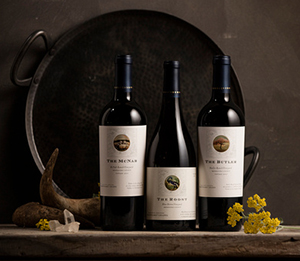 SIP, SAVOR, SHARE
Wine lovers take note: Bonterra Biodynamic, Single Vinyard Wines. Any one of these limited edition players offers an inviting cachet to fireside or cozy dining room gatherings, including—or especially—just the two of you. The Butler 2013 is a lush Rhone-style blend; The Roost, 2015, a golden Burgundian-style Chardonnay; while The McNab 2014 (my personal choice) offers a seductive meld of Merlot, Cabernet Sauvignon and Old Vine Petit Sirah. Let the tastings begin. Info: bonterra.com.
---
STYLE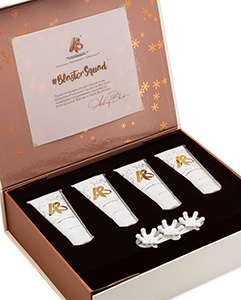 FACE ODYSSEY
For the moment, let's take cosmetic surgery and facial fillers off the table… especially if the time and/or cost involved aren't, well, realistic. For those of us searching for an invasive-free solution, author/entrepreneur Ashley Black has come up with the FaceBlaster™, an ingenious little device to jettison puffiness, lines (fine and not-so-fine), discoloration and other annoyances while defining the jaw and cheekbones, facial massage included. As for myself, I was happy there was a reference tutorial online and minimal time commitment. Am I fabulous? Getting there. Info: faceblaster.com
---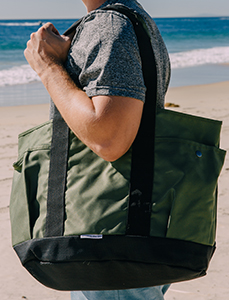 IT'S MY BAG
Whether it's crumbs or sand, a leaky bottle or a saturated swimsuit—our lives are filled with grainy, wet, errant ickiness. No way around it. Shopping sack: doomed; beach carryall: a hot mess. So it's nice to know that CGear is out there making bags and backpacks that de-ickify our lives and look really, really cool. Their line of Totes (billed Tote I through V) features several sizes and styles, all "sand free" thanks to their mesh bottom and feature at least one pocket. My choice, the formidable Tote III in a beautiful muted green, is enormous and mega-functional. Info: cgear-sandfree.com.
---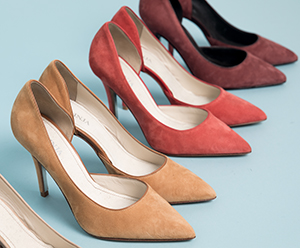 HEEL APPEAL
Marilyn Monroe said, "Give a girl the right pair of shoes and she can conquer the world!" You could say it's also the mantra of Dutch style diva Bianca Blom, whose frustration brought on by the pain of wearing high heels, even gold standard Italian-crafted ones, led her to partner with an orthopedic shoemaker to develop the ultimate designer 3- and 4-inch heels—so staggeringly comfortable she wore them during a half-marathon in Manhattan. The catwalk gorgeous LINJA Collection, handmade in Italy, assures precision fit through an iPhone app that measures foot size via 3D imaging. Impressive. Info: linjashoes.com.
---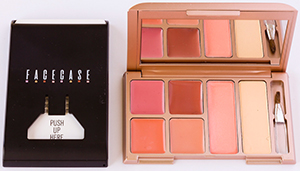 SELFIE CENTRAL
It was love at first impression: makeup (with mirror) that attaches to your cell phone and even has a slot for cards, cash, whatever. When a photo op hits, you're there… lipstick re-upped and smile ready, Adorably skinny and smart phone-ready, the PalmPact/FaceCase is available in either Rose Gold or Black and comes in two color palettes: Natural Nudes and Rich Nudes. TV celebs like Kelly Ripa, Tinsley Mortimer and supermodel Paulina Porikova are already fans, as is PETA founder Ingrid Newkirk (FaceCase is 100 percent cruelty-free; 10 percent of proceeds go to PETA). Info: palmpact.com.
---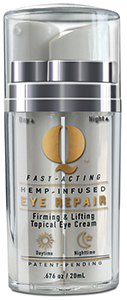 MAKE MINE A DOUBLE
Legal marijuana may be a hot topic on the nightly news, but the buzz surrounding CBD! Cannabidiol (CBD)—a de-potified version of cannabis—is attracting advocates for its properties as an antioxidant and anti-inflammatory. Dabbling in The Gold Q's lotions, balms, creams, etc. marks my first adventure with a product line featuring Refined Hemp as their first ingredient. I was amazed at the potency and efficacy: these products are truly special. Of them, the 2-in-1 Day and Night Eye Repair stood out for its smooth application on the delicate skin around the eyes… but then I like to keep things mellow. Info: thegold.com.