TAHITI
A Place of Breathtaking Wonder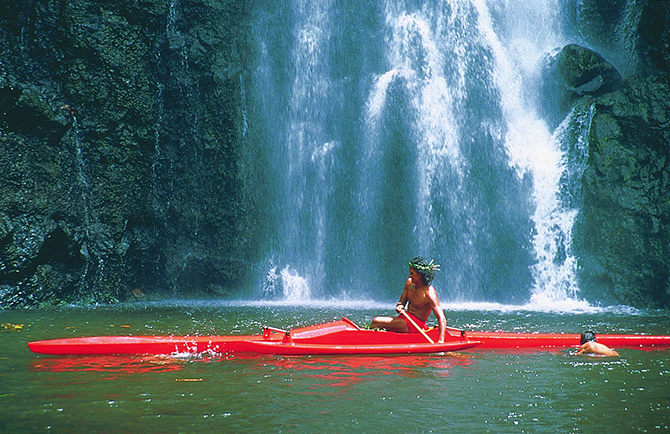 By Jenny Peters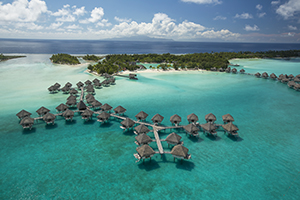 Le Meridian Bora Bora - Aerial view
The first thing to know about Tahiti—or French Polynesia, as the whole country is actually called—is that the photographs you've seen do not do it justice. This wondrous place in the South Pacific consists of more than 100 islands in five archipelagos, most ringed by coral reefs that create strikingly gorgeous lagoons filled with azure- and turquoise-hued warm water.
Tahiti is the main island of the Society Islands grouping, and also where the international airport is in Papeete, as well as the generic name for the country. From there, most visitors explore the nearby islands of Moorea, Huahine, Raiatea, Taha'a and Bora Bora; each island is unique, accessible via ferry or short plane ride. Expect to hear French spoken everywhere, as well as English and Tahitian: learn "Ia Orana" ("hello") and "Maururu" ("thank you") before you go to sound a little like a local.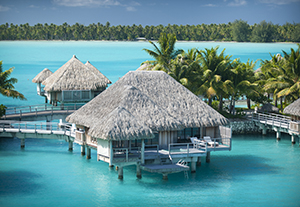 St. Regis Bora Bora - Overwater Villas
BEGUILING BORA BORA
Bora Bora is the jewel in the crown of all of French Polynesia, a place that grabs your heart the moment you spot it out the window of the plane. With its craggy Mount Otemanu rising from the center of an indescribably blue lagoon, it truly is a magical vision of paradise found.
And while Bora Bora has been synonymous with honeymooners ever since the first overwater bungalows appeared here in the late 1960s, there are lots of other possibilities for vacationers who are not at that blissful stage of life. These days, families spanning three generations or groups of adventurous friends are welcomed at many of the resorts that now dot the lagoon.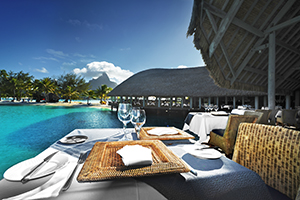 Le Meridian Bora Bora
At the St. Regis Bora Bora Resort, for example, lovers, families and friends find the largest overwater villas in the South Pacific, some with two bedrooms and private swimming pools. That legendary place also has a Royal Villa, 13,000 square feet of incredibly private space with three bedrooms, four baths, a swimming pool, whirlpool, sauna and your own private beach. And every villa here on this private motu (island) comes with a personal butler. Add in a world-class spa and cuisine by Jean-Georges Vongerichten and it isn't surprising that this is a Hollywood A-list favorite.
More importantly, the St. Regis has water access everywhere (like most Bora Bora resorts), so every day can be as much of an adventure as you desire. Sailboats, kayaks, stand-up paddleboards, snorkel masks and jet skis let you discover the crystal-clear lagoon at your own pace, all the while looking up at that iconic mountainous rock formation that towers above.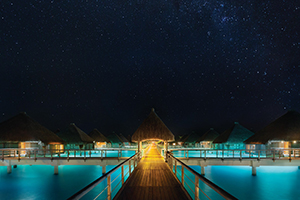 St. Regis Bora Bora - Villas at Night
No matter which beautiful hotel you choose (others with overwater bungalows and gorgeous settings include Le Meridian Bora Bora, the InterContinental Bora Bora Resort, the Conrad Bora Bora Nui and the Four Seasons Bora Bora), tear yourself away from the resort now and then for some fascinating experiences. We love scuba diving both inside the lagoon and out in the open water, where encountering massive manta rays, beautiful sea turtles, stingrays, huge schools of spotted eagle rays and Tahiti's famous sharks are an everyday occurrence. Non-divers can have a gentle shark and stingray experience, too; there's seriously nothing to fear here in paradise.
Or join a jeep tour or a guided hiking trip up Mount Otemanu and see Bora Bora from a completely different point of view. Take in a pearl farm to discover how those stunning Tahitian black pearls are made, then shop in Vaitape (the island's main city) for a piece of jewelry to always be reminded of this dreamy place.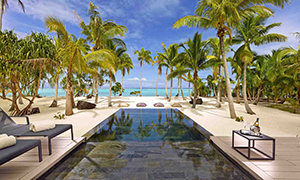 The Brando
TAHITI'S LESSER-KNOWN ISLANDS
Bora Bora is incredible, but there's much more to see in the Society Islands, with other lesser-known (and less crowded) places to explore not far from Tahiti island and the airport. If money isn't a worry, put Marlon Brando's private island on the itinerary. The Brando is an all-inclusive, 35-villa resort and the only hotel you'll find on Tetiaroa. That eco-friendly, ultra-exclusive luxury enclave opened in 2014 and is the ultimate escape to another world.
Moorea boasts eight mountain peaks and a turquoise lagoon, with family friendly hotels as well as honeymoon overwater bungalows. It's more easygoing and casual than Bora Bora, but also a spot where serious adrenaline seekers can have a ball, doing challenging hikes, tackling a sky-high zip-line system or parachuting out of a small plane.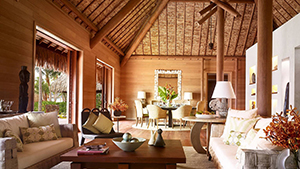 Four Seasons Bora Bora
Taha'a is a perfect destination for botany lovers, as this lush, flower-shaped island is home to vanilla farms, growing both vanilla orchids and vanilla beans. The whole island is redolent with that sweet scent, while the motus surrounding the lagoon are blessed with white sand beaches and coral gardens just off shore. A stay at the secluded five-star Le Taha'a Island Resort and Spa is a sublime way to embrace this luscious, less-visited Tahitian island. You'll never want to leave.
For more information on Tahiti and her islands, visit tahititourisme.com.
GETTING THERE
You'll need to fly to Los Angeles or San Francisco to catch a nonstop flight to Tahiti on either Air Tahiti Nui (LAX) or United (SFO). Air Tahiti Nui flies daily to Papeete (PPT) and is upgrading their full fleet to Dreamliner planes in 2019. United flies three Dreamliner flights a week from San Francisco. The flight is about 7.5 hours and you do not cross the international date line.