MSC SEASIDE
The Ship That Follows The Sun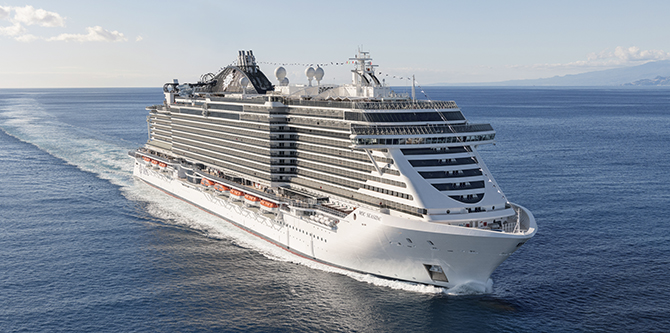 By Nava & Michael Raviv
The MSC Seaside is a one-year-old, state-of-the-art ship sailing year-round on 7-day cruises from Miami to the Eastern and Western Caribbean. Dubbed "The Ship that Follows the Sun," the MSC Seaside was designed for warm weather, evoking the easy-going South Beach lifestyle. It features expansive outdoor spaces including several pools (one with a retractable roof), large decks lined with beach chairs, stages for parties, sidewalk cafes and long waterfront boardwalks for al fresco dining and promenades. The ship's glass floor Infinity Bridges and the Bridge of Sighs afford breathtaking views of sea and sky—the perfect spot for Instagram snapshots.
Seaside's dazzling interior design is worthy of photo spreads in glossy architectural journals. There are almost no straight lines in sight, as walls, columns, and countertops sweep, undulate and sparkle under the bright lights. Every piece of furniture looks as if it was handpicked from a trendy Italian showroom. Deep burgundy and grey hues spell elegance, while bright illumination and electronic music add a unique vibe to the swanky décor.
The hub of the ship is a soaring atrium flanked by two solid glass grand stairways embedded with thousands of sparkling crystals. The atrium's back wall is lined with floor to ceiling LED screens, mirrors, lights and stages for performers. Lively bars and lounges surround the different levels of the atrium.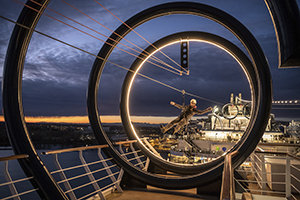 LIFE ON BOARD
One of the most popular pastimes on board is basking in the sun while sipping cocktails and gazing at the blue Caribbean Sea. However, there are plenty of other activities to experience including zip-lines (the longest at sea), water slides, fitness classes, a Technogym wellness center, bowling lanes, a car racing simulator, trivia games, dance classes, and jungle-themed playground, to name just a few. Guests can also try their luck in the ship's casino or shop the duty-free stores.
Those who cherish the sybaritic life can indulge in a massage, a Decleor Paris facial, or other pampering treatment at the Aurea Spa, the largest Balinese spa at sea. They can also unwind in the Thermal Area, enjoying a large bubbling whirlpool, hot and cold rain-showers, dry sauna, snow room, light and dark aromatherapy steam, and a Himalayan salt room. The spa also offers Botox and other medical rejuvenation treatments.
DINING & NIGHTLIFE
The MSC Seaside features several dining venues including two elegant à la carte restaurants and two buffet locations with numerous stations and selections. Guests can also enjoy specialty restaurants (for a fee) such as Roy Yamaguchi's Asian Market, authentic steak house, Butcher's Cut, and the ship's signature seafood restaurant, Ocean Cay.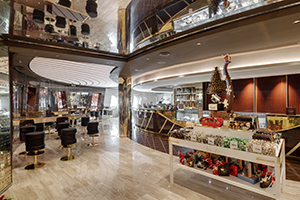 The Metropolitan Theater is the ship's main entertainment venue, featuring top Broadway and Hollywood musicals and Cirque du Soleil-style shows with daring aerialists, dazzling gymnasts, and amazing contortionists. One of the best shows is Skywalker, a tribute to Michael Jackson, done so well that one could swear Michael himself was onstage. Another unique experience is an abbreviated version of Madama Butterfly featuring a lavish production with sets, costumes, and outstanding opera-trained singers.
The cruise staff also organizes theme evenings such as the White Night party under the stars, and a 70's party with the iconic Village People. Those who like to dance to their own beat head to the Silent Disco where they don wireless earphones and sway like no one is watching.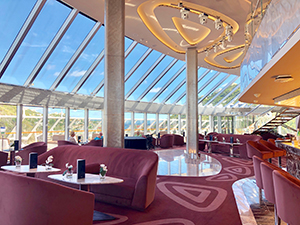 THE YACHT CLUB
Passengers who seek the most luxurious cruise experience book rooms in the Yacht Club, a private, three-floor, all-inclusive enclave near the ship's bow. The Club features a large deck with pool, hot tubs, cushy rattan, and a poolside bar and grill. The lower level of the Club is home to a vast glass-walled lounge where guests relax with canapés, pastries, and chocolates while sipping champagne and listening to live classical music.
An elegant restaurant is perched on a balcony overlooking the lounge and sea beyond. It offers gourmet dining with dishes such as foie gras, escargot, truffled pasta, delicious seafood, and superb steaks, all paired with fine wines and accompanied by exquisite desserts.
Guests of the Yacht Club also enjoy complimentary drinks, butler and concierge service, priority boarding and disembarkation, elevator bypass, reserved theater seats, and other privileges.
THE ITINERARY
The MSC Seaside plies the Caribbean islands of Puerto Rico, U.S. Virgin Islands, St. Maarten and the Bahamas on one itinerary and visits Jamaica, Cayman Islands, Mexico and Bahamas on another. The ship offers a plethora of shore excursions and there is plenty to do on each island, but as the saying goes, "It's not the destination, but the journey that counts." This is particularly true when one sails on the MSC Seaside. The ship is only a year old but is already a top player in the ever-evolving cruising world.
For more information on MSC Cruises, visit MSCcruisesUSA.com.