THE BREAKERS
This Seaside Haven Is A Slice Of Heaven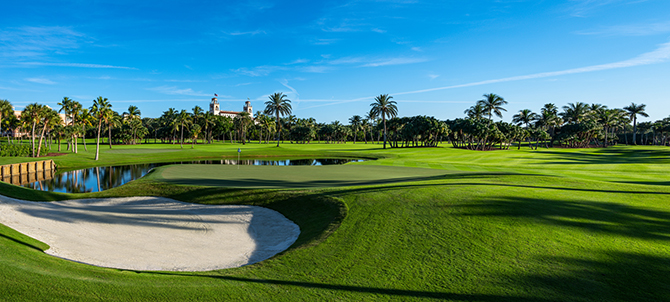 By Bailey Beckett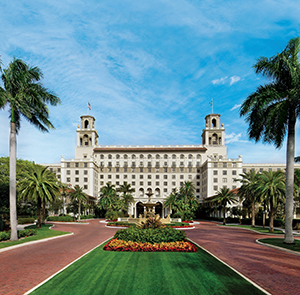 The Breakers
There are few resorts in America, or the world for that matter, that come close to matching The Breakers, an otherworldly oasis in the heart of that billionaire's playground we call Palm Beach. A city within itself, the AAA Diamond property is not just a hotel but a mental, visual, and spiritual journey of epic proportions.
In other words, with all due respect to its Palm Beach setting, you don't have to leave The Breakers' grounds. Its more than 500 guest rooms, nine restaurants, two 18-hole championship golf courses, 6,000 square-foot oceanfront fitness center, 20,000-square-foot spa, Mediterranean-style beach club overlooking one-half mile of private beach, four swimming pools, five whirlpool spas, luxury poolside bungalows, 10 lighted tennis courts and 11 on-site boutiques will simply break your heart—only because you'll eventually have to leave.
Originally opened in 1896 as The Palm Beach Inn, the hotel was destroyed by fire just seven years later and rebuilt within a year and rechristened as The Breakers. Since then, it has been hosting the world's rich and famous, royalty, heads of state, celebrities and families just looking for a getaway. It's majestic setting, and palm-tree dotted 1,040-foot drive leading to its twin Belvedere towers and giant fountain inspired by the Boboli Gardens in Florence, lets you know you're far away from home.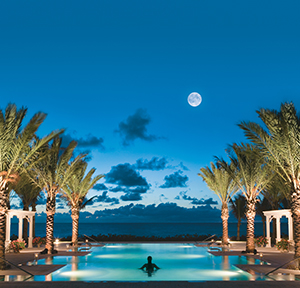 South Pool
THE LAP OF LUXURY
The picturesque setting is its main lure, but it's just part of the overall mystique and attraction. Its long stretch of pools, bungalows, bars, and restaurants that run along the beach is what sets The Breakers apart. The laid-back vibe is complemented by flawless service, delicious food and frosty drinks, a lively mix of guests and private members, and tropical weather that makes South Florida such a prime destination. Of particular note is its Mediterranean-style Beach Club, a throwback panoramic island escape featuring 25 private, luxury poolside bungalows for daytime rental, complete with a personal concierge. Those not wanting to spend their days lounging and lunching can busy themselves with numerous activities, including scuba, snorkeling, coral reef tours, deep sea fishing, private charters, kayak excursions, stand up paddleboard and boogie board rentals, swimming lessons, and more. Located steps away from the beach scene is The Spa, an Italian-inspired oasis that comes with 17 treatment rooms with face and body care products from OSEA, Tammy Fender, Guerlain and more.
Of course, a top tier hotel is nothing without its rooms, and fear not travel aficionados—The Breakers matches any retreat on the island. All rooms face either the beach or the resort and come with the amenities you expect in a luxury setting (pristine décor, luxury linens and duvets, plush bathrobes, private label toiletries, and well stocked mini bar).
Raising the stakes even further is The Flagler Club, an ultra-luxury, 25-room boutique hotel located within The Breakers. Bringing exclusivity to new extremes, the VIP experience includes fawning butler-style services, a Club Lounge, and a rooftop terrace, among other treats.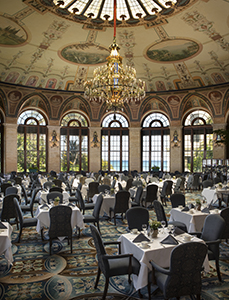 The Circle
WORLD-CLASS DINING
And speaking, err, writing about "treats," The Breakers offers Michelin-quality dining throughout the hotel and neighborhood. Among its restaurants are HMF, a modern ode to the classic Palm Beach cocktail culture with an innovative take on sharing plates representing multiple cuisines. For a touch of Asia, Echo offers distinctive flavors of China, Thailand, Japan, Vietnam, and Korea, complemented by an outstanding selection of cocktails, sake, beer and wine, as well as the island's best sushi bar. Beef lovers will enjoy Flagler Steakhouse and its fresh take on the classic American chophouse that also features a premier selection of fish, Italian favorites, traditional broiler items, and savory sides. Enjoy brunch at The Circle, which boasts a soaring, 30-foot hand-painted ceiling with eight oval Renaissance murals. Or, perhaps step into the legendary Seafood Bar which basks guests in modern, seaside sophistication and the sense of dining aboard a private luxury yacht (it's also famous for its aquarium bar). And for families, there's The Italian Restaurant, where guests can drop off their kids in an adjacent Family Entertainment Center while dining on brick-oven pizzas and fresh pasta, veal Milanese and snapper Mediterranean. For casual fare, there's the Beach Club, where a seaside-hued décor complements seasonal soups, salads, sandwiches, and flatbreads. The Ocean House, offering laidback luxury, ocean breezes and favorites like salads, baguette sandwiches, seafood and cocktails; and The Surf Break, a gazebo-style tropical beachfront bar where guests relax over cocktails and light bites amidst tranquil breezes.
Finally, what's a vacation without some leisure time? Golf enthusiasts can enjoy two 18-hole championship courses, including Florida's oldest The Breakers Ocean Course, an 18-hole course located on-site at the resort, and The Breakers Rees Jones® Course, a lushly landscaped and challenging course a mere 10 miles away. More interested in love than the links? Try playing tennis on ten beautifully groomed Har-Tru courts.
For more information on The Breakers, visit thebreakers.com.