AC HOTEL TIMES SQUARE
A New Way To Hotel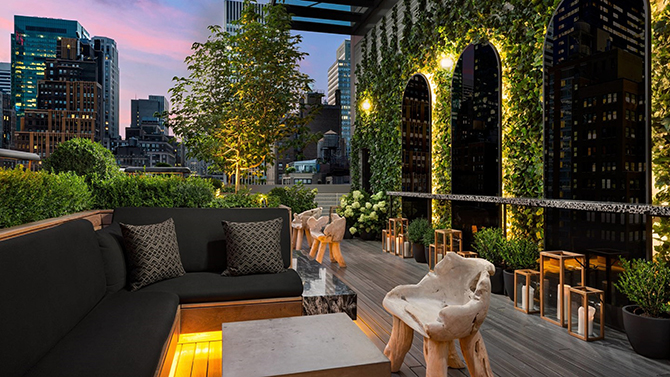 By Natasha Bazika
Times Square remains the beating heart of Manhattan, which can at times be overwhelming at best. But pockets of quiet in the city that never sleeps still do exist. Take AC Hotel Times Square which allows guests to be amidst the mania while still having space to escape the bustling crowds. It's almost serene as you sit back, relax, and let the iconic views of New York's famous skyline sink in from the 21st-floor rooftop lounge.
This midtown hotel, only a block from Times Square melds an urban vibe with classic elements that hark back to the brand's Spanish roots. Travelers are greeted with a grand entrance, with 23-foot high ceilings and exotic aromas from its lively Barcelona-styled tapas bar in the lobby. Guestrooms and suites are complete with neutral colors, sleek furnishings, natural lighting and an open sense of space with private balconies and angled ceiling-to-floor windows to make the most of the great cityscape views.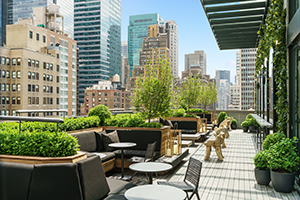 Castell Rooftop Lounge at
AC Hotel New York Times Square
AM/PM COMFORT
As with all AC Hotels, their philosophy is to focus on the essentials—and only beautiful essentials— thus making your stay seamless and enjoyable. Each room includes widescreen TV's, coffeemakers, and mini-fridges as well as luxurious bedding for a good night's rest and a spa-like bathroom to help you rejuvenate after a long day exploring. If you want to continue your home exercise routine on your travels, the 24-hour fitness center is equipped with everything you need, including cardio equipment, weights, exercise mats, and a hydration station.
Take in the nightlife and dazzling city views from the comfort of the 21st-floor rooftop lounge, Castell. Capturing the familiar spirit of classic cocktail bars the design features strong geometric influences featuring leather benches and bar stools as well as an open-air terrace—making it both cozy, communal and private for every occasion. The bar specializes in martinis. So, whether you like it shaken, stirred, dirty, dry, twisted or straight, Castell can make it happen. Complimenting a robust beverage selection is a Mediterranean-influenced menu of shareable plates, including Crispy Sea Salt Potatoes with Smoked Paprika and Aioli, and Ahi Tuna Tartar.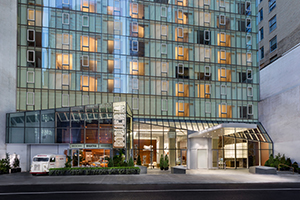 Exterior
For a full-menu head to Boqueria for Spanish tapas, where guests can order from a rotating list of seasonal and traditional sangrias. In terms of the menu, it changes seasonally and can include dishes such as Crispy Bacon wrapped around sweet Medjool Dates, stuffed with rich Blue Cheese, tender Octopus, and a traditional Seafood Paella of Sepia, Squid, Shrimp, Clams, and Mussels, as well as Suckling Pig and other specialties.
Offering the best of contemporary European architecture infused with the design-forward spirit of the Fashion District, AC Hotel Times Square gives a sense of world luxury and harmony amidst the hurried city streets.
For more information on AC Hotel Times Square, visit achotels.marriott.com.