BITS & BAILEY
The Who, What And Wow Of The Luxury Scene
By Bailey Beckett
Spring is almost here, which makes Bailey a happy bunny. And this month he's hop-hop-hopping to what's hot-hot-hot.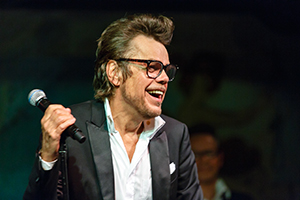 BUSTING!
Imagine doing a conga line with 80s rock legend Buster Poindexter. Well imagine no more because America's favorite lounge lizard is bringing his act back to the storied Café Carlyle in the legendary Carlyle Hotel. Starting April 2nd, Buster and his crew are performing favorite 80s hits and rhythm and blues ballads through the 13th. "Buster Poindexter aims dead center at a novelty tradition that traverses musical styles and eras and embraces blues, jazz, doo-wop, rumba and calypso. He rang the bell every time," raved the New York Times. Buster is the pseudonym for the New York Dolls lead singer David Johansen, who shot to fame in the 80s with party-centric hits like "Hot Hot Hot." Performances will take place Tuesday-Saturday at 8:45 pm. Info: ticketweb.com.
---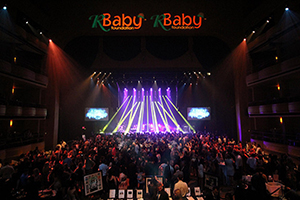 RUNNING!
Keeping the 80s vibe going, one of the hottest events this season is The R Baby Foundation and Michael's Mission's Two Charities, One Mission: Saving Lives, an 80s-themed benefit concert on April 4, 2019 at the Hammerstein Ballroom in New York City. R Baby Foundation and Michael's Mission are collaborating to save lives and to come together to make this benefit concert a uniquely unforgettable experience. Rev. Run from Run-DMC is confirmed to headline and close out the evening and will be accompanied by acclaimed DJ Mel DeBarge. The event is produced by Powered by Professionals and will feature awesome 80s activations like Pop Rocks Cocktails, a themed Candy Bar, classic arcade machines, and more! Get your tickets Info: rbabyfoundation.org/events-happenings.
---

GLOWING!
Nothing makes Bailey glow (figuratively and literally) more than luxury skin care products, and one of the most in-demand with NY glamizons is Guinot's Anti-Dark Spot Serum, a new two-week treatment that works to reduce and brighten dark spots caused by sun exposure and aging. Perfect for those snow birds ready to depart Palm Beach after "the season" and prepare for the summer Hamptons. The serum rejuvenates the skin and restores a youthful appearance using vitamin C along with a range of 56 active ingredients to help stimulate cell renewal and boost collagen synthesis; melanoxyl and phytic acid are used to help reduce melanin production. You'll look like a star after just two weeks. I should know, have you seen me lately? Info: guinotusa.com.
---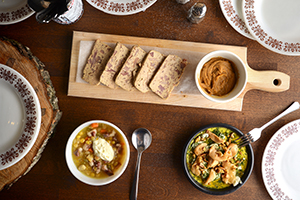 INDULGING!
Speaking of Palm Beach, one of the hottest restaurants in its proximity is the celebrated Chez l'Épicier in nearby Delray. Opened in 2015 by native Canadian husband and wife team, Chef Laurent Godbout and Veronique Deneault, the upscale eatery's menu and approach to food is a veritable grocery list of farm fresh vegetables, market meats and seafood, with classic yet creative dishes featuring beet salad, goat cheese foam, quinoa lace cookie white balsamic and strawberry coulis; pulled lamb "tatin," caramelized eggplant and red cabbage puree; dill and almond crusted snapper, marinated fennel and apple salad; and daily risotto dishes served in covered cast iron casserole dishes. Equally delicious and beautiful is the tableside presentation of Flambéed Lobster Cognac Parmesan Wheel which is a showstopper! More avant garde starters include avocado, sesame oil and yuzu tartare with puffed red quinoa; bone marrow, snails and cauliflower gremolata; and a Canadian favorite, Poutine. It's gastronomic delight from beginning to end. Info: chezlepicier.com/palmbeach.
---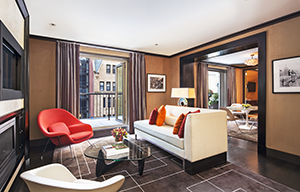 STAYING!
Finally, my favorite nest of late is The Chatwal, a boutique hotel in the middle of the theater district. You heard that right—it's on West 44th Street steps away from the most revered Broadway stages. You don't expect luxury in this part of town, but there's nothing more unexpected than this hidden gem. Featuring just 76 rooms, 29 of which are suites, The Chatwal was redesigned by celebrity decorator Thierry Despont, who gave it both modern and classic vibe at the same time. Bailey got a Roaring 20s vibe during a recent visit, which included lunch at the see-and-be-seen Lamb's Club restaurant, where he once saw Anna Wintour and Gwyneth Paltrow pretending to eat in a corner banquette. The hotel recently launched a collaboration with Gwyneth's yoga and spiritual guru Eddie Stern, who is also the co-founder of the Brooklyn Yoga Club and Ashtanga New York. His "Pause & Take a Breath" app, featuring nine 12-minute yoga lessons with music by Moby and available through Healthwirefm digital broadcast network, is now provided to hotel guests on a complimentary basis through the in-room and in-suite iPads. Complete with a Chatwal-red mat, yoga enthusiasts of all levels have convenient step-by-step instructions to calm the mind, improve resilience, and increase flexibility. Info: thechatwalny.com.