AROUND TOWN
Lower East Side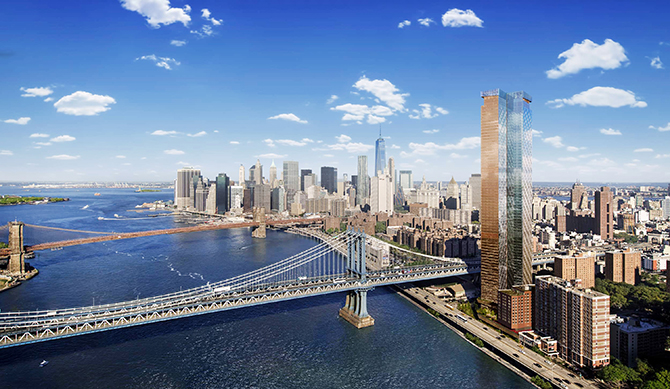 By TJ Johnson
The Lower East Side (LES) is roughly the area below Houston Street, from the East River to the Bowery. During the 1880s and 1890s, immigrants from Eastern Europe flooded into the cramped redbrick tenements. At the turn of the century this was the world's largest Jewish settlement, an area that later became a center of culture and community that spawned many writers, businessmen, and intellectuals. Most of the upwardly mobile Jewish immigrants left as quickly as possible; today, this neighborhood is one of the most diverse places in Manhattan.
LES has been completely gentrified. As you walk around, you will notice endless hip bars, clubs, galleries, and trendy cafes and restaurants. You should spend all day just walking around and visiting the unique one-of-a-kind shops and even get a tattoo!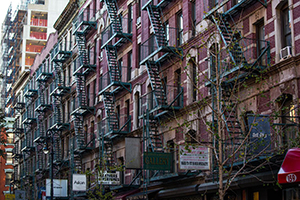 Orchard Street Today
WHAT TO SEE & DO
Orchard Street The old pushcarts are gone, but bargain hunters still flock to this street, a seething indoor-outdoor bazaar of discount apparel and accessories. Hundreds of stores line Orchard Street and surrounding thoroughfares from East Houston to Canal Streets. Just remember: This kind of shopping is not for the faint of heart, but if you go prepared for the rough-and-tumble of bartering and remember that not all stores take credit cards, you can turn up some jewels among the schlock—and have fun, too.
Tenement Museum This small, fascinating museum—now a National Historic Landmark—is visited predominantly by the curious descendants of immigrants who fled to the U.S. at the end of the 19th and beginning of the 20th centuries. The grim reality of the appalling hardships they faced is palpable here, where visitors on guided tours see cramped living spaces in recreated tenement apartments and learn about the lives of actual residents: the Gumpertz family, German Jews of 1916; and the Baldizzi family, Italian Catholics of 1935 to name but a few. Imaginative programs that focus on all facets of the immigrant experience include on-hour weekend walking tour of the historic Lower East Side, photographic and art exhibits, dramatic readings from immigrant literature, plays, film, and lectures. Located on Orchard Street (between Broome and Delancey Streets).
Now I couldn't possibly mention all the amazing restaurants and cafes in the area so I'll just mention two of my favorite spots and leave the charm of exploring LES to you. For coffee and delicious dishes including the all-day brunch is MUD which also features a Beer & Wine Garden; there's also available parking for your bike. Located at 307 East 9th Street (off Second Avenue).
For a Mexican menu, try La Contenta for its authentic twist in the Heart of the Lower East Side. Dishes offer traditional Mexican fare with a French accent. The food and drinks are amazing. Located at 102 Norfolk Street; there's also another outpost in Greenwich Village. A definite must.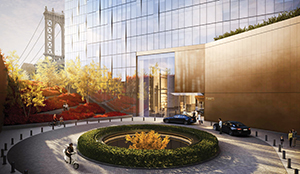 One Manhattan Square
DOWNTOWN LIVING
LES is a great place to move to if you want to feel that "funky" New York energy and are into nightlife and different cultures. You tend to see a younger crowd working and having fun in NYC. If you want to buy or rent, you can still find several walk-up apartments for rent and apartments for sale under $1 million. If you want that LES energy but still want to live in a high end apartment, here are a few buildings to consider.
204 Forsyth Street If you want luxury living but are not a fan of large buildings, here's your address. With just 11 residences, 204 Forsyth Street boasts high ceilings, wide-plank oak floors, custom windows, and washer and dryers in each apartment. Act fast because there are only a few spots left. Prices start at $2.7 million for a two-bedroom residence.
One Manhattan Square If you are looking for waterfront and skyline views, this beautiful building soars into the sky and gives you some of the most amazing views of Manhattan and the outer boroughs. With the interior being designed by none other than Meyer Davis, these apartments feature custom kitchens and cabinetry, Miele premium appliances, and giant custom windows flooding the apartment with light and astonishing views. One Manhattan Square features 100,000 square feet of outdoor and indoor amenities including a full basketball court, wine room, billiard room, arcade, theater and performance space, a 75-foot swimming pool, and a 24-hour doorman and concierge service. Prices start at $1.2 million for a one-bedroom residence.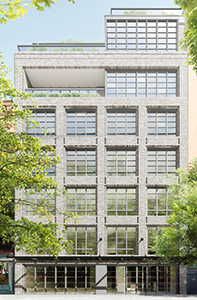 204 Forsyth St Exterior
Norfolk Atrium If you like contemporary, the Norfolk Atrium (115 Norfolk Street) is a 24-unit building with contemporary architecture, innovative technology, and luxury at its best. Every residence at the Norfolk features polished concrete ceilings and columns, white oak floors, alcove lighting, and washer and dryer hookups in each apartment. The kitchens afford black granite counters, Bosch cooktops, Liebherr refrigerators, and come with convenient electric garbage disposals. Norfolk also comes with private parking, a beautiful rooftop, and some apartments offer balconies, and terraces. Prices start at $1.15 million for a one-bedroom residence.
This was just a small glimpse inside the Lower East Side. There is much in the area. If you would like to take a tour, I will be happy to take you on a tour and answer all questions you may have.
Thelonious "TJ" Johnson is a licensed broker with Brown Harris Stevens, has teamed up with Ogden Starr, and enjoys sharing his tips on his favorite city. If you are looking for a residence in the Lower East Side—or anywhere else throughout Manhattan—contact him for any of your buying or selling needs. Info: bhusa.com/real-estate-agent/thelonious-tj-johnson.