CAPE CORAL
Shining Brightly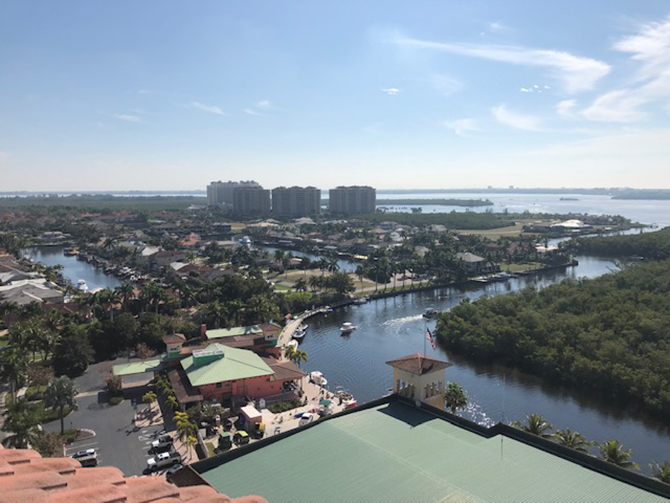 By Lyle Seltzer
Cape Coral is a vibrant and friendly community with all the beauty that you expect from Southwest Florida. With over 400 miles of salt and fresh water canals, it is a boaters paradise.
HISTORY
Until the birth of Cape Coral, the area was simply known as "the other side of the river" by homesteaders, loggers, cattlemen, professional fishermen, and sportsmen. However, in 1957 Leonard and Jack Rosen changed that by purchasing a 103 square mile tract, known as Redfish Point, for $678,000. The Gulf American Corporation (GAC) was formed to develop this waterfront wonderland and on November 4th of the same year, ground was officially broken as Cape Coral. Early in 1958, a stretch of Miracle Mile—later named Cape Coral Parkway—extended east from Coronado and a main intersection was soon formed where it met Harney Point Road, now Del Prado Blvd. There was only one building located in Cape Coral, which was a four-plex at the corner of Cape Coral Parkway and Coronado Parkway, housing land sales offices.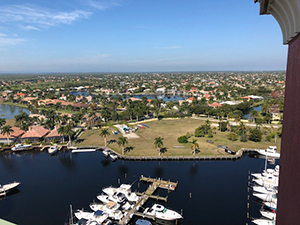 Through GAC, the development grew at a remarkable pace, and on June 10, 1958, the first residents moved in. These pioneers had to drive forever to get anywhere. Twenty miles for a loaf of bread was not uncommon.
Cape Coral was promoted like no other Florida development, through a mail order program with ads on radio, television and print media. In 1959, water view home sites were sold for $990, waterfront was sold for $1,900, and riverfront cost $3,390. Property sales reached over $9 million after the first year and plane loads of curious northerners were soon flown down for a quick look and a heavy sales pitch, landing on an out-of-the-way strip, now called 47th Terrace. On March 14, 1964, the two-lane Cape Coral Bridge was opened to traffic, making the area even more accessible to potential buyers. In 1970, the city was finally incorporated with a population that stood at 11,470.
CAPE CORAL TODAY
Cape Coral is made up of 114 square miles of land and is the largest city in Southwest Florida as well as the largest city between Tampa and Miami. With golf courses, tennis courts, boat ramps, athletic parks, natural preserves and more, the quality of life in Cape Coral is second to none.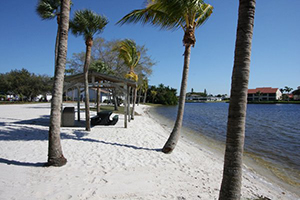 The City of Cape Coral which is recognized as being a safe community has some of the best parks and recreation programs in the state, providing all types of activities and programs for young and the young at heart. Cape Coral satisfies the cultural and recreational needs of a diverse population. Residents and visitors are within easy reach of all sorts of activities and amenities: shopping, dining, theater and arts, sports (from children's leagues to professional teams), clubs and organizations for just about every taste and hobby. For the active there are plenty of activities ranging from water sports to seeing nature up close and personal.
THE PRICE IS RIGHT
It's no surprise, Cape Coral's selling points are its warm weather, its coastal location on the Gulf-side, its chill vibe, and significantly lower real estate prices than both Miami and Key West, Florida.
The unique canal system remains this community's centerpiece, treasured for transportation and recreation alike. The area has seen a surge in retired veterans buying three-bedroom homes with palm trees out front. The reason? In 2012, the U.S. Department of Veterans Affairs opened the Lee County VA Healthcare Center, a 220,000-square-foot, state-of-the-art VA hospital in Cape Coral. Many others are investing in custom homes. Why not you?
For more information on Cape Coral, contact Lenora Marshall of eXp Realty LLC, call 239-898-0484 or visit lenoramarshall.com.