TBAR
A Sleek Steakhouse That Will Steal Your Heart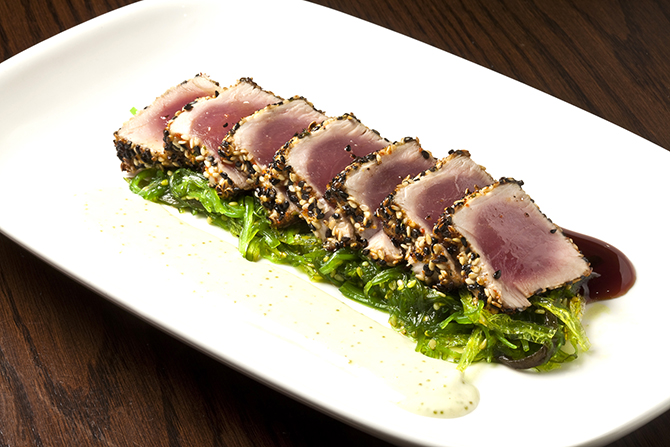 By Anne Raso
One visit to the Upper East Side's TBar will "seal the deal" to be in the Top 10 of your go-to restaurants in the city. That sounds like an extreme amount of praise but it not only has succulent grass-fed prime beef in nearly every restaurant grade cut available but it has Modern American dishes of both the comfort and health-oriented varieties.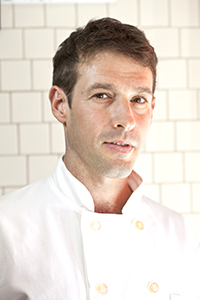 T-Bar Chef Ben Zwicker
Pardon the use of a cliché, but there is something for everyone here—from the legendary super-creamy mac and cheese to the house salad which is lightly dressed, citrusy and chock full of organic wild greens and sliced hearts of palm. TBar excels at Modern American cuisine but is very inventive at the same time. As Executive Chef Benjamin Zwicker told us, "We try and stick to the fundamentals of cooking using classic French and traditional Italian cuisine as a starting point and include Asian and Latin influences."
TBar is truly an Upper East Side mainstay with a lot of neighborhood regulars each night. The secret to getting a regular crowd—which is arguably the "golden ticket" to staying afloat in this super-competitive business—is remarkably basic. "The secret is consistency, quality and making them feel like family," Zwicker says. "We have been here many years, and our dining room is almost like a second home for many customers."
A WHO'S WHO OF WORLD-CLASS CHEFS
Don't be surprised if you see a well-known chef venture into the kitchen unannounced (that says it all for the quality of TBar's fare!) to cook alongside Zwicker or observe his culinary technique and dedication. "We have many world-class chefs who live in the neighborhood and are regulars at TBar. I have had the great pleasure to cook with and learn from some of them in our kitchen—and, of course, to cook for them. One of the highlights was having Chef Eric Ripert of Le Bernardin compliment us on our steaks." (TV host Hoda Kotb even included TBar as one of her favorites in a New York Post article called "My New York!")
During the times we've dined at TBar, we've observed a huge bar crowd We've seen everyone from 20-somethings who just moved into the neighborhood and elegant Park Avenue ladies to doctors who just got off shifts at Lenox Hill Hospital and even fashionistas taking a break from the NYFW shows. It's not loud, though. The bar area is as warm and welcoming as the dining room, which features lime green leather chairs and glass dividers etched with flowers and other natural themes. Zwicker opines, "Although we have all sorts of clientele come in, our bar crowd is mostly comprised of mature singles from the neighborhood who come to enjoy a glass of wine or a cocktail, maybe dine at the bar and appreciate the informal elegance and gracious hospitality of our staff, many of whom have become regulars over the years."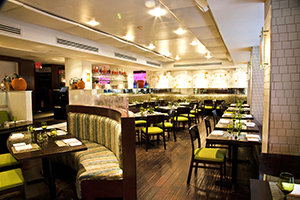 T-Bar Steak & Lounge
SOURCING THE FRESHEST MEAT & PRODUCE
Zwicker has a real hands-on approach to the quality of the products that come into his kitchen. Every bit of produce has the super fresh "crunch," and all meat is succulent and juicy. We just had to ask Zwicker if TBar has a local farm to table policy for meat and produce and if he hand selects his purveyors. He responded, "We do not have a cast iron farm to table policy because of the volume we do and the importance we place on consistency. However, we do use local vegetables in season, and our poultry and eggs are always from nearby farms. We have been working with a handpicked group of purveyors, many of whom we have been working with for over twenty years."
Zwicker continued to explain that he employs four different meat suppliers, each one picked because they have the very best cut: one for the Porterhouse, one for the NY strip, and one for the ribeye. The same goes for fish. There are four different purveyors for the oysters, jumbo prawns, and all fish. "We take quality and consistency very seriously, and we expect the same from our purveyors."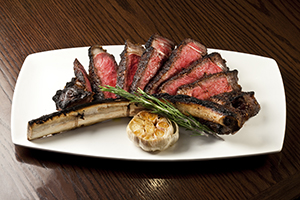 Porterhouse
A CARNIVORE'S DELIGHT
And for you hardcore carnivores out there—we think that meat-wise, TBar rivals any of the famous NYC steakhouses. We were curious to know the most popular items on the menu. Chef Zwicker answers matter-of-factly, "We do sell a lot of Porterhouse and prime dry-aged NY Strip Steaks, but we do have many regulars who dine with us a few times a week for both lunch and dinner, so our chopped salad with grilled salmon or chicken sells very well."
What new dishes will be added to the menu for Spring? Zwicker states proudly, "We are going to add a few new items: Crispy Sushi with a choice of Spicy Tuna, Hamachi, Salmon and Sliced Tuna; Roasted Spring Vegetable and Quinoa Salad as well as a Grilled Baby Lamb Chop appetizer."
Those with a sweet tooth need to know that TBar's desserts are creative, delicious and very large. We've seen two or three people unable to finish the Warm Apple Crisp with Vanilla Gelato. Some other popular choices include the Banana Parfait Mille Feuilles with coconut and caramel sauce, as well as a Strawberry Sundae which easily serves three to four people.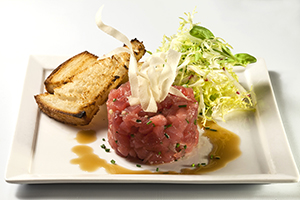 Tuna tartare
Bottom line: TBar is not cheap, but the satisfaction factor is ultra-high. We have to give them extra points for incredible consistency—you can count on your meat cooked precisely the way you like it. The wait staff here is attentive and serves food as fast as possible realizing that your time is valuable. And if it's something extra you wish, like their remarkable Poivre sauce (which is a must-have with their steaks), it appears like magic. As a foodie pal of ours states, "You always know what you are going to get at TBar—even the baked potatoes taste like something special!"
TBar is ideal for family occasions (kids are welcome) and perfect for any situation where there may be different dietary preference or needs. They are happy to accommodate unusual diets, but you will undoubtedly find something for everyone on the menu.
For more information on TBar, visit tbarnyc.com. Reservations are recommended (but not mandatory) and can be made on their website.