THE BEST IRISH BARS IN NYC
Where To Find Beer, Grub, And A Jolly Good Time
By Darren Paltrowitz
Even if you do not have Irish roots, the odds are that you will find yourself reveling on March 17th. While New York is not short on great spots to grab a pint of Guinness, it can be somewhat difficult to pick a pub that has not only fantastic offerings at the bar but also delicious offerings from the kitchen. To help you with your 2019 St. Patrick's Day planning, here are some great Irish pubs and restaurants to stop by after the parade.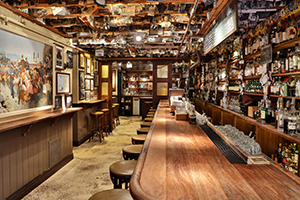 THE DEAD RABBIT
Financial District
Ranked #1 in the past few years, this place has been the go-to drinking spot in the Financial District for both locals and tourists alike. "At The Dead Rabbit, we always team up with the best whiskey producers in Ireland," said co-owner Jack McGarry. "It's very culturally important for us." As for what to expect from The Dead Rabbit this March 17th, think tradition. "For us, St. Patrick's Day is about celebrating everything great about Ireland—our hospitality, our inclusivity, and our products. In Ireland, it's much more of a family and friends affair," explained McGarry, who noted that his favorite item on the menu is the Irish coffee. Be sure to try their own Dead Rabbit Irish Whiskey. Info: deadrabbitnyc.com.
---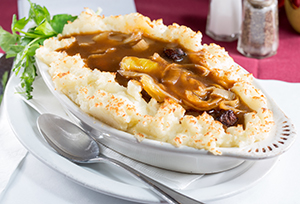 MOLLY'S PUB & RESTAURANT SHEBEEN
Gramercy
Known to refer to itself as "the most authentic Irish bar in New York City," Molly's was founded in 1960. With a log-burning fireplace and sawdust on the floor, it's renowned for its Shepherd's Pie, Hamburgers, and Steaks—all for reasonable prices. Its original bar, as constructed from both wood and Honduran mahogany, is still intact all these years.
Co-owner Peter O'Connell considers Molly's to be a "destination pub." He explained: "We are a conversation pub and do not do any special events or promotions." In spite of treating St. Patrick's Day like just another day at work, O'Connell expects a "full house" on the 17th and recommends all to try their "award-winning 10 ounce burger." Info: mollysshebeennyc.com.
---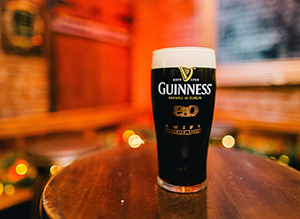 SWIFT HIBERNIAN LOUNGE
NoHo
Established in 1995 by Danny McDonald and Mike Jewell—and later joined by Anthony Malone—Swift Hibernian Lounge is a low-key bar known for offering one of the finest selections of beer and Irish whiskey in New York. Swift also features a good selection of oysters and sliders beyond its whiskey and pints. Further notable about the establishment is that it does not have a television, keeping the focus on the hospitality and overall atmosphere. Be sure to catch their literary brunch (held after St. Patrick's Day). It's a nice alternative to the madness of the big day. The owners invite diners to read from their favorite Irish authors in a cozy atmosphere. Info: swiftnycbar.com.
---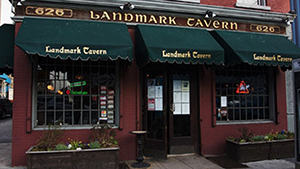 THE LANDMARK TAVERN
Hell's Kitchen
Patrick Henry Carley opened the Landmark Tavern, an Irish waterfront saloon, in 1868; there was no 12th Avenue back then. A family establishment and then some, the Carley's raised their children upstairs on the second and third floors of the building. One of the oldest continually operating establishments in New York, The Landmark Tavern is mainly known for its classic Old World charm. As always, St. Patrick's Day will have Irish music playing all day, good atmosphere, and great food. What sort of food, you ask? Corned beef and Cabbage, Shepherd's Pie, Irish Bangers and Mash, Fish and Chips, Scotch Eggs and, Lamb Shanks served with Roasted Red Potatoes in Cabernet Mint au Jus. Info: thelandmarktavern.com.
---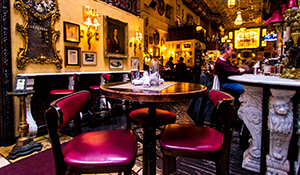 LILLIE'S VICTORIAN ESTABLISHMENT
Times Square/Union Square
Noted to "celebrate friendship the old fashioned way," Lillie's Victorian Establishment has locations in Times Square and Union Square. Named for British actress Lillie Langtry, Lillie's co-owner Tommy Burke explained, "We're proud to honor her legacy and wanted to create an establishment that combines ostentatious décor with a down-to-earth ambiance. We want our bars to celebrate these legendary pioneers and create destinations that welcome all." St. Patrick's Day holds a lot of significance to both Burke and co-owner Frank McCole. "Coming from County Mayo and County Monaghan, St. Patrick's Day is a national holiday at home, but celebrating the Feast of Saint Patrick in New York City has become a memorable tradition for us." He continued to tell us "our guests can kick back with a pint of Guinness. We will have special menus for St. Patrick's Day with Irish classic comfort dishes." Burke mentioned their Afternoon Tea is a favorite, too, at the Times Square location featuring a tea selection, tea-infused cocktails, savory sandwiches, and sweets. It's a great afternoon treat, especially for the theatergoers during the week. Info: lilliesnyc.com.
---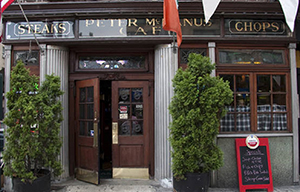 PETER MCMANUS CAFÉ
Chelsea
Peter McManus, a native of County Longford, first opened his bar in Hell's Kitchen in 1911, moving it some 20 years later to its current corner spot in Chelsea. The much-loved Irish bar is now run by a third-generation McManus (grandson Justin) who boasts that it is "the oldest family-run bar in New York City." Step inside and you'll be surrounded by the warm and welcoming front room, with a tin ceiling, wood paneling, mahogany bar, and three Tiffany-stained glass cabinets. The back dining room is just as handsome and offers tasty yet straightforward classics, such as Strip Steak and award-winning Burgers. Guinness, Irish cider and McManus's house ale are on tap; there's also an excellent selection of Irish whiskeys. Info: petermcmanuscafe.com.
---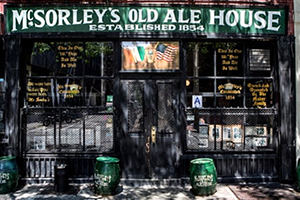 MCSORLEY'S OLD ALE HOUSE
East Village
McSorley's has long been known to be the oldest bar in town having been established in 1854. However, it is not so much a bar as it is an institution in the city. Its present owners are stubbornly proud of this legendary bar and its authenticity—and the fact the bar remains almost impervious to change in this fast-changing world. The interior, with its portraits, posters, paraphernalia, stovepipe and sawdust floor, is pretty much as it was when it first opened. One thing has changed: women were allowed access to the "gentleman's preserve" in 1970. It's nice to know that it still only serves its own light and dark ale. (The bar's motto will always remain: Be good or be gone.) Info: mcsorleysoldalehouse.nyc.
---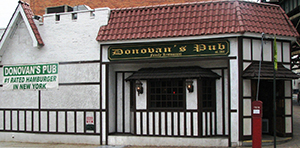 DONOVAN'S PUB
Woodside, Queens
Catch the No. 7 subway to Woodside where you'll find this favorite on one of the most populated streets in Queens—though you'd never know it from the inside. The tavern has maintained its Celtic spirit in a nearly unchanged space since 1966. The cozy atmosphere is enhanced with the addition of antiques and stained glass windows and offers a reliable selection of on-tap beers and its famous Beef Burgers. Info: donovansny.com.
---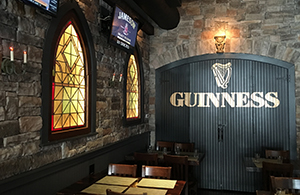 THE WICKED MONK
Bay Ridge, Brooklyn
If this Brooklyn pub looks a little like a church, you're right on track. That's because most of the interiors were salvaged from a house of worship. The wooden bar, stained glass windows, and beer barrels were all shipped to Brooklyn from a monastery in Cork, Ireland. The rest of the structure is decidedly "unholy." However, look to the ceiling and you'll see the famous mural featuring floating monks with a beer in hand. Grab a bar stool, order a pint, and make friends with the locals. Info: wickedmonk.com.
---
Not all of these establishments require a reservation but do yourself a favor and research whether one may be preferable for your chosen locale. Happy St. Patrick's Day!