BROADWAY: BEHIND THE SCENES
Choreographer Chase Brock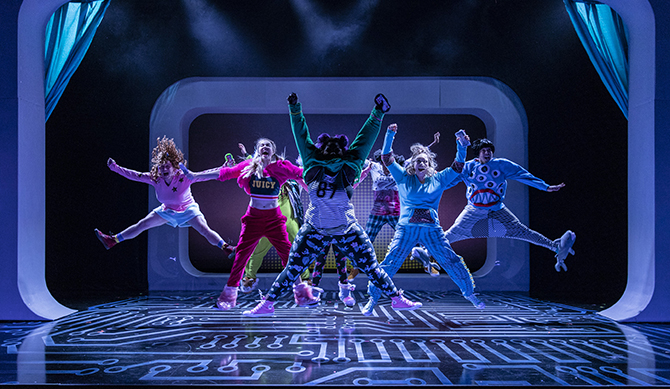 By Bailey Beckett
It's one of the most anticipated shows of the season. Be More Chill, based on the best-selling novel by Ned Vizzini, brings a modern-day fantasy to the halls of high school. What if you could take a pill and suddenly be too-cool-for-school? That's the storyline behind this buzzed-about play coming to Broadway's Lyceum Theatre starting March 10th. Its Off-Broadway shows earned critical acclaim, including from the Wall Street Journal, which raved "See it now if you can wrangle a ticket because it's going to hit big—deservedly so."
Keeping the same cast and crew intact, the show is again directed by Stephen Brackett, with music and lyric by Joe Iconis. Bringing the moves to life choreographer is Chase Brock, one of the most celebrated talents in live theater. A veteran of the stage, including Spider-Man: Turn Off the Dark, the 35-year-old has helmed the Brooklyn-based contemporary dance company for ten years, and 30 productions. He talks with New York Lifestyles about his latest work, and why Be More Chill is being called the next Dear Evan Hansen.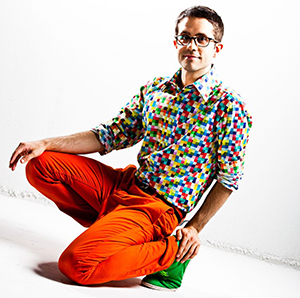 Choreographer Chase Brock
What's the storyline/message behind Be More Chill?
It takes place in and around a high school in New Jersey, where an unpopular teenager discovers the existence of a pill containing a tiny Japanese supercomputer—a SQUIP—which he buys from the back room of a Payless shoe store, and which teaches him how to be cool... at a cost. For me, the show is about trusting your gut and learning to block out the unhelpful noise and be comfortable in your skin.
Going to Broadway is a big move. What are your feelings behind that? How are you dealing with the pressure/bigger expectations?
This is my sixth time on Broadway (first as a performer, then as an assistant, then as a choreographer) and I am over the moon to be returning to this most hallowed ground of American theater with this particular show, which I choreographed in its world premiere and its Off-Broadway premiere. I have been part of the creation of almost 30 new musicals and part of 5 Broadway musicals, but I've never had the experience of moving a show from the initial production all the way to Broadway. I'm glad that I'm old enough and experienced enough to know how rare that is. My personal goal is to be as present as possible for every moment of this experience and not to miss a thing, and I think the only pressure I'm feeling is the pressure to tell our story as clearly and truthfully as possible.
What do you think audiences take away from this?
I hope this show, first and foremost, entertains and delights audiences. But I also hope that it bolsters anyone in need of an extra dose of confidence to stand in their own shoes and boldly be their quirky, strange, weird, wild and wonderful self.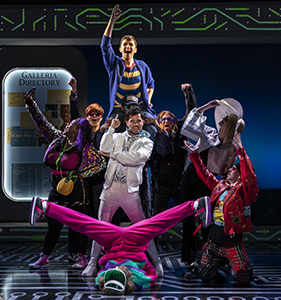 This idea—taking a pill to transform your life—has been explored in everything from Limitless to even The Matrix. What is it about this notion that resonates with audiences?
I think the allure of a quick fix must just be wired into our DNA, and when you apply that in a sci-fi context, it's just too delicious for artists and audiences to resist. Interestingly, there are current developments in medicine that are eerily similar to the technology of the pill in our show—pills that contain not only cameras and tracking devices, but that can be programmed to trigger certain effects or activities in our brains. I feel like this grounding, in reality, adds to the gravity of our plot, and surely this will only become more resonant as progress marches on.
Are there any changes being made to the new Broadway production?
Over the past three years, we've always been working across departments to get to the most authentic, most profound version of our characters and story, and that cross-departmental effort continues as we head toward our first performance on Broadway. I can't give any spoilers here, but I think fans of the show will be pleased to see how their favorite characters have continued to evolve. I also think new audiences will discover the latest, greatest version of this story on Broadway, in the version we're lovingly calling 3.0 (following 1.0 at Two River Theater in New Jersey in 2015 and 2.0 Off-Broadway last summer).
Reviews have been great. How do you think critics will receive the new production?
Oh, my goodness, you never know. In my 20 years of working on and off Broadway, I have learned that you cannot predict or count on reviews, and that, as an artist, practicing a true non-attachment to the critical outcome is the healthiest way to sustain a career in theater. Personally, I make work to communicate with the audience, and it is the audience who ultimately decide if your show will succeed or fails.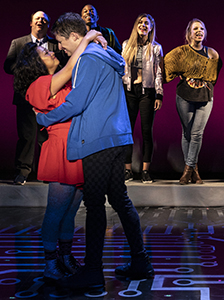 Entertainment consumption has changed so drastically in just the last ten years, especially with the rise of streaming platforms, but live theater has been resilient. What do you owe that to?
I love all of these new ways to consume entertainment, but we will never shed our desire to gather in a room and share stories in the dark. That's a fundamental and necessary part of being human, and I love theater that leans into the things that theater does well and harnesses the kind of magic that can only happen in the theater. Masks, puppets, pageantry, dance, music, metaphor, ritual, community, catharsis, transcendence, transformation.
What are your plans beyond Broadway?
I'm directing an evening celebrating music from television for the 92nd St Y's Lyrics and Lyricists series in May. Also, I'm choreographing the stage adaptation of the Disney animated feature Hercules for The Public Theater's Public Works program in September, as well as reviving my dance company The Chase Brock Experience's The Four Seasons Off-Broadway in November.