MY NEW YORK STORY
Matt Green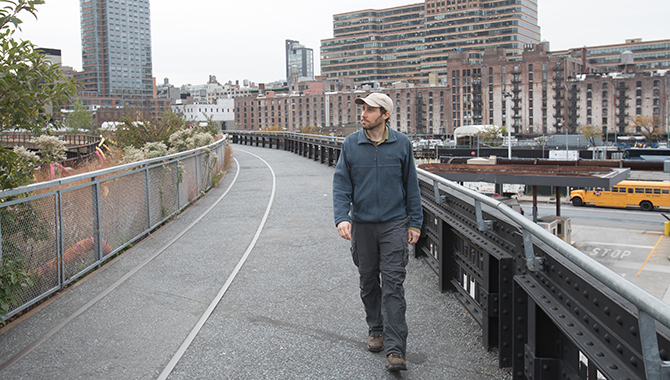 By Lee A. Gabay
Walking the streets of New York City is something millions do daily. Spending time in all five boroughs is not uncommon. But having walked all 8,500 plus miles of New York City's streets and parks is a rare accomplishment recently performed by Matt Green.
Matt's endeavor to traverse the entirety of the metropolis began a few years after he moved to the city from his home in Virginia. Once in Manhattan, he forged a successful career at a civil engineering firm before hungering for something less routine and more adventuresome.
He quit his job to embark on a series of travel-related exploits which included riding the entire subway system in a record 24 hours and 2 minutes, a "Bridges of New York County" walk involving 19 major overpasses, and a 5-month long cross-country trek on foot from Rockaway Beach, New York to Rockaway Beach, Oregon.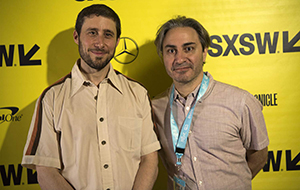 Matt Green and Jeremy Workman
CONCRETE PLANS
Upon return from his celebratory jump in the Pacific Ocean, Matt's wanderlust called for something epic, with his playground being the entirety of the biggest city on the planet. "Instead of seeing a million places for just a minute each, I wanted to spend a million minutes exploring just one place: New York!" shares Matt.
More of a scientist than a slacker, Matt's focused energy and impeccable organizational skills allowed him to experience the massive city grid in all its glory while sharing the sights and insights on his blog I'm Just Walkin'. In it, the good-humored, extremely outgoing traveler maps out where he's been and details his discoveries along the way. Rife with history and scholarly ruminations, Matt lightens the tone by including random fun findings such as the world's largest tennis ball mosaic (10,084 balls), a 76-foot tall pencil (which was noticed by the police after being picked up by satellite surveillance), and a massive sculpture in High Bridge Park inspired by Seurat's painting Sunday in the Park with George, made out of potato chip bags.
"I've gained a deeper connection to the city's past and present through an up-close look at the great scenery both big and small," he says. He further offers that the most rewarding part of his walk is the opportunity to connect with the always colorful New Yorkers. "People want to talk. They are eager to share their stories and proud to show off their communities, homes and hearts."
Matt sees the Big Apple as a massive collection of many small towns and observes that its inhabitants generally stay in their neighborhoods. He is aware enough to know that his city walk is a privileged luxury and realizes that to some people, walking is not a hobby or a fun-filled endeavor, but their only option.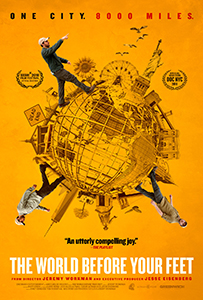 PEDESTRIAN CROSSINGS
Matt's extraordinary sojourn and living love letter towards the city was documented in the recently released The World Before Your Feet, directed by Jeremy Workman and executive produced by acclaimed actor Jesse Eisenberg. The film follows Matt as he walks just to walk. Not for a cause, not to break a record; he is in it to explore, learn and connect. Although he is the main subject and is in virtually every scene, Matt suggests that the movie is really not about him, but of him learning and sharing things about the true main character: NYC. "I am curious about this place and find it fascinating to research the things that capture my attention." Some such subjects are the phenomena of "churchagogues" (synagogues that have become churches), barbershops that use the letter "z" in their signs (as in "cutz" or "kutz") and informal 9/11 murals.
Matt's curiosity for urban exploration often places him in spaces far from the customary fast-paced New York existence. Though he felt the need to defend his unadorned lifestyle for years, the courage of his convictions has paid in dividends. His positive effects on people have resulted in numerous expressions of gratitude and inspiration. His story has inspired in audiences such a rare sense of connection that The World Before Your Feet holds the record for the second highest-grossing film in the Quad Cinema's 40-year history. (The World Before Your Feet is now available on digital platforms including iTunes, Amazon Prime, Vudu, etc.)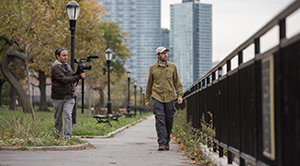 THOROUGH-FAIR
As a sort of ambassador of kindness, Matt's wholesomeness has made him somewhat of a vigilante. "I have witnessed several hit-and-runs on my walks, and politely address these wrongdoings with those at fault." When a large truck struck a parked car and kept on driving, he ran after the guy, spoke with him and wrote down his license plate. Matt saw a parking permit in the damaged vehicle and noticed it belonged to a fireman. Matt went to the fire station across the street to give them the information. A month later the fireman emailed Matt thanking him as they tracked down the hit-and-run driver who was then legally forced to pay for repairs.
Matt Green exists in a city that is sometimes familiar to all New Yorkers but often foreign to even lifelong residents. His excursions have given him great meaning and true enjoyment, as he lives in the moment, remembers the past, and steadily moves forward. The grander implication of his actions, simply living a life that he is driven to live, brings forth a need in him and the possibilities within us. Matt will tell you that his New York story is a story bigger than him; he is a perpetually moving audience whose steps keep leading him onward.