MY NEW YORK STORY
By Kelly Ford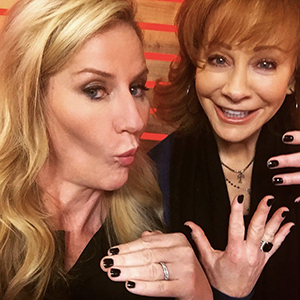 Nailing it with Reba McIntire
More than any other city in America, New York City is like a country song. Country songs tell stories, and NYC has more stories than you would believe; it's the biggest small town in the U.S. Not only is it made of up millions of diverse individual stories but collectively, the city tells a new story every day. And that's part of why I love it so much and am glad to be back home.
My story started in 2013 when I came here to help launch the first country station in Manhattan in over 17 years. I remember telling my daughter that we weren't going to spend our time in the greatest city in America, wishing we were someplace else. You see, this 8th grader's story was that she wasn't too happy to be leaving Denver and moving to a new place. I reassured her our story was about creating a new life, growing where you're planted, working hard, building relationships and finding the good in any situation. You could say it's the making of a good country song. Like New York City, country music expresses stories with the universal theme of people trying to find their place in the world, working hard, fighting the good fight, praying for a miracle—and raising a little hell.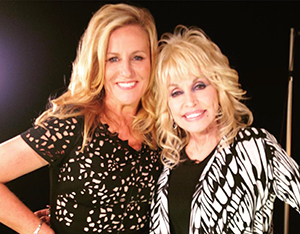 Kelly with Country Music legend
Dolly Parton
Back then one of my favorite anthems was a song called "Riser" by Dierks Bentley:
I'm a riser
I'm a get up off the ground, don't run and hider
Pushing comes a-shovin'
Hey I'm a fighter
When darkness comes to town, I'm a lighter
A get out aliver, out of the fire
Survivor
THE RISE OF COUNTRY MUSIC
When NASH FM 94.7 started in 2013, there were country music concerts in the New York area, but they were mostly featuring the superstars. That was then. Today the current scene for emerging country artists is growing every day at such venues like Terminal 5, Irving Plaza and Hammerstein Ballroom. In fact, this summer's lineup at Jones Beach is 30 percent country music. What a difference a few years makes.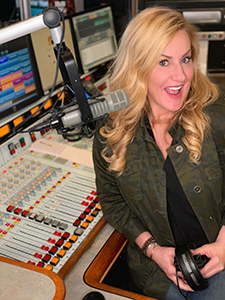 Three years after launching NASH, I was transferred to be on our network morning show based out of Nashville to be broadcast in New York. However, being on the radio in NYC, but not living here wasn't the best fit for me—or our listeners. Thankfully, NASH decided to launch a local morning show that spoke to the uniquely New York country experience. So, here I am back in the Big Apple. Reflecting on my time in Nashville, it was a fantastic experience to live and work in Music City. It is, after all, the home of country music, but New York City is its biggest stage.
PASSIONATE FANS
When I emceed shows in Nashville, I was always shocked at the lack of enthusiasm from country fans. You see, I got spoiled by the New York country music fans. They love their country music with the passion only a New Yorker can evoke. Maybe that's why I relate to them because as a kid growing up in Kentucky, I wanted to choose my music and it wasn't country. At that time, I was all about 80s rock, and country was for my parents. So for the New York country music fan, I'll refer to Ole Blue Eyes, himself: They're doing it their way.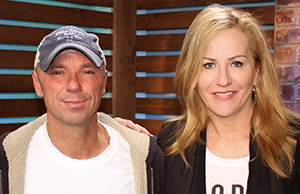 Kenny Chesney & Kelly
Naturally, my Nashville story is an integral part of my New York story. As host of the only country morning show in New York City, it gives me an insider perspective you can only get from having lived and worked in Music City. I'd run into artists at the grocery store, charity events, and backyard barbecues. I loved my neighborhood and house which sat on three acres and had a chicken coup. Now I eat the delicious chickens from Chirping Chicken which is across from my one-bedroom apartment.
A NEW CHAPTER
My New York story continues, and I'm not going take a minute of it for granted. I'm reacquainting myself to this fantastic city: going to the flea market in my neighborhood on Sundays, taking an improv class, writing in my journal at a funky little coffee shop, and this summer taking the train to the beach or perhaps enjoying a cocktail on a rooftop at sunset. Without a doubt, though, I'll be appreciating the delicious cuisines and great food!
And like an old country song goes:
"That's my story.
"Oh, that's my story.
"Well, I ain't got a witness, and I can't prove it.
"But that's my story, and I'm stickin' to it…