LIFE & STYLE
Spectacular Spring: Ready For Lift-Off
By Griffin Miller
From a jaded New Yorker point of view, the upbeat arrival of longer days, balmy temperatures and dining al fresco achieve seasonal balance vis-à-vis relentless April showers, the gloomy prospect of spring cleaning, and allergies run amok. I would like to suggest that balance is right (after all, we don't want to go overboard on the perky) and that with one or two select indulgences we can both enjoy and complain with absolute impunity!
Life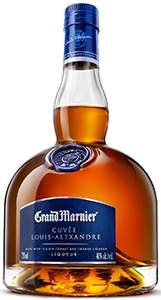 SIPPING PRETTY
On the cusp of adulthood, I had my first taste of Grand Marnier at the Hôtel California in Paris—sadly, without The Eagles soundtrack piped in. Musical ambiance notwithstanding, the luxury liqueur made my transition from beer-drinking kid to international sophisticate a cherished memory. It's a drink I still love, so naturally, I was intrigued to learn that the House of Grand Marnier® was introducing Cuvée Louis Alexandre, honoring Louis-Alexandre Marnier Lapostolle, the visionary who created the original. Described as "a unique blend of refined V.S.O.P. cognac and Liqueur D 'Orange… aged in Tronçais and Limousin oak casks in Bourg-Charente", the new expression is another legend in the making. Info: camparigroup.com.
---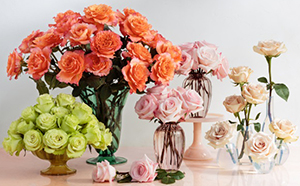 FLOWER/EMPOWER
Ever see one of those '60s films where a woman, in an effort to make the man in her life jealous, has bouquet after bouquet delivered to herself? In the here and now—thankfully—it's far more likely women will buy flowers because their natural beauty delights them. I've found that rather than take chances with occasional (and iffy) arrangements from the deli, it's nice to go (affordable!) first class and sign up for BloomsyBox, a subscription service offering a rose—hand-selected by Martha Stewart—sourced from Rainforest Alliance Certified suppliers and delivered fresh-cut from the farm within 2-4 days. Treating yourself, or someone you love has never been so sweet. Info: marthastewartflowers.com.
---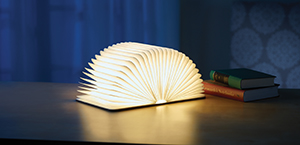 LITERARY ENLIGHTENMENT
Due to an odd positioning of electrical outlets in my condo, there are a couple of dark corners and shelves that refuse to bow to my (admittedly) lame efforts to illuminate. Included in these shadowy recesses is a wall of favorite books, which now benefit from a splendid book lamp—in the most literal sense because The Bibliophile's Lamp is a book in disguise that fans open 360° into pleated, wordless "pages" lit by 500 lumen LEDs. Is it wrong to love an inanimate object this much? Who cares—it is so incredibly apropos and unique. When its wooden covers close and it's back to impersonating a book, it can share shelf space with Jason Bourne, Hercule Poirot, and Harry Potter. Info: hammacher.com.
---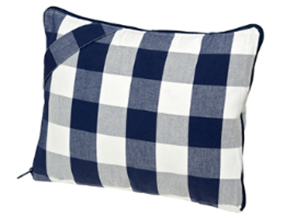 HEAD IN THE CLOUDS
Skype all you want, but when you're on the road for work or taking a vacation timeout, at some point you're going miss the comforts of home. So why not carry at least one of them with you? Even in the poshest hotel, sinking into a familiar pillow—one that has never known another head—is reassuring to the max. The Hästens Travel Pillow has taught me that proactive pampering is the best way to go when you're away and being a sucker for down, I count a fresh pillow filled with 30 percent duck down and 70 percent duck feathers a terrific bonus. And, thanks to Hästens' signature blue check design, there's little chance of leaving it behind! Info: hastens.com.
---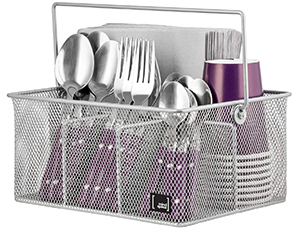 A PLACE FOR EVERYTHING
Between home improvement shows and pop up ads demanding I get organized, color me shamed. Climbing out of chaos has always been more dream than reality. Then I found Mindspace, a company offering products dedicated to bringing the organizationally-challenged to a state of "mayhem managed." With a hint of industrial chic and a versatility that lends itself to any décor, I was sold. I zeroed in on the Utensil Caddy, a versatile mesh tote for a movable feast… or to separate pencils from sketchpads… or to ensure hand cream and hairbrushes don't infringe on mascara and lipsticks. Mine is the bedside home to a book, reading glasses, pen, and notebook. Oh, and some chocolate. Info: mindspaceny.com.
---
Style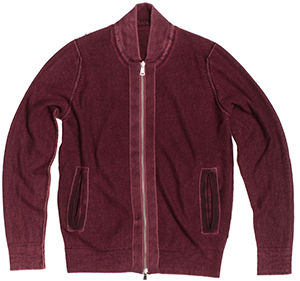 CASHMERE PARADISE
The finest cashmere and silk yarns … handcrafted in Italy… timely looks… the plusses for ARI elevate every sweater, jacket, suit and shirt from the gold standard in menswear to precision platinum. Celebrities like Sam Heughan, Larry King and Ellen DeGeneres have already picked up on the collection. Company founder Moshe Ben-Ari notes, "We over-dye the final products with vegetable- based dyes for a unique vintage look in modern silhouettes." Impressive, too, is the way ARI works with customers to create custom cashmere with the perfect fit. The brand's flagship store is conveniently located in SoHo, but can be viewed online where I fell hard for the reversible Cashmere Bomber in Port. Info: arisoho.com
---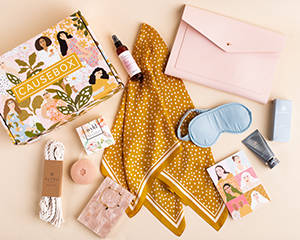 THINKING INSIDE THE BOX
Ok, here's a no brainer: If you could contribute to an ethically viable cause that raises environmental and humanitarian awareness and creates jobs for at-risk women, just by purchasing a limited-edition box containing 6 to 8 products worth $200 to $300 for $55, would you consider it? CAUSEBOX, a seasonal delivery of items for women—clothing, jewelry, skin care & more—hopes so. Partnering with different charities, CAUSEBOX is all about giving back, while at the same time empowering artisans, and each box contains the stories behind the products and charities. The current Spring 2019 box includes a portfolio clutch, adjustable bracelet, silky scarf and macramé plant hanger, among other things. Info: causebox.com
---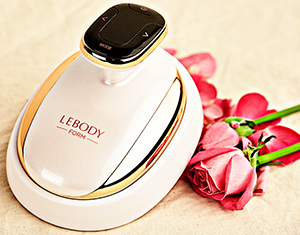 HOME BODY
For the sake of argument, let's say your (or my) arms or abdomen are not perfect, and that a cutting-edge technology with a proven track record overseas is now available in the U.S. LeBody, the Korean-based beauty and wellness brand, brings its face and body devices—rivaling those used in high-end doctor's offices—into our homes. LeBody Form, uses EMS mid-frequency to strengthen muscles and burn fat (the hand-held apparatus can be set to either Gym or Slim mode). There's a helpful video on their website that shows how you can use a special belt to attach LeBody to your problem area. As for the LeBody Face, think immediate facelift in your hand as this is designed to stimulate elastin! Info: lebodyusa.com
---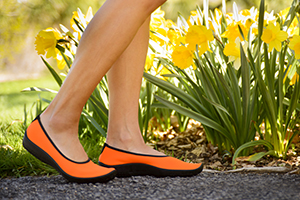 WALKING THE WALK
To avoid the stress level of continued jockeying for overhead bin space, I've been conducting an experiment in compact airborne living for trips of five days or less: under seat luggage. I've gotten pretty good at rolling pants and shirts into odd nooks and crannies, but one thing I haven't been able to conquer is footwear. Walking shoes, sneakers, flats, slippers: space hogs all, until a comfy pair of Lolitas made it into my tiny carry-on. Cute with skirts or jeans, able to hold their own in the gym, and beyond comfy for sightseeing, biking or standing ad infinitum. From versatile black to a rush of rainbow shades: choose your degree of whimsy per trip or take two—they pack really flat. Info: easywalkexperience.com
---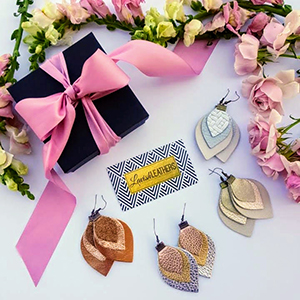 SISTER ACT
It seems sisters Amber and Sienna have been stoking their artistic fires since they were kids growing up in a family where, as they put it, "creativity ran wild." Still, it wasn't until 2015 that they launched Lavish Leathers, a visionary leather jewelry company where high on the headliner list are their signature leaf-shaped earrings. Not usually one for large size earrings, I was surprised at how much I liked their ear-wires and hoops. These are statement pieces that appeal to the diva in every woman. And, they come in a staggering variety of colors, designs, textures and layers. But LL doesn't stop at earrings, so check out the website for necklaces, bracelets and more. Info: lavishleathers.com.