One If By Sea
Smooth Sailing For Carnival's Christine Duffy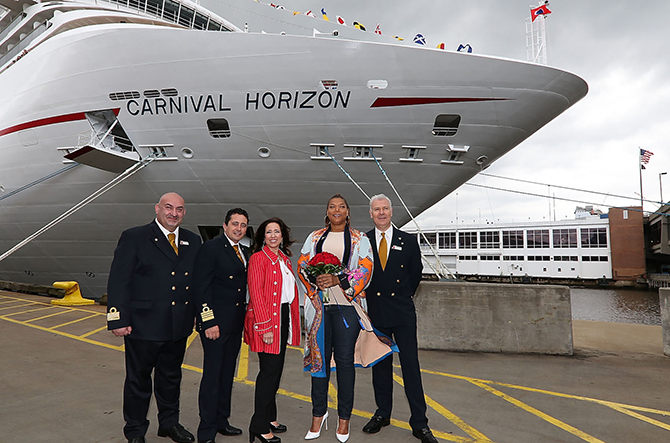 Christine and Queen Latifah
By Bailey Beckett
She oversees 26 ships, 45,000 employees and five million guests a year. Since taking the helm as president of the storied Carnival Cruise Line brand, Christine Duffy has also infused its fleet with a potent dose of fun. How else to explain Queen Latifah being named Godmother of Carnival Horizon? Or Shaquille O'Neal as its Chief Fun Officer?
Duffy, who once got passed over for a job as a Pan Am flight attendant because she was two inches shy of the height requirement, now looms large over the $35 billion cruise industry, commanding the biggest armada on the high seas. A former travel agent and head of the cruise industry's trade association, Duffy talks to New York Lifestyles about Carnival, its niche and its ships.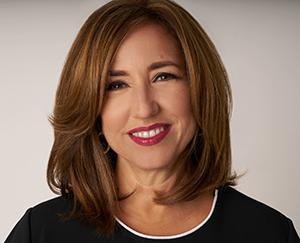 Christine Duffy
What is the Carnival Cruise Line brand in one sentence?
Our brand is about fun. That's what our passengers want and choose for their vacation. And we're able to exceed their expectations with a crew that enjoys delivering a fun and memorable experience for our guests.
What is the Carnival niche in the marketplace? What do you do better than anyone else?
People know that when they join us for a cruise, they can count on us doing everything we can to make sure they have a great vacation. And while we have great ships and features, our guests love us first and foremost for our unbelievable crew members who go above and beyond to provide extraordinary vacation experiences for each and every one of our guests.
What are trends in the cruise industry?
Personalization, which is the core to the cruise experience. A family or group of friends can all be on the same cruise and each member can customize their experience every day, from on board activities like spa or casino, limitless dining options, shore excursions and entertainment. Friends and family are using vacations and travel to connect with each other and unplug from our busy lives. The many options and variety of activities on a Carnival Cruise Line ship allow for grandparents and grandchildren to spend time together and also find their own kind of fun. Travelers love transformational experiences and seeing new places. Visiting 3 or 4 destinations in one week and going from a tranquil beach one day to ancient ruins the next and a zip line through the rainforest on day three provide for a series of special moments that really get us out of our routine.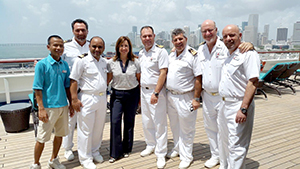 Christine Duffy & crew members
What is most unique to Carnival Horizon? How does it differ from your other vessels?
Carnival Horizon is one of the newest ships in our fleet, inaugurated last year, and features a wide range of new offerings that guests are enjoying. A few of the things we have first introduced aboard Horizon include the first Dr. Seuss-themed water park; the new Smokehouse Brewhouse restaurant, offering BBQ favorites created by celebrity chef Guy Fieri and four different craft beers brewed on board; our first teppanyaki venue, part of the Bonsai Sushi restaurant; an IMAX theater showing the latest box office movies; and for a little bit of wow factor, our Dreamscape—a massive three-deck high LED atrium sculpture adorned with colorful, custom-designed artwork created by patients of St. Jude Children's Hospital.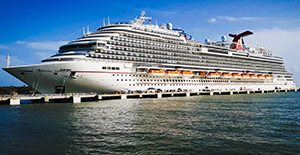 Carnival Horizon
What is unique about the New York City as a port of call for Carnival Cruise Line? We sail out of the Manhattan Cruise Terminal, which is only a few blocks from Times Square. That convenience makes a big difference for people, as it eliminates the cost of air travel along with making it easy to drive to the port and enjoy a great vacation at sea. It's a great place for millions of people throughout the region to look at when considering their next family vacation.
Do New Yorkers have heightened expectations for cruises?
Like me, New Yorkers like things done right. New Yorkers also like the wow factor. And New Yorkers like to have fun. I think we ring the bell on all three factors very well.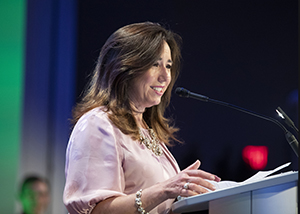 Chistine Duffy accepts award from St. Jude Partnership
What about any growth plans for Carnival Cruise Line in New York?
This year we are essentially bringing another new ship to New York—Carnival Sunrise. We are sending one of our current ships to a dry dock to completely reimagine the ship and add many of the great features our guests love, spending $200 million to enhance our entertainment, dining and accommodation features. After being renamed in Norfolk with a few spring cruises, we'll bring Carnival Sunrise to New York in late May until October. Sunrise will sail a variety of itineraries, including a 14-day journey to the Panama Canal, four-day cruises to Bermuda, and seven- and eight-day cruises to the Caribbean and Canada.
What is your mantra for success?
We are dedicated to maintaining a culture where our employees love coming to work and taking care of our guests. Our success is built on our intense focus on consistently exceeding guest expectations. We know that if we do that well, then our guests will be happy, and they'll tell their family, friends and co-workers. That word of mouth endorsement is by far our most powerful marketing tool.
For more information on Carnival Cruise Lines, visit carnival.com.