LIFE'S A BEACH
The Heat Is On In Fashion & Beauty
By Gerrie Summers
It's time to hit the beach and the barbecues! But we all know what that can mean—burns! So while you're out there catching the rays, be sure you're protected. I've got great must-haves for outdoor fun and sun protection and to keep you safe and in style. Plus, some even make great Mother's Day gifts.
---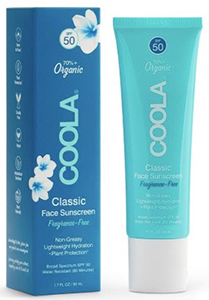 COOLA SUNCARE
Classic Face Organic Sunscreen Lotion SPF 50
This Organic Sunscreen Lotion is a sheer, silky daytime lotion with SPF, that can be used under makeup. It also contains plant-based ingredients with antioxidants to fight free radical damage, like algae and red raspberry seed oil, which the company says allows them to use less of the traditional and potentially irritating sunscreen ingredients. It has broad spectrum protection and is water resistant for up to 80 minutes. The lotion comes in Fragrance Free or White Tea. Info: coolasuncare.com.
---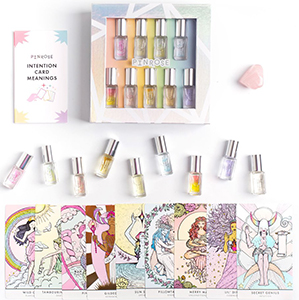 PINROSE
Intention Scenting Gift
If you're looking for a unique Mother's Day gift, consider Pinrose's Intention Scenting Gift, especially wonderful for her to add much needed self-care to a beauty routine. The Kit contains nine .10 oz. eau de parfum rollerball scents, a deck of Intention cards, a rose quartz crystal and a step-by-step guide to "Intention Scenting"—pairing an intention (mindful commitment to oneself, such as Gratitude, Optimism, and Strength) with a scent. Each fragrance is based on the mood and feeling each scent evokes. The rose quartz crystal helps you open your heart chakra and promote unconditional love—which moms give so freely and should give to themselves! Info: pinrose.com.
---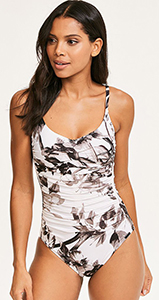 FIGLEAVES
Maryan Mehlhorn Night Garden Swimsuit
Figleaves was founded in 1998 as an online store selling lingerie made to fit women in all their glorious shapes and sizes. The company now offers a diverse range of sizes, silhouettes and price points from big name designers, to niche and specialist collections. Several of the swimsuit designs help flatter the figure like the floral print Maryan Mehlhorn Night Garden Swimsuit with shirring across the bust and tummy, that gives it a form-fitting effect, a mid-scoop back for support, plus straps that are adjustable for a customized fit. Figleaves is also a member of Ethical Trade Initiative and insures that garments are manufactured in safe working conditions, that workers are treated fairly and get a fair wage wherever they are in the world. Info: figleaves.com.
---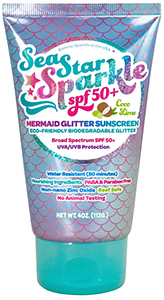 SEASTAR SPARKLE SPF 50+
Mermaid Glitter Sunscreen
This sunscreen will have you sparkling like the turquoise sea. The Mermaid Glitter Sunscreen is fun and effective. The sunscreen has iridescent turquoise glitter, but don't worry, it's reef safe with biodegradable glitter and a coco-lime fragrance, and provides 80 minutes of water resistant and broad spectrum UVA/UVB protection—safe enough to use on your kids and to bring out the kid in you! Info: sunshineglitter.com.
---

BOHO BEACH
Mineral Shimmer Sunscreen for Lips/Mineral Shimmer Sunscreen SPF 30+
Don't forget your lips! Lips are one of the most forgotten parts of the body when it comes to using sun protection — and have the thinnest and most vulnerable skin. Try Boho Beach Mineral Shimmer Sunscreen for Lips, for a hint of shimmer and a lot of protection. Then slather on the Mineral Shimmer Sunscreen SPF 30+. It has light refracting shimmer that makes imperfections less visible while nourishing and revitalizing the skin with anti-aging ingredients like vitamins E and C, antioxidants like green tea extract and skin calming chamomile and calendula. Boho Beach has a light, greaseless formula and is also eco-friendly and reef safe, while still protecting the skin from UVA/UVB rays and providing 80 minutes of water resistance. Info: sunshineglitter.com.
---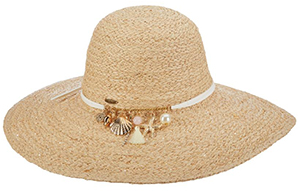 TENTH STREET HATS
Nantucket
It's a must for travel! A stylish, braided raffia straw beach hat designed by Scala Collezione, is crushable, without losing its shape, making it a must for globetrotters. It's also wide-brimmed (4 1/4" brim) for sun protection, with a Cool Max (moisture wicking) elasticized sweatband. I love the assorted beach charms of shells, pearls and starfish—so cute and perfect for any pool or beach setting. Info: tenthstreethats.com.
---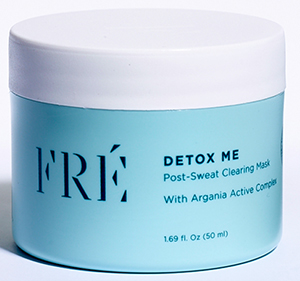 FRÉ SKINCARE
DETOX ME Post-Sweat Clearing Mask
You want to look great in your new swimwear. Your intense workouts are helping you sweat off the pounds, but the sweat itself is causing you to breakout. DETOX ME Post-Sweat Clearing Mask is formulated with kaolin clay to purify the skin, unclog pores and prevent breakouts, plus yarrow to reduce skin inflammation and irritation, dead sea salt to exfoliate and rejuvenate skin. It gently removes dead skin cells and buildup of everyday pollutants. Info: freskincare.com.
---

VITA/LIBERATA
Body Blur HD Skin Finish
The unique Body Blur is an instant self-tanning lotion and skin finishing body makeup featuring light reflecting particles that gives the body a natural looking tint; it also softens the appearance of veins, small scars, and minimizes blemishes for an IG-ready finish. It can be used on the face and body, with its safe certified organic ingredients and natural extracts with anti-aging properties. Available in several shades, it can be applied by hand, or with the reusable Tanning Mitt for a streak-free, flawless tan and to protect palms from staining. Info: vitaliberata.com.
---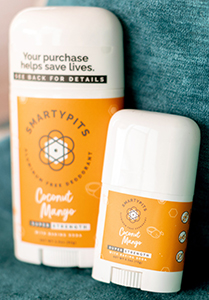 SMARTY PITS
Aluminum-Free Deodorant
With sun and fun outdoor activities comes sweat. Unfortunately, many antiperspirants have potentially harmful ingredients. SmartyPits was created by founder Stacia Guzzo after her mother discovered she had breast cancer. During her research on breast cancer and risk factors, Guzzo learned that many antiperspirants/deodorants contain aluminum, which has been linked to breast cancer and Alzheimer's. So she created SmartyPits on a little stovetop in 2014, making it aluminum-, paraben-, phthalate- and propylene glycol-free. The deodorant comes in Standard Formula (with baking soda) and Sensitive Skin (baking soda-free) and in a variety of scents. Info: smartypits.com.
---
PRADA
Disguise Sunglasses
With beach days and tropical vacations here, you'll obviously need the perfect pair of sunglasses to top off all your warm-weather ensembles (not to mention, protect your eyes). Think oversized frames, vintage shapes, a spicy mix of colors. Or perhaps these classic Disguise Sunglasses from Prada to rock the spring/summer months. The Italian-crafted accessory features a geometric-style tortoiseshell frame with UVA/UVB solar protection that will take you through the many sunny days ahead in style. Info: farfetch.com.