ON STAGE
Tootsie The Musical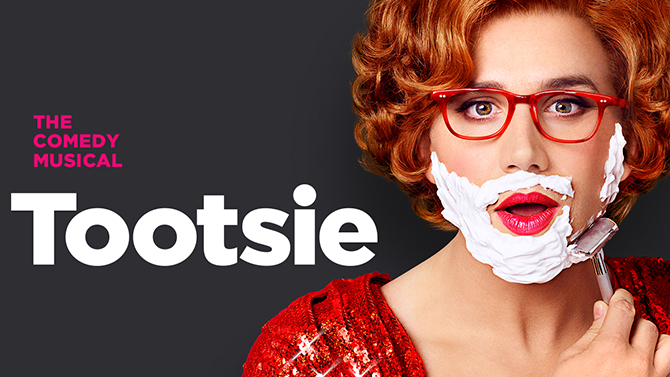 By Lori Simmons Zelenko
Ironically, when Dustin Hoffman (as Michael Dorsey) played the seriously annoying out of work actor who transformed himself into Dorothy Michaels, a working actress, no one was talking about #metoo. In fact, calling a woman "tootsie" wasn't so unusual, after all the expression dates from 1905 and it surely was not out of date when the movie Tootsie was made. And indeed, Dorothy was treated on set as "tootsie" long before Harvey Weinstein made headlines.
Today, Tootsie, the movie, is a Broadway show, a musical based of course, on the film conceived so brilliantly by Larry Gelbart and Don McGuire. Tootsie resonated then—it earned 10 Academy Award nominations in 1982 and made $177 million—and so relevantly resonates now.
Reimagined as a musical, energizing Broadway audiences with not only terrific music (the score by David Yazbek, The Band's Visit) is a subtle but sexy nod to the 80s but also with a story that combines arrogance and empathy with clever wit, taking the narrative into the present day and out of TV land moving it literally, on to Broadway. The theme is about identity, self-exploration, and the craft of acting—and yes, how this struggle is realized by an out of work actor Santino Fontana (Frozen the Disney movie) who—out of desperation—reinvents himself as woman and comes close to earning everything he ever wanted. At the end of the day, who doesn't want to believe that when they are looking at the bottom of the barrel so to speak, there is nowhere to go but up? Even if climbing up and out takes a commitment that's more than a little unorthodox.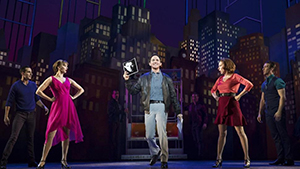 Cast of Tootsie the Musical
STRONGER, BETTER, SMARTER
So the question is, who is Dorothy Michaels? Well, there is no doubting her talent and her in-your-face honesty, but what makes her special is how she inspires everyone in her circle to be stronger, better, smarter. She's as good as a man being a woman can ever be. Even though Michael Dorsey might be willing to do anything for a job—even if it means playing way against type—he never loses the integrity that made him so difficult to deal with in the first place as an out of work actor. But like the process of acting itself, being a man playing a woman leads to surprising revelations (even personally, as Santino Fontana's wife says, the new empathy coming from this part is definitely a reward). As they say in show biz, the hardest part isn't getting to the top... it's keeping up the act.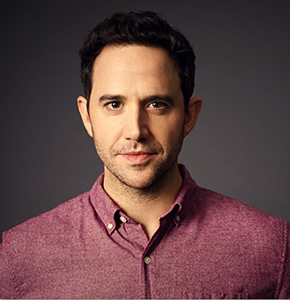 Santino Fontana as Michael Dorsey & Dorothy Michaels
LIVING THE DREAM
Tootsie The Musical is at its heart an insider's look at what it takes to be an actor: the desperation that fuels the craft, the insecurity that comes from being at the mercy of autocratic decision-makers who can't consistently recognize talent though they do recognize victims, the need to pacify ogres who have no idea of normal boundaries, the pressure to slavishly worship to get a gig. As Larry Gelbart and Don McGuire originally conceived the film and as the musical reveals, actors are hooked, performing is their heroin, just as it lifts them to great heights so can the quest destroy. Their compulsion to perform is so great that nothing else makes them happy. And some, the ones that sustain the hardships and through will as well as talent rise to the top, do encourage us to suspend disbelief. We see them transform themselves like Michael Dorsey into a character that as Santino Fontana says, "is so desperate he's not thinking even those two steps ahead." It's not that he wants to be a woman, he just wants a job. He's determined to live his dream, even if it has to be as a man pretending to be a woman.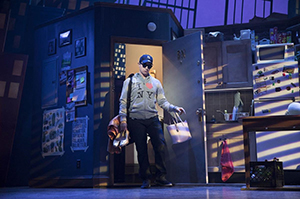 Artfully Tootsie The Musical, written by Robert Horn (his experience includes writing for Bette Midler so you know he's no stranger to camp) makes us laugh, we deliciously savor the craziness of the characters, watching the deception the extraordinary Santino Fontana puts across as he becomes Dorothy Michaels and invites us to believe in him as her. It seems only natural that we fall in love with him as her too, joining the lovely Lilli Cooper (as Julie) and the six-packed reality star Max (John Behlmann). Sarah Stiles as Michael Dorsey's wacky, vulnerable ex-girlfriend, and Reg Rogers as the sexist director Ron Carlisle whose patience is so tried by Dorsey's self-involved insistence on perfection that we almost feel sorry for him, bring a fresh currency to an exceptional cast.
Eight-time Tony nominee and Olivier Award winner Scott Ellis directs this winning show with sets by David Rockwell. The contemporary choreography by Denis Jones makes fun of Broadway tradition as it keeps this wonderfully engaging show standing tall in its high heels.
For more information on Tootsie The Musical (at Marquis Theatre 210 West 46th Street), visit tootsiemusical.com.