ON THE BIG SCREEN
By Jenny Peters
FAMILY FUN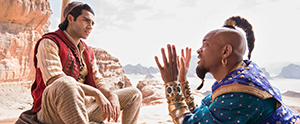 ALADDIN
Rated: PG
Disney Studios continues its wildly successful animation to live action transition with Aladdin, complete with all the characters and songs from their 1992 blockbuster. This time, the big blue genie is played by Will Smith, with Mena Massoud taking the title role, the lovely Naomi Scott as Jasmine and Marwan Kenzari rounding out the main cast as Jafar. If the story seems familiar, it is; but director Guy Ritchie (Sherlock Holmes) adds lots of wild chases and other personal stamps to this oft-told tale.
---

GODZILLA: KING OF THE MONSTERS
Rated: PG-13
When Godzilla roars, fans run to the movies. At least that's what Warner Bros. is counting on, as this newest iteration of the classic Japanese monster arrives on the big screen. This time out, the humongous dinosaur-like mutant creature has joined forces with a bunch of other big monsters from this ongoing series that began with the first flick in 1954. So look for Mothra, Rodan and Ghidorah, too, as stars Millie Bobby Brown, Ken Watanabe, Vera Farmiga and Sally Hawkins try to add a little gravitas to this sci-fi extravaganza of special effects.
---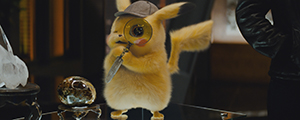 POKEMON DETECTIVE PIKACHU
Rated: PG
Pikachu, the Pokemon character that everyone adores, comes to his first live-action movie as a detective (with his voice created by Ryan Reynolds). This action-packed adventure races across the eye-popping ultra-modern metropolis called Ryme City, as more Pokemon characters join in the search for Pikachu's missing friend. The movie blends animated characters with real-life people, including actors Justice Smith and Kathryn Newton. Watch for Bill Nighy, Rita Ora and Ken Watanabe to turn up, too, before the mystery is solved.
---
FUNNY FEMALES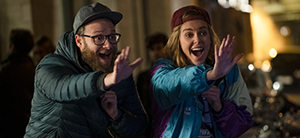 LONG SHOT
Rated: R
Oscar-winner Charlize Theron joins forces with Seth Rogen in this wigged-out flick about a high-powered woman running for United States president and her unorthodox screenwriter—who also happens to be the grown-up version of the kid she used to babysit. As this dynamic duo reach for the power and prestige that comes with running America, lots of lunatic moments ensue. And believe it or not, there's even some romance thrown in. Andy Serkis, Alexander Skarsgard, Ravi Patel and O'Shea Jackson Jr. co-star in this silly comedy.
---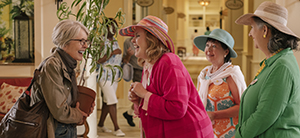 POMS
Not yet rated
Who says older women can't be cheerleaders? In this zany comedy, Diane Keaton leads a crew of retired ladies into becoming the greatest over-sixty cheerleading squad that the world has ever seen. And while the world might not be ready for their version of booty shaking and pyramid building, there's plenty of laughs to be had as these grannies tick off one of their bucket list adventures. Rhea Perlman, Pam Grier, Jacki Weaver and Celia Weston co-star as Keaton's pom-pom wielding squad, with Bruce McGill along for the fun.
---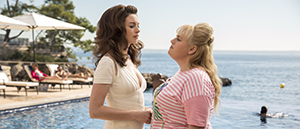 THE HUSTLE
Rated: PG-13
Remember the classic conman comedy Dirty Rotten Scoundrels? That 1988 film starred Steve Martin and Michael Caine as two scoundrels who team up to pull off an elaborate job, with hilarious results. Now Hollywood is back with a new take on that old film, with a special twist. Now those crime-loving rogues are women, played by Anne Hathaway and Rebel Wilson, who team up to target a few men in their lives that deserve to be taken for a ride. Tim Blake Nelson and Alex Sharp co-star in this scam-filled comedy that hopes to be as beloved as the original.
---
FASCINATING FEATURES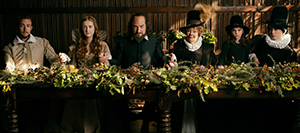 ALL IS TRUE
Rated: PG-13
Shakespeare lovers will warm to this absorbing biography of the Bard, as envisioned by Kenneth Branagh, who both directs and stars in this completely charming and literate drama. The story joins Shakespeare's life as it is coming toward the end, as the acclaimed playwright returns to Stratford-on-Avon to consider his life's work. Judi Dench co-stars as his beleaguered wife, while Ian McKellan adds his touch to the gravitas of this personal imagination of Shakespeare's final days.
---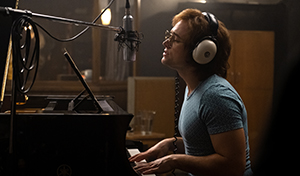 ROCKETMAN
Not yet rated
Elton John lovers will be fascinated by this authorized biography of the piano man's rise to fame and fortune in the 60s and 70s, as he transformed from Reginald Dwight into the platform-wearing glitter king of rock-and-roll piano. Taron Egerton stars as Elton, with Jamie Bell taking on the role of Bernie Taupin, the man responsible for adding words to his inspired piano tunes. Styled as a musical fantasy, Rocketman may not follow the exactly true story of Elton and Bernie's life, but they both seem to agree that this is the version that rocks (and rings) true to their memories of those golden days filled with great tunes and wild times.