ON THE SMALL SCREEN
By Jenny Peters
JUST-FOR-TV MOVIES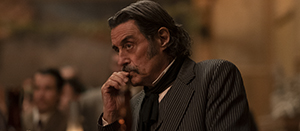 DEADWOOD
HBO
It's been more than 10 years since fans of Deadwood witnessed the last moments of the story of that wild South Dakota town, as the much-beloved HBO series aired its final episode. Along the way, the David Milch-created Western series won eight Emmy Awards and captured the imagination of viewers across the globe. This follow-up movie finds saloon owner Al Swearengen (Ian McShane), Sheriff Seth Bullock (Timothy Olyphant), wealthy businessman William Randolph Hearst (Gerald McRaney) and rest of the peerless cast reunited for one more story, as South Dakota is poised to enter the U.S.A. in 1889 as its 40th state. Expect plenty of swearing, sex and gunplay in this exciting film sequel that also brings back Paula Malcolmson, Molly Parker, John Hawkes and Anna Gunn in the roles they originated back in 2004.
---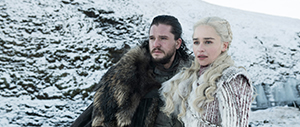 GAME OF THRONES: THE LAST WATCH
HBO
Fans who cannot get enough of Game of Thrones will thrill to this behind-the-scenes documentary film that explores the making of the last season of the story of Westeros and its rival factions, all fighting for control of the Iron Throne. Get an insider's look at the reality of creating the world's most beloved fantasy, as filmmaker Jeanie Finlay brings her bird's-eye view of the last year of production of the ambitious, Emmy Award-winning series. See how the world of the Seven Kingdoms was created one last time, but be warned: this film takes the magic out of the fantasy, so rabid fans might not want to know how places like King's Landing and the Wall were actually created.
---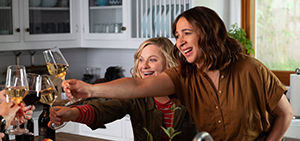 WINE COUNTRY
Netflix
Funny females abound in this comic film about a gaggle of gals who head to wine country (Napa, to be exact) to celebrate one of the pack's 50th birthday—and with Amy Poehler leading the pack, there's bound to be some drunken shenanigans along the way. She stars and directs the flick, and is joined by Tina Fey, Maya Rudolph, Rachel Dratch, Cherry Jones, Maya Erskine and even Jason Schwartzman as this romp in the vines unfolds. Be sure to watch with a glass of fine Napa wine in hand!
---
LIMITED-EPISODE MINISERIES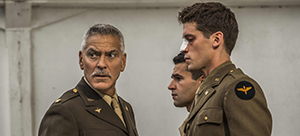 CATCH-22
Hulu
George Clooney's take on Catch-22, the classic anti-war novel by Joseph Heller, comes to the small screen in a six-episode miniseries that stars Christopher Abbott as Yossarian. Set in World War II, the series follows Yossarian's quest to stay alive and even get himself out of the combat zone, all while bunking the surreal U.S. military, which is determined to keep him in service (and harm's way) for the duration of the war. Clooney produces, directs and stars, along with Grant Heslov; Kyle Chandler, Hugh Laurie and Giancarlo Giannini co-star in this dark comedy shot on location in Italy.
---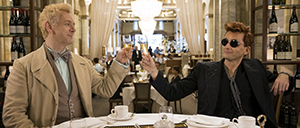 GOOD OMENS
Amazon
With an all-star cast including David Tennant and Michael Sheen, Good Omens finally comes to life. The novel by Neil Gaiman and Terry Pratchett dates back to 1990, so it has definitely taken a while for this satirical vision of the end of the world to come to life. Now a six-part miniseries, it's all about the coming of the antichrist and the attempts of two earth-dwelling otherworldly types—a demon and an angel—to stop him from ruining the world. Look for Benedict Cumberbatch, Jon Hamm and Miranda Richardson as players in this fun farce, and listen for Frances McDormand as the voice of God, too.
---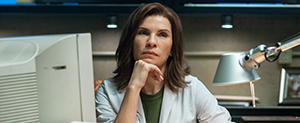 THE HOT ZONE
National Geographic
Julianna Margulies stars in this disturbing six-part miniseries based on the true story of the Ebola virus outbreak that hit the United States in 1989. Taken from Richard Preston's book of the same name, The Hot Zone follows Dr. Nancy Jaxx (Margulies) as she searches for a way to stop that deadly virus from spreading into America's population. This tense, disturbing thriller also stars Noah Emmerich, Topher Grace and Robert Sean Leonard as other scientists determined to halt the plague before it spreads. This one is way too close for comfort, revealing just how vulnerable humans are to a very small germ.
---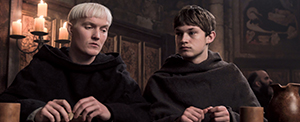 THE NAME OF THE ROSE
Sundance
It takes eight episodes of this miniseries to uncover the truth, in this adaptation of the bestselling novel that swept the world's imagination back in 1980. The film version of The Name of the Rose starred Sean Connery back in 1986; now this version of Umberto Eco's medieval murder mystery takes its time in telling the full story of a Franciscan monk (John Turturro in this TV version) and his novice (Damian Hardung) who discover crime in a monastery high in the Italian Alps. This complex thriller will keep you guessing right until the murderer is revealed.
---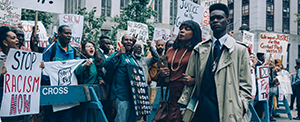 WHEN THEY SEE US
Netflix
The disturbing real-life events chronicled in this four-part miniseries took place in New York City in 1989, when five African American teenagers were accused and convicted of the rape of a woman in Central Park. Known as "the Central Park Five," the boys from Harlem spent years in jail. Finally exonerated, this series directed and co-written by Ava DuVernay (Selma) follows their lives from accusation to the $41 million settlement reached in 2014 with the city. She's assembled a powerhouse cast to tell their stories, from Emmy winners John Leguizamo, Christopher Jackson, Blair Underwood and Felicity Huffman to Michael K. Williams, Vera Farmiga and Niecy Nash.