FROM COMEDY TO CANVAS IN ONE STROKE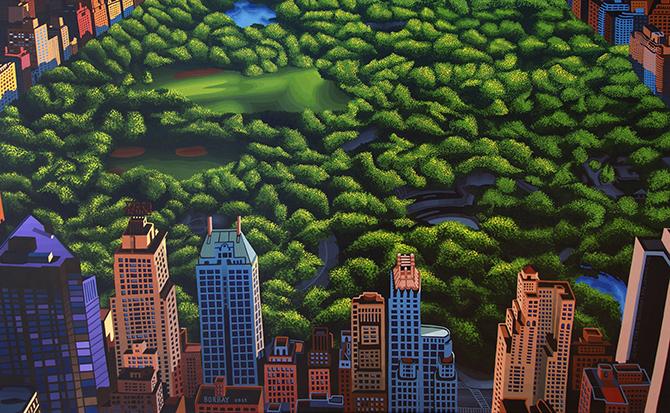 By Borbay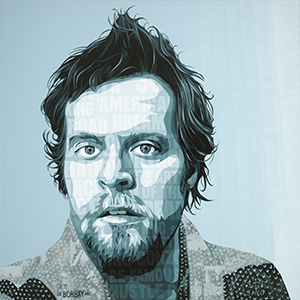 Portrait Of The Artist As A Married Father Of Two
Growing up on Long Island, my childhood was spent chasing my two passions—art and running. Both brought me to Boston University, where I captained the track team, and graduated with a BFA.
It wasn't too long I found myself running toward a six-month stint on reality TV. My days of cameras and confessionals helped me save-up enough loot to move to the UES. Upon arrival, I dove into stand-up comedy — performing at such places as Gotham, Stand-up New York, and Dangerfields. Then after a stint at The Trump Organization (hey, you never know if your boss might become the next President!) and a talent agency, I met my wife-to-be. I was set-up on a blind date and within five minutes, knew she wasn't for me. So I did what any red-blooded guy would do: called a good friend to join us. He hit it off with my anticipated date, calling the next day to set-up drinks with his new lady, and her roommate. So, in walks the roommate, Erin, my soon-to-be wife.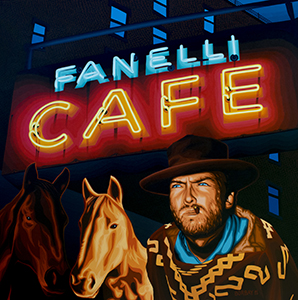 Clint Eastwood
ART WAS ALWAYS THERE
Now employed as Business Director at Fantasy Interactive based in Sweden—a front-end design and development company, I split my time between New York City and Stockholm, working with top brands, including Electronic Arts, Nintendo, and Porsche. But art was still in the back of my mind. In May 2009, I found myself sipping beer and realized it was time to start living my real life as an artist and became Borbay formerly known as Jason Borbet.
A chance encounter with a wealthy Italian on Fifth Avenue lead to my first sale, which I hand-delivered in Milan. I loved it so much I spent a week painting in Brera. During this inspiring period, I found my signature collage-painting style. My first breakthrough? The Kings Of Hip Hop series, which exhibited at Publicis Modem's Meatpacking District headquarters. I selected the artists based on three criteria: entrepreneurial, involved in social media, and releasing an album within the year. Simultaneously, Forbes had just released a "Cash Kings of Hip Hop" feature. I couldn't believe I accurately identified 6 of the top 7 Hip Hop stars. Years later, I would pen an art business column for Forbes. Even better is knowing that the Universal Hip Hop Museum just acquired two of the paintings.
Now married to the love of my life, I continued painting and exhibiting. In 2012, my work was shown at the Major League Baseball Fan Cave. Keeping with America's pastime, I created portraits of the Yankee's David Robertson and Robinson Cano, presenting them at a Trenton Thunder game. My next show, Kick Ass Actors in Kick Ass Roles, sold out. Then during a trip to Las Vegas, I became involved with Broadway Cares Equity Fights AIDS. With that I created a painting in 40 minutes at Planet Hollywood which auctioned for $6,000 to benefit the charity.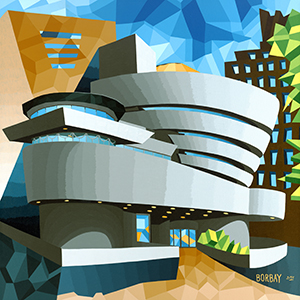 Mindscape Guggenheim
A TOTAL CHANGE OF SCENERY
In 2015, I was invited to present my business model to the peer investment group, Tiger 21. Through these visionaries, I was asked to create Art Exuma—an artist residency in the Bahamas. Our two-month stay changed our perspective on life so much that we (kids and all!) packed-up our belongings and hit the road. We spent three months living in Jackson Hole's Teton Village. This experience left such an indelible mark. That June, I had my first Western show at The Art Association of Jackson Hole. The following year, I helped create and participated as the first artist-in-residence at Four Seasons Resort and Residences Jackson Hole. Further announcing my arrival, I won the Spirit of Wyoming art competition.
I am currently the artist-in-residence at Teton Springs, a gorgeous country club, where I've developed a passion for golf. Last summer, I created a 264 square-foot mural in Victor City Park (about the same square footage of my first NYC apartment).
This July 2nd marks my 11th year as an artist—and it seems like only yesterday!
For more information on Borbay, visit borbay.com.