TIME OUT WITH...
Ann Liguori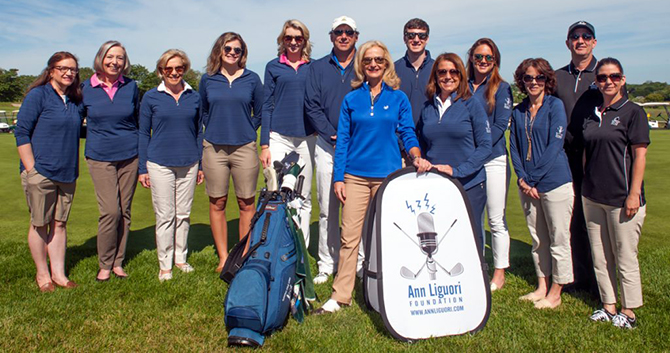 By Elizabeth Darwen
She covers some of the most prestigious Golf Majors on radio and with guest appearances on television. She is also the President of Ann Liguori Productions and owner of Sports Innerview Radio & Television properties, an archival collection of television interviews that she has conducted with sports legends and entertainers. Who is this Renaissance woman? Ann Liguori, of course.
BROADCASTING
This past April, Ann celebrated covering The Masters for her 21st consecutive year. Ann has covered Tiger Woods' career since he turned professional, including his epic comeback win at The Masters this past April. "Witnessing Tiger's amazing win at The Masters and broadcasting from Augusta National throughout the week on WFAN Radio 660 AM and 101.9 FM and on CBS Sports Radio Network, was as exciting as can be," says Liguori. "Every Masters is special with compelling stories but this one was over-the-top. Tiger has transformed himself as a person, as well, and to see him overcome both his physical and personal issues was thrilling!"
Liguori's vast knowledge and passion for golf also inspired her to write her 2007 book A Passion for Golf: Celebrity Musings About the Game, (available on Amazon.com) which includes stories from more than thirty celebrity golf enthusiasts, who reveal their favorite courses, most embarrassing golfing moments, and how they find the time to indulge in one of their favorite sports.
CHARITY
When Ann is not covering major sports events, she is a champion of charitable activity through her Ann Liguori Foundation, with the mission to raise funds and awareness for not-for-profits that work in the field of cancer research, prevention and cancer care. "My family lost our Dad to cancer and a year-and-a-half later, my brother Jim, only 22-years-old at the time, succumbed to leukemia. Two terrible tragedies so close to each other could have torn our family apart but my Mom, my biggest inspiration, and my two younger siblings, my sister Jean and brother Dan, were determined to say strong."
Liguori decided to raise funds and awareness for cancer research, prevention and care. "Twenty one years ago, I started hosting and organizing a charity golf tournament to raise money for the American Cancer Society. Ten years into it, we put together the Ann Liguori Foundation so we could help a variety of not-for-profits. Our charity golf tournament has become one of the most popular fundraisers in the Hamptons every year and I'm proud of the work we've been able to do and the organizations and causes we've been able to help."
Mentorship has always been an important component of Liguori's world and legacy, and recently at the NY WICI Matrix Awards Luncheon in Manhattan, the Ann Liguori Foundation Sports Media Scholar was recognized. This year's recipient is Danielle Pluchinsky, a Sports Media Major at Ithaca College. She is currently interning in her college athletic communications office.
"The field of sports media is still challenging for women to break into and eventually rise to decision-making positions. The Ann Liguori Foundation Sports Media Scholarship and our mentorship programs help enable women to pursue their dream," says Liguori. "I enjoy connecting with students and encouraging them that with hard work, focus, dedication and commitment, they can reach for the stars and pursue their passion."
FASHION
This summer there is also the opportunity to see the creative side of Ann Liguori in her collaboration with Holly Daniels Christensen for her debut jewelry line known as the "Hamptons Rope Collection" with Dune Jewelry. The custom-made pieces incorporate sand from your favorite beach or golf course in sophisticated, timeless pieces for women and men. Ann also promotes the Dune Jewelry golf items, including ball markers, divot tool, wine stoppers and much more. "The jewelry collection is really exciting and makes for a lovely, personal gift to savor a special memory." Info; dunejewelry.com.
For more information on Ann Liguori, visit annliguori.com.
ANN LIGUORI'S JUNE CALENDAR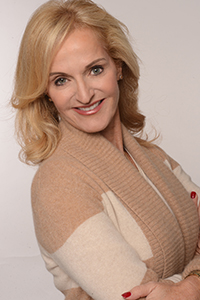 Here are a few of Liguori's notable upcoming events this season.
June 13th – 16th
Liguori will be covering the 119th U.S Open Golf Championship at Pebble Beach Golf Links, California, for WFAN and CBS Sports Radio Network.
June 20th
Look for her as she hosts the 21st Annual Ann Liguori Foundation Charity Golf Classic at the exclusive Westhampton Country Club in Westhampton, NY. This popular Hamptons Golf tournament is the flagship fund-raising event for the Ann Liguori Foundation.
June 24th
Liguori will be honored at the Samuel Waxman Cancer Research Foundation's 37th Annual Golf Tournament and Dinner at the Fresh Meadow Country Club in Lake Success, NY.