WELLNESS IS A BREEZE
Who Knew Breezes Bahamas Could Be So Healthy!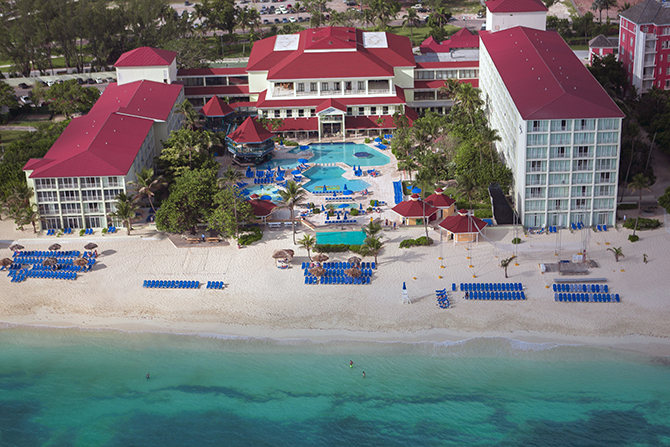 By Gerrie Summers
When I was invited to Breeze's Wellness Week with Crunch Fitness, I have to admit I wondered, Wellness at an all-inclusive resort in the Bahamas? How will that work? All I envisioned was me lazily lounging on a chair by the pool, the tempting aroma of cheeseburgers and fries wafting into my nostrils and visions of refreshing and intoxicating rum drinks. So with a lot of persuasion —okay with the thought of ocean/beach sunsets it really didn't take that much!—I was on my way to take this wellness challenge.
With the boon in Wellness retreats and travel, it's understandable that all-inclusive resorts would want to attract and satisfy the needs of their fitness-conscious guests. This is the second year that the Breezes in Nassau, Bahamas has teamed up with Crunch Fitness.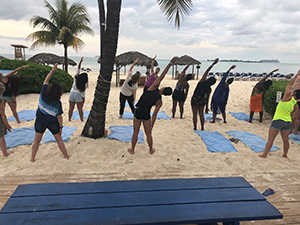 FITNESS ALL THE WAY
On its own, the resort has a lot to offer in the area of fitness. There's a fitness center with a view, where you can go to stay in shape on a treadmill while gazing at the ocean. It has state-of-the-art equipment—stationary bike, stair-climber, Nautilus-style machine, rower, along with free weights and fitness classes. Also on property are three tennis courts (with free instruction), rock climbing wall, table tennis, beach volleyball, a sand soccer field, flying trapeze, beachside jogging track, and three freshwater pools. The price also includes water sports activities like snorkeling, paddle boarding and kayaking. If you get sore muscles from your workout or just simply need a bit of relaxation, you can get a treatment at the Blue Mahoe Seaside Spa at an additional cost.
A benefit of booking a stay when a resort has scheduled a wellness week-type program is that you'll be encouraged to stay fit, healthy and not overdo it. If your spouse or traveling companion is not into wellness, retreats and yoga, this is a good alternative, because there are resort activities to keep them entertained.
FIRST DAY CHALLENGES
It was going to be a challenge. The first thing I did after dropping off my luggage in the room, was take a visit to the grill for a quick bite (fries) since my scheduled dinner was a couple of hours away. Of course I needed a rum punch to wash them down. So far, no good.
The first activity was yoga taught by Nathan Norrington who happened to be sitting next to me on the flight into Nassau, eating a healthy salad while I munched on chips. I met the rest of the Crunch team, Alinne Alves, Michael Becker, Joyce Wong, Jamie Drye and Denita Palumbo on the beach for Sunset Salutations.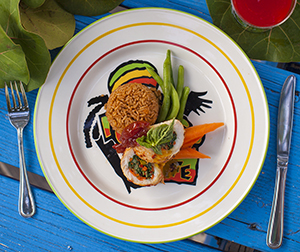 Healthy Tips
Even with a program like Wellness Week, there will probably be the desire to take advantage of everything offered in your all-inclusive deal and make sure you get your money's worth. Tennis lessons, snorkeling, beach and pool games and activities are great, but with unlimited food and beverages, there might just be the tendency to eat and drink everything in sight. So here are a few tips:
Daily breakfast Don't skip breakfast or you'll probably overeat later. Take advantage of the fresh fruit at breakfast. Try to go with nourishing foods like oatmeal and yogurt to give you energy to start your day.
Ask for healthier options At dinnertime, try to avoid the buffets, where you might be more likely to get carried away. All-inclusive resorts have a la carte restaurants where you can choose healthier options from the menu and usually have vegetarian, vegan and gluten-free selections. At Breezes, Garden of Eden and the new Asian restaurant Munasan had lighter options and healthy alternatives. When you're visiting an island opt for the fresh, steamed fish.
Avoid the urge to splurge If you don't want to wait for an a la carte meal and decide to go to the buffet, be sure to walk around and look at the food that is offered instead of loading up your plate with the first things you see. Plates are huge at resorts, so give yourself a one-plate rule. An even better idea is to take a smaller salad or dessert plate (but don't pile on the food.)
Think before you drink It's easy to wind up drinking all day, especially if you're at one of the private beach cabanas and have an attentive beach butler. While it's okay to treat yourself to a frozen or fancy island drink, simple mixed drinks, wine spritzers and light beer, will have less calories.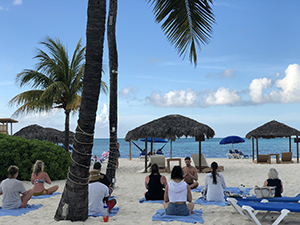 WAITING TO INHALE
The next morning, I attended the Ritual Meditation class with Michael on the Observation Deck above the Pool Bar. Unfortunately this seems to be a place where people are allowed to smoke, and during class, as Michael instructed us to take a deep breath, I got a nasty whiff of tobacco. A sign indicating that a meditation class was in session and to refrain from smoking, would have been nice.
A number of events were scheduled for the day. Alinne taught TRX Bootcamp, just after breakfast. Participants in this kind of class use a TRX Suspension Trainer to lift, pull and lower their bodies in Spiderman-like moves to get a total body workout. The healthy cooking demonstration a little later by Breezes Executive Chef Nigel Clarke was more my style.
In the late afternoon, the Bahama Boogie Dance Party at the pool led by Jamie, had the boozy crowd up doing the cha-cha slide and other classics, culminating with a fun conga line around the pool at the end. Then I joined the team and other Breezes guests for Happy Hour Hatha on the beach taught by Joyce. I must admit this is the first time I've gone into Triangle Pose to reach down and take a sip of a Mai Tai!
Each day began with either Ritual Meditation or Rise & Flow Yoga Meditation, followed by TRX Bootcamp, Pound Class (in which you move and drum along to a soundtrack using weighted drumsticks called Ripstix™), Hair of the Down Dog Yoga (you can guess what that involved), sunset yoga and Silent Disco (music is broadcast to wireless headphones instead of a speaker system).
Breezes also has live entertainment and on Saturdays there is a fire eater and a Junkanoo Parade with musicians and dancers in colorful costumes playing piercingly loud but entertaining goombay drums and cowbells.
For more information on Breezes Bahamas visit breezes.com.