BENJAMIN STEAKHOUSE
The Man Behind The Restaurant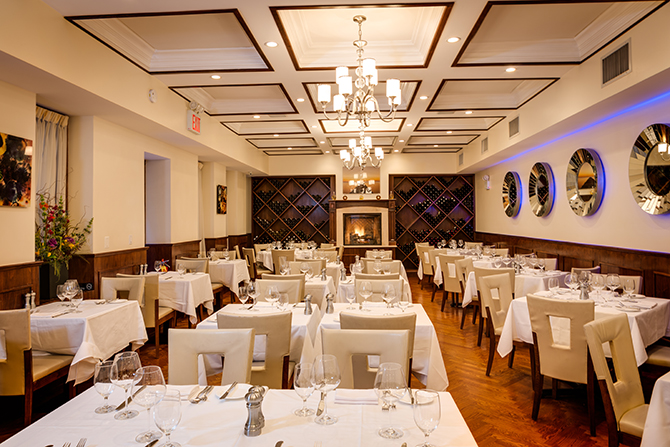 By AP Connolly
Meet Benjamin Prelvukaj of Benjamin Restaurant Group, an Albanian immigrant who moved to the U.S. and began his career as a busboy at the esteemed Peter Luger Steakhouse. Ben saw the potential in running a restaurant business of his own because of the simplicity of the menu: quality beef and a chef who can cook it properly.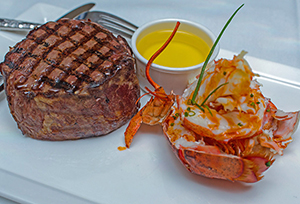 Splash Surf and Turf
Years pass and his dream comes to fruition. After partnering with his brother-in-law, Benjamin Sinanaj, they created a fabulous empire of restaurants in New York that includes Benjamin Steakhouse, Benjamin Prime and Sea Fire Grill (there is a Westchester location and two international locations in Japan). His determination has garnered many favorable reviews from loyal diners as well as the press, and most recently was named to the Crain's 40 Under 40 list in 2019. We sat down with this restauranteur to find out more about the man himself and what makes for a successful restaurant in New York City.
Tell us about your career path. How did you get your start? How and why did you open Benjamin Steakhouse?
After working in the industry at Peter Luger, I saw the potential in running a steakhouse business of my own. I had a bird's-eye-view into the inner workings of this massive machine, astutely observing both its successes and its faults. These assessments were the building blocks I used to develop Benjamin Steakhouse just a few short years later.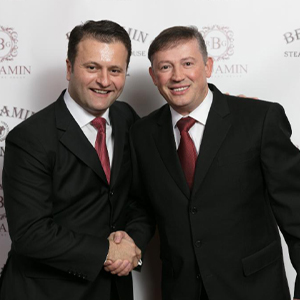 With Benjamin Sinanaj
When did you open your first restaurant?
I opened Benjamin Steakhouse in 2006 with my partner and brother-in-law, Benjamin Sinanaj.
What advice would you offer young chefs just getting started?
Your first years of working in a professional kitchen will shape the rest of your career so be open to every opportunity. Work longer hours than required and practice, practice, practice!
What's your secret to keeping customers coming in?
Our secret ingredient is our hospitality. It stems from me being on the floor every night to greet guests and know what is happening every single day. Our managers, servers, bussers, all members of our staff understand that the care we put into each customer's experience will determine if they come again. We pride ourselves on offering unmatched hospitality and making each guest feel as though they are part of our family from the moment they walk through our doors.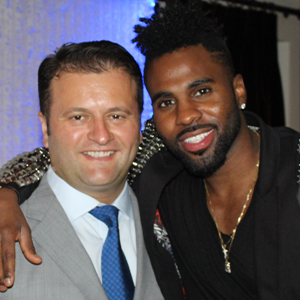 With Jason Derulo
What is the biggest challenge of being a restaurant owner?
Successful restaurant owners know it's finding the right employees and as an organization we must have a good team in place to make it in the hospitality industry. At Benjamin Restaurant Group we are a family run business, and try to instill that in all of our staff whether they are actual members of our family or not, that each guest must be made to feel as though they are a part of it, too. When hiring employees, I believe the energy between people is so important. I look for employees with a warm personality and who are determined and driven to learn and grow within the restaurant and hospitality business. Most of our top employees have been with us since day one and have really become family.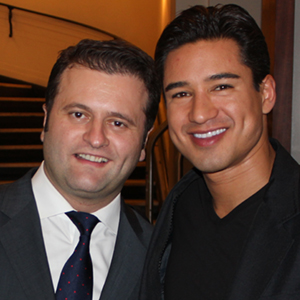 With Mario Lopez
What advice can you give to those who would like to open a restaurant in NYC?
One piece of advice I would give is the importance of location. We take great pride in finding locations that will satisfy the needs of all customers and create a warm and welcoming atmosphere. The space of our original location, Benjamin Steakhouse, is unique—it actually used to be an old chemists club in NYC and has a wonderful fireplace area and balcony space that provides a cozy atmosphere for diners in the winter months. With so many great restaurants opening in New York every day, quality food is not enough to stand out. Diners care about a quality experience provided with incredible hospitality from start to finish.
What is your philosophy on food and dining?
Food and dining are what bring people together! It should be enjoyable in all aspects. Not only the bread you break but whom you break it with. We hope to provide top-notch experiences when it comes to both the actual meal you eat and the experience of being with us as you dine.
What does sustainability mean to you?
It means making a conscience effort to provide the best quality food with reasonable pricing to ensure all guests have a fabulous experience. Sustaining our credibility, our level quality and our image are very important.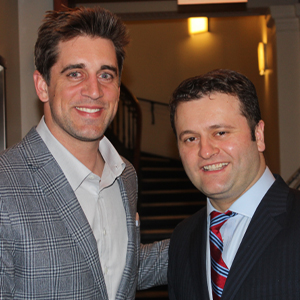 With NFL's Aaron Rogers
What are your top tips for running a successful steakhouse in New York City?
New York City is known as a culinary destination, but specifically for me, I like to think of New York City as the steakhouse capital of the world. There are so many iconic and wonderful steakhouses here that we call them our neighbors in this city. My top three tips:
• Employ hard-working, dedicated and passionate employees that embody your brand and your beliefs.
• Source quality meat. We source our beef from 4th generation butcher Pat LaFrieda, who is notably one of the most famous meat purveyors in the country. Pat has the top 10 percent of meat in the country in his facility (sourced from Omaha, Nebraska), and we select the best meat for our restaurants.
• Hire a great chef. When we were preparing for Benjamin Steakhouse, we turned to fellow Peter Luger employee, Arturo McLead, to become a fellow partner and our executive chef. Arturo has over 35 years of experience working in steakhouses and his skills in preparing the most succulent and flavorful steaks are truly unmatched.
For more information on Benjamin Steakhouse, visit benjaminsteakhouse.com.