CROSSING THE POND IN STYLE
British Airways Redefines Luxury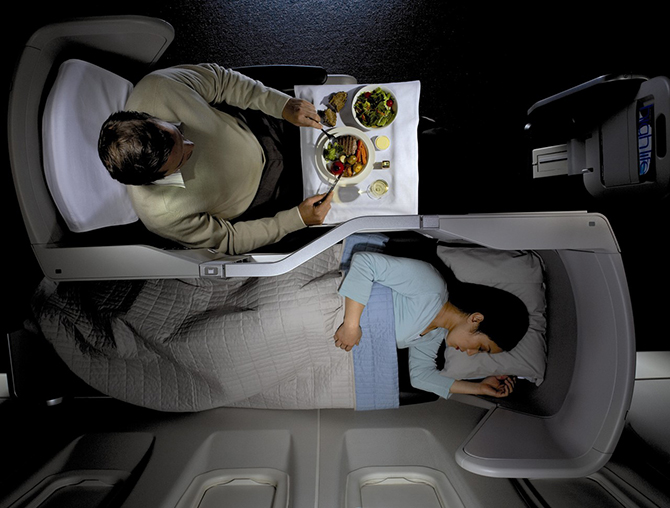 By Bailey Beckett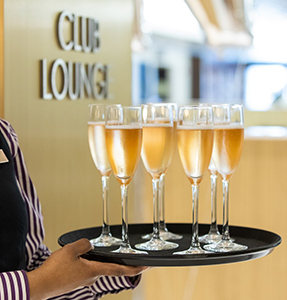 British Airways
Going across the pond." It's an affectionate term often used to describe the US-to-England journey, as if 3,400 miles of frigid sea did not separate the two. But it's an appropriate phrase to use when talking about British Airways and its Club World service between the two great friends.
The airline, which celebrates its 100th anniversary this summer, has perfected the Transatlantic experience, offering discerning and travel-weary passengers a flawless flight to and from Great Britain. As resident snob-in-chief, I recently surveyed the flight and present my "cross-the-pond" travelogue, written expertly in my Hermes diary. Standards, people. Standards.
---
NYC
3 am Who is making all that racket? Oh, it's the alarm clock.
4:15 am A friendly text from Asad, my driver from Precision NY, a chauffeur and airport transfer service that will be taking me to JFK this morning. "Good morning," the happy text reads. "I'm on location, so whenever you are ready, please let me know." Glad to know someone is cheerful this early.
4:30 am Asad greets me at the door and expertly stows my baggage into the back of a sleek, shining black Lincoln MKT, the auto maker's luxury SUV model. Chilled bottles of water, glossy magazines, large leather seats and a friendly driver makes the car service the perfect beginning of the journey. Info: precisioncarsnyc.com.
4:55 am Check in at the British Airways. I'm greeted by another cheerful morning person who tickets my reservation effortlessly, with no wait. I mention I'm doing a diary of my flight for BA's 100th anniversary and her face lights up. "I've been with BA for 37 years!" she says enthusiastically. I look at her amazing morning skin and express my doubts at her age. "Well, I started at five years old," she jokes.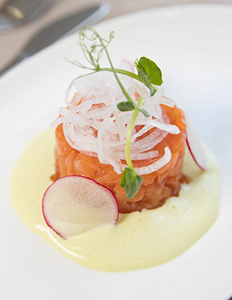 British Airways
5:15 am A whiz through security gets me to the BA Galleries Lounge in an instant, and I am dazzled at the renovation. The once tired looking space is now modern, sophisticated and, gasp, stylish after a $30 million facelift. Now 22,000 square feet, the lounge includes a granite topped Quaich Bar with a full range of wines and spirits; buffet of delicious hot and cold morning fare (the vanilla yogurt and granola is especially tasty); multiple rooms and areas to rest; flawless Wi-Fi sign in and speed; the day's newspapers already spread out at 5 am; and fawning service by attendants who do everything but foot rubs.
7 am The flight is called. The walk from the Galleries to the gate is conveniently quick, and I'm delighted to see the renovation has extended to the whole terminal, which is pristine, easy to navigate and features a much better class of shopping. After a walk down the jetway I'm met by two flight attendants who greet me warmly and escort me to a flatbed recliner in Club World. The seats are among the largest in the business class category, with a width of 20 inches, length of six feet and a 180 inch recline. Configured in a 2-by-2 layout (your fellow passenger sits diagonal to you separated by a walled screen for privacy) passengers are afforded pillows and luxury linens by The White Company, as well as an amenity kit with all of life's essentials. More resembling a pod, the seats also include plentiful bulkhead for storage space, as well as a private drawer for shoes and gadgets.
7:55 am The take-off is smooth and easy, barely noticeable. The plane reaches cruising level in no time, starting the 6.5-hour journey in style.
8:30 am The attendant comes to take my breakfast order. There's plenty to indulge on the early morning menu: salmon with horseradish sauce and croissants. According to British Airways Chief Menu Designer Mark Tazzioli, there are 250 meals in rotation on all flights, including 18 regional selections for exotic destinations like China and India. The menus are created six months ahead, and sourcing local ingredients from England, like produce, cheeses like Croxton, English lamb and Aberdeen Angus beef is a priority. You can also order your meal 24 hours ahead.
8:35 am Nap time! I fold out the flat bed, unwrap my White Company mattress and sheets, put on my eye mask and take a short snooze 30,000 feet in the air. The bed is comfortable and sleep restful. When's the last time you could say that aboard an airplane?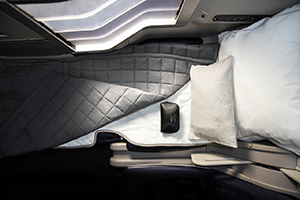 British Airways
9:15 am Breakfast arrives and is perfection, served with shiny flatware, table cloth and my obligatory morning Diet Coke (one of many). The salmon was fresh and succulent, bursting with cold flavor. And the croissants were fluffy and buttery, as if they'd been baked in the galley behind.
9:45 am Begin searching for a movie from one of hundreds of in-flight entertainment options on British Airways. The headphones are unusually sharp and clear sounding, a welcome departure from most airlines' inferior headsets. There are so many films—some just released—and it takes me a while to peruse the menu and find something to view.
9:50 am Flight attendant comes bearing gifts, err, gift: Glenlivet. Someone back there must be a mixologist because it's just right: glittering rocks, a splash of water, heaven. "I'll be seeing you again," I wink at her. And I will. Because there's a button in the console that summons her, providing you are friendly and respectful. Just how serious is BA about scotch? Even Bailey was impressed: the airline has partnered up with Scottish distiller InchDairnie to create a limited-edition whisky that will be debuted in 2031 for "World Whisky Day." That's 12 years of distilling, people.
12:30 pm With a little more than an hour left on the flight, the attendant asks if I'd like an end-of-flight snack: cakes, sandwiches, Cornish clotted cream, and English strawberry jam. According to BA's Tazzioli, it's the airlines most popular and signature meal. And for good reason!
London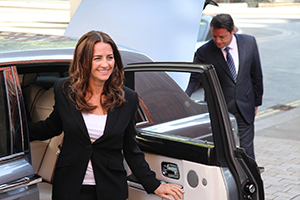 ichauffeur.com
7:30 pm Plane lands effortlessly at London Heathrow, and we are directed to Flying Club World which allows a fast passport/ immigration check-through Fast Pass; I'm through in less than 15 minutes. My bags await me on the conveyer belt, and am met soon after by a driver from iChauffeur who whisks me from Heathrow in a S-Class Mercedes to my first stay at the at The Mandarin Oriental Hyde Park London (and later to Rosewood London). iChauffeur is considered the UK's most elite car service, and has nine types of vehicles in its fleet, including the aforementioned Mercedes, as well as Bentley Mulsanne, Rolls-Royce Phantom and Range Rover Vogues and Autobiography. Founded by Andrew Senior and his sons Will and Richard, it includes more than 100 drivers among its staff. "Our aim, as always was, to redefine luxury travel," Will says. Mission accomplished! Info: ichauffeur.com.
9:00 pm Safely ensconced for the night at the Hyde Park Suite at the Mandarin Oriental, I think "I can get used to this!"
For more information on British Airways, visit britishairways.com.
---
WHERE TO STAY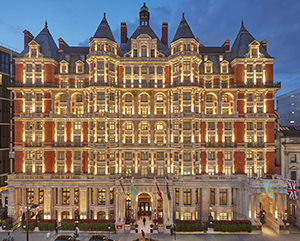 Mandarin Oriental London
THE MANDARIN ORIENTAL HYDE PARK LONDON
Sitting between glorious Royal Parkland and the buzz of central Knightsbridge, this hotel offers the essence of heritage coupled with contemporary flair and impeccable service. As part of the most-extensive restoration in the hotel's history, internationally-renowned designer Joyce Wang oversaw the property's entire design. The Mandarin, with 140 guest rooms and 40 suites, is also the only hotel in London to be located on Hyde Park—the perfect vantage to the Royal Horse Guards as they ride to Buckingham Palace. The Mandarin is also home to two of London's most popular restaurants, Bar Boulud and Dinner by Heston Blumenthal, bringing the experience of two Michelin stars under one roof. Info: mandarinoriental.com.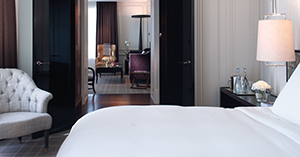 Rosewood London Grand Premier Suite ©Adrian Houston
ROSEWOOD LONDON:
Housed in the original headquarters of the Pearl Assurance Company, Rosewood London opened in October 2013 after a $100 million renovation of the 1914 Edwardian Belle Époque building, including the restoration of its street frontage and dome, and the grand Pavonazzo marble staircase which rises up through all seven stories of the hotel beneath the 166-foot cupola. Its 262 rooms and 44 suites, including nine signature suites, referred to as "houses," all convey the feel of stylish London residences. In particular, The Grand Manor House Wing, an exclusive seven-bedroom suite, welcomes guests via its own private entrance and is the only set of rooms in the world to possess its own postcode. Info: rosewoodhotels.com.
---
WHERE TO EAT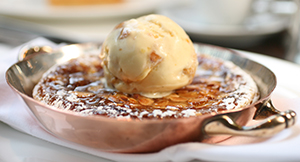 Scott's Bakewell Pudding with ice cream
SCOTT'S
Purported to be the second oldest restaurant in London, Scott's began as an oyster warehouse in 1851 and has since evolved into one of the most fashionable and glamorous seafood restaurants in London, famed as the site of Ian Fleming's discovery of the dry martini "shaken, not stirred." Combining Art Deco glamour with glittering heritage, Scott's features a menu of fish and seafood favorites alongside a variety of meat and seasonal game. Of particular note is its private dining: its walls are clad with pieces of Verre Églomisé artwork, creating the feel of an under the sea playground filled with fantastical fish and plants. Info: scotts-restaurant.com.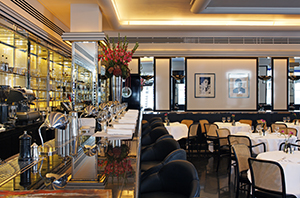 Le Caprice interior ©James McDonald courtesy of MBDS
LE CAPRICE
With its black and white décor, John Swannell photographs and long dining bar, Le Caprice is a model of urban elegance, but its reputation runs deeper. Opened in 1947 by Mario Gallati, former Maître d' of The Ivy, it was relaunched in 1981 and quickly became a social institution with a devoted international clientele. Head Chef Will Halsall's imaginative menu includes dishes like Korean Spiced Pork Belly with Kimchee, Mull Scallops with a bright Chili and Garlic Butter; and Dressed Dorset Crab with Sharp Green Apple, Celeriac and Dill. Info: le-caprice.co.uk.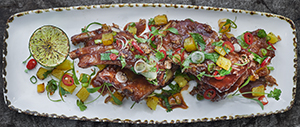 34 Mayfair
34 MAYFAIR
There is the tiniest hint of the nonconformist about this restaurant, whether it be the mischievous etchings by Tracey Emin, entrees like decadent Truffled Lobster Mac, or eclectic collection of paintings adorning the walls. Head Chef Harvey Ayliffe's menu is based around the bespoke Argentine parilla grill, with a fine selection of beef, seasonal game, and fish and a diverse wine list. Info: 34-restaurant.co.uk.
CUT
Located on the ground floor of 45 Park Lane, London's smooth cool boutique hotel, Wolfgang Puck's CUT is his first restaurant in Europe. Presenting a modern take on the classic American steak restaurant, it features the widest selection of beef available in London. The prices are steep—think nothing of a $240 Japanese Pure Wagyu Beef Kyushu Prefecture—but its sexy, intimate atmosphere will put a gloss to the bill (if that doesn't work, then try a pan-roasted lobster and seasonal salads). Rivaling the menus is the scenery: leafy Hyde Park shines beyond the windows. Info: wolfgangpuck.com/dining.