Jean Shafiroff
Philanthropist, Influencer & Fashion Icon Shares The Importance Of Giving Back

Dress and Earrings by Oscar de la Renta Shoes by Michael Kors
By Tripp Whetsell | Photography by Michael Paniccia
Hair by Henry de la Paz creative director for Warren Tricomi | Make-up by JP Gonzalez
For a certain segment of New Yorkers, the cooler Fall temperatures outside also mean one of the busiest times of year when some of most important fundraising galas and philanthropic events for organizations around the city and from across the globe heat up again.
Philanthropist, humanitarian, influencer, and author Jean Shafiroff certainly fits into this category. Google her name or peruse the pages of practically any magazine and you'll easily understand why. For nearly two decades, Jean has continued to distinguish herself as someone who has not only stood out time and time again, but someone to closely watch in the future. She is also known for her remarkable ability to connect different people and resources with a myriad of different charitable groups.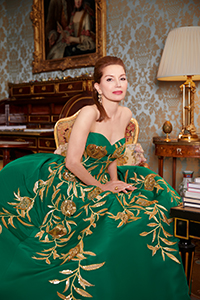 Green and gold embroidered gown by Oscar de la Renta Jewelry by Chopard
DONATING HER TIME
She is viewed as a leading philanthropist by many. Working tirelessly to achieve her fundraising and personal donation goals, which she often exceeds, it's not hard to understand why she is held in such high esteem. In fact, even in her downtime, it's not uncommon for Jean to respond to emails, answer phone calls and attend board meetings whenever and wherever she is needed no matter what time of day or night. Her enthusiasm, generosity, compassion and managerial skills are among some of her strongest traits.
Named "the First Lady of Philanthropy" of New York by both Hello and Hola! magazines, she is one of the most successful and visible volunteer fundraisers and donors on behalf of countless charities throughout Manhattan, Long Island's East End and increasingly international. Dividing her time between homes on the Upper East Side and Southampton, Jean is well known for hosting elegant and memorable A-list galas, luncheons, brunches and lectures for a myriad of diverse causes she believes in, just some of which include helping the underserved, healthcare, women's rights and animal welfare.
Over the years, she has served as the chair and host of galas for The New York Women's Foundation, Stony Brook Southampton Hospital, the NYC Mission Society, the American Heart Association, the Southampton Animal Shelter Foundation, the French Heritage Society, the Couture Council, JBFCS, the American Cancer Society, the Ellen Hermanson Foundation, UNCF, the Southampton Bath and Tennis Club's Charitable Foundation and the Viennese Opera Ball. All of this exemplifies her unwavering commitment and dedication to giving back.
And when it comes to her indomitable spirit and passion, 2019 has been no exception. In fact, for the elegantly turned out, two-time Columbia University graduate—who earned a Bachelor of Science degree in physical therapy from Columbia's College of Physicians and Surgeons and an MBA from Columbia Business School—it has been one of her busiest years yet.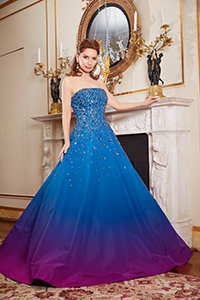 Earrings by Oscar de la Renta
This past summer in the Hamptons, Jean chaired two sold out events—the Southampton Animal Shelter Foundation's Gala and the Ellen Hermanson's Foundation Gala in July. In July also, Jean officially joined the board of the Southampton Hospital Association. Not only is this her eighth board appointment, but Jean—who has chaired the Stony Brook Southampton Gala three times which raised a total of $5.4 million during those years—was also honored along with her husband Martin at Stony Brook Southampton's 61th Annual Summer Party in August. This year›s sold out Stony Brook Summer Gala raised in excess of $1.5 million with 700 attending.
PARTY WITH A PURPOSE
In the beginning of 2019, Jean co-chaired the Southampton Bath and Tennis Club Charitable Foundation Gala and also chaired the 64th Annual Viennese Opera Ball in Manhattan. In addition, Jean hosted a large kick-off party in her New York City home for the New York City Mission Society Gala, and then went on to co-chair the gala at Capitale. Last spring as well, Jean hosted two large separate cocktail parties, one at her Upper East Side home for Surgeons of Hope and the other at her Southampton home for Stony Brook Southampton Hospital.
She has many other high-profile events planned throughout the fall and into early next year. Kicking things off at the JW Essex House on October 8th, Jean will co-chair the Radical Generosity Gala for the New York Women's Foundation, which honors leaders in philanthropy, business, the arts and social justice.
After that, she will host and co-chair Surgeons of Hope's 7th Annual Charity Gala on October 15. Held at the iconic JW Essex House in Manhattan, this year's gala will honor stage actor Diego Luna, who currently serves as Surgeons of Hope's Heart Ambassador. Then, on November 21, Jean will co-chair the French Heritage Society's New York Gala Dinner Dance—the Black and White Ball. All proceeds from the French Heritage Society event go toward providing support for the charity's core missions, which include preserving historic French architectural heritage in France and the United States, organizing educational exchanges between the two countries and promoting French-American friendship.
For her philanthropy and dedication, Jean has also been honored by countless different charities, just some of which include the Stony Brook Southampton Hospital, American Heart Association, American Cancer Society, NYC Mission Society, JBFSC, Southampton Animal Shelter Foundation, the NY Woman's Dominican Foundation, the Hadassah, the NYC Film Festival and Surgeons of Hope.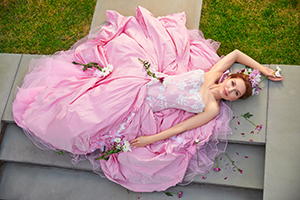 Pink vintage gown by Vicky Tiel
A LIFE AROUND GIVING
Jean is also the author of Successful Philanthropy: How to Make a Life by What You Give. Widely lauded as one of the most informative guidebooks on giving, Jean's mission for writing it was to inspire others to become involved in the philanthropic process.
In her book, she redefines the word philanthropist, stating that anyone can become a philanthropist regardless of their financial means by giving their time, knowledge and available resources. It features a special introduction by former New York City Mayor Michael Bloomberg's daughter Georgina, who discusses how she combined her background as an equestrian and a philanthropist to launch her charitable organization, The Rider's Closet. Jean's highly instructive and informative book also addresses such topics as how to choose a charity and building a life around giving.
Of why she decided to write the book and why she feels so passionate giving back—something Jean credits to both her parents and teachers that was instilled in her as a child growing up in suburban Long Island—Jean says: "We have an obligation to see the need in the world and take action.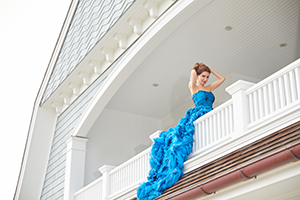 Blue ruffled gown by Oscar de la Renta Earrings by Oscar de la Renta
LOVE HER STYLE
Yet beyond her impeccable academic credentials, philanthropic prowess and the fact that she's an author, there's another dimension to Jean that people revere: her sense of style. So much that she's equally well-known as one of the best-dressed hosts who is also regarded as among America's top party givers. Having received top rankings on many best dressed lists for her style and extensive ball gown collection, she was listed by thesalonniere.com (as reported in Town and Country) as one of 2019's top 100 American party givers this past January and as one of the 12 best dressed women of the world by Look Online in 2018.
Though her number-one priority is to help support the many diverse charities and organizations she's involved with, she also loves to have fun with fashion while hosting these galas. Summing up her passion for fashion and style, she explains: "Style is an expression of oneself. When I'm well-dressed, I feel good. Fashion is a highly creative form of art. I am in awe of the incredible vision of so many of our present-day fashion designers. My involvement on the board of the Couture Council of the Museum of the Fashion Institute of Technology has expanded my knowledge and love of the world of fashion. To wear and own the creations of some of our great fashion designers is a great privilege. For the past several years, I have also been collecting ball gowns. Most are the creations of American designers such as Oscar de la Renta, Mary McFadden, Zac Posen, Zang Toi, Carolina Herrera, B Michael and Victor dE Souza. Many are couture pieces. One day I plan to donate my collection to a museum. I look forward to that day. In the meantime, I am enjoying the experience of wearing them."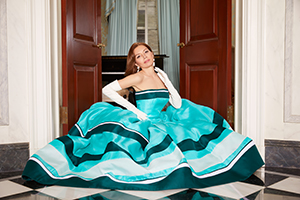 Turquoise gown by Carolina Herrera
Gloves by E Sermonetta
Earrings by Oscar de la Renta
A FAMILY AFFAIR
Jean's two daughters and her husband Martin are also very involved in philanthropy. A few years ago, her youngest daughter co-founded her own charity called Global Strays, which strives to promote and improve animal welfare in countries that don't have the proper resources to do it on their own. Jean is an active board member of Global Strays, which currently funds animal rescue groups in Nicaragua, the Dominican Republic and Columbia. Internationally, Jean is also supporting the Cherie Blair Foundation for women. In addition she recently traveled to England to meet Prince Harry through Walking With the Wounded, a charity she supports fully. This British charity founded in 2010 was designed to help former British Armed Forces servicemen and women in their career transition from the military to civilian life.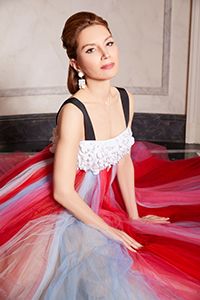 Gown by Carolina Herrera
Earrings by Oscar de la Renta
Recognizing the need to promote philanthropy through multiple platforms, Jean views social media as yet another important vehicle for garnering support of various charities and encouraging others to donate their resources and volunteer their time.
Towards that end, she currently has over 170,000 followers on Instagram alone. Besides supporting her favorite causes though social media, yet another passion of Jean's is helping to promote up-and-coming designers in her social media posts. Her humanitarian philosophy is apparent in everything she does.
"I believe we are not just put on this earth to just to consume and to provide for ourselves and our immediate families," she concludes. "We have an obligation to help those that have less than we do. When we share our resources, we come closer to understanding the true meaning of life."
To learn more about Jean, her favorite charities and her philanthropic activities this summer, follow her on Instagram @jeanshafiroff