SAVING FACE
By Gerrie Summers
As one season ends and another begins, our skin care needs change to adapt to changing weather and environment and its effects on our skin, especially on the face. These products will help you prepare for fall and the colder weather ahead.
---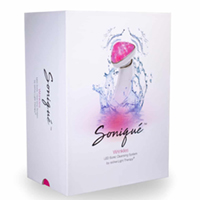 REVIVE LIGHT THERAPY
Sonique LED Sonic Cleansing System
Start With Double-Duty Skin Cleansing: Sonique LED Sonic Cleansing System combines LED light therapy with sonic cleansing technology. Use the LED light as a treatment to treat fine lines and wrinkles by penetrating deep into the skin to stimulate collagen and elastin production, thereby reducing wrinkles and improving skin tone. The cleansing function uses sonic vibrations to massage and rejuvenate the skin, while clearing out pores for deep cleansing, for a smoother, more radiant look. Info: revivelighttherapy.com.
---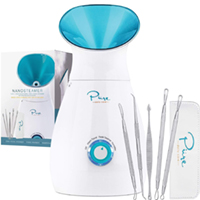 PURE DAILY CARE
Nano Steamer
Treat Your Skin To Therapeutic Steam: The most important step in preparing for a facial—and targeted treatments—is steam. It not only softens the skin, helps eliminate bacteria, but is a necessary step in the absorption of creams and serums during a facial. But sometimes it's not always convenient to visit a salon. Enter 3-in-1 Nano Ionic Facial Steamer that generates nano steam with negatively charged ionic particles. Nano steam combined with ionic water particles is said to be ten times more effective at penetrating the skin. Info: puredailycare.com.
---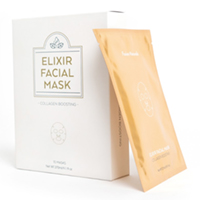 FUSION NATURALS
Elixir Face Mask
Apply A Hydrating Face Mask: Elixir Face Mask contains a serum that includes spinach leaf powder, blueberry fruit extract and tangerine peel extract to encourage the skin to produce collagen, plus ingredients to boost hydration. The eco-friendly mask sheet is made of 100 percent wood pulp utilizing Japanese technology for a better fit and to maintain its shape. Info: heyfusion.com.
---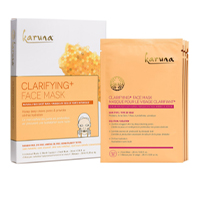 KARUNA
Clarifying + Face Mask
Oily And Acne-Prone, This is For You: Clarifying+ Face Mask refines clogged skin by deep cleansing pores and controls excess oil produced by the skin. Honey deep cleans pores while providing oil-free hydration. Other ingredients include soothing aloe and chamomile, hydrating hyaluronic acid, peptides, Chinese licorice, and vitamin B. The mask is also paraben, dye and mineral oil-free. Info: karunaskin.com.
---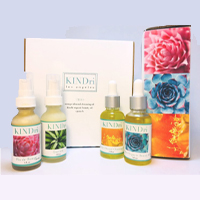 KINDRI
Trio For Dry Skin
Cleanse And Moisturize: The KINDri Trio contains travel-friendly bottles of Orange Almond Cleansing Oil, to purify and condition with a blend of sweet almond oil, organic prickly pear seed oil, grape seed oils and pure orange oil to remove grime and makeup. The Organic Beauty Oil plumps and hydrates the skin with a blend of sunflower seed, argan, and olive oils to apply alone or before moisturizer. Pas de Rouge provides hydration and sun protection with nourishing ingredients to improve skin tone and texture. Info: kindri.com.
---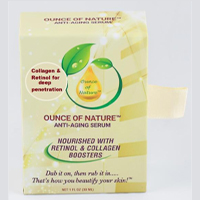 OUNCE OF NATURE
CBD Anti-Aging Serum
Give Skin A Collagen Boost: The CBD Serum is said to relax the skin, which makes it more effective in absorbing your favorite skin care products. The serum contains retinol and collagen boosters using natural ingredients to reduce facial fine lines and wrinkles, and natural essential oils with anti-aging properties.
Info: ounceofnature.com.
---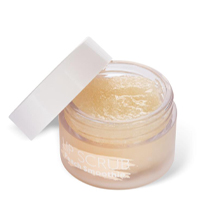 ELLA + MILA
Lip Scrub
Don't Forget The Lips: The Lip Scrub comes in four flavors (Peach Smoothie, French Vanilla, Mojito Mint, and Rosy Kisses) and gently exfoliates dry and flaky skin from lips, and moisturizes and softens lips with shea butter and vitamin E.
Info: ellamila.com.
---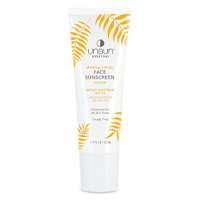 UNSUN EVERYDAY
Mineral Tinted Face Sunscreen Lotion
Always Use Sunscreen: Face Sunscreen is a chemical-free (plus vegan and cruelty-free) sunscreen with UVA/UVB broad-spectrum SPF-30 protection (zinc oxide and titanium dioxide) and is also water-resistant (for up to 80 minutes). With soothing ingredients like shea butter, green tea leaf extracts, and vitamin E, there's no excuse to go without your sunscreen. Ideal for all skin tones. Info: target.com.
---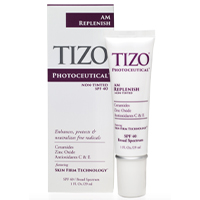 TIZO PHOTOCEUTICAL
AM Replenish SPF 40
Prevent And Repair: The perfect solution in preventing and repairing UV damage Use AM Replenish SP 40 mineral sunscreen, formulated with zinc oxide, ceramides to restore moisture balance, and vitamin C to help stimulate collagen. Available in lightly tinted and non-tinted. Info: tizofusion.com.
---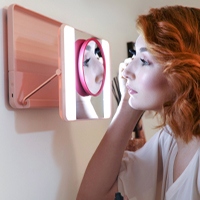 JOI
Spotlite HD 2.0 Diamond Makeup Mirror
Finishing Touches: The Spotlite HD 2.0 Diamond Makeup Mirror has over 15 features including ultra-bright true daylight LEDs (Tip: brightness is easily adjustable). It has a fast-charging lithium battery and includes a 10X distortion-free magnification mirror, integrated organizer tray and cellphone mobile attachment for selfies and videos. The mirror is transformable to hand-held, wall-mounted, and while closed is compact enough for travel. Available in several colors. Info: wearejoi.com.
---