LIFE & STYLE
EDITOR'S PICKS: PHENOMENAL FALL FINDS
By Griffin Miller
There are three things I like about the summer: 1) Long days; 2) Summer fruits; and 3. More room to spread out in cramped theatre seats (no bulky coats). I know this is a skimpy list by most people's standards. But as much as I like walking on the beach at twilight and watching al fresco performances in NYC parks, things like tides and mosquitos interfere with my ideas of perfection. Plus, if you've ever stood on a subway platform during a heatwave, I doubt you were humming, "Summertime and the livin' is easy." I'm much more of an autumn, light-jacket, wave good-bye to the kids as they head back to school, kind of person. And since Daylight Saving Time is not until November 5th, I'll be partaking of my fall roster of favorite things. I can honestly say August: Good; September: Awesome!
---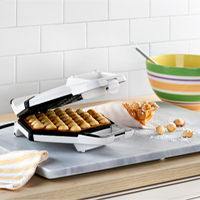 BODACIOUSLY BUBBLICIOUS
I know I'm late to the game, but I just discovered bubbles are not only about carbonated drinks, lavish baths, or airborne orbs with a mission to dazzle kids and kittens. They're also playful edibles known as bubble waffles (aka eggettes, egg puffs, and bubble cakes). Originating in Hong Kong in the 1950s, these chewy treats are open to interpretation: sweet, savory, wrapped around ice cream, broken into bite-sized bits. And with the correct tool, such as The Hong Kong Bubble Waffle Maker, Hammacher Schlemmer's non-stick version produces 37 "bubbles" in under five minutes. And yes, they are my latest breakfast obsession. Having aced the basics, I'm moving up and on to fancier recipes. Watch your back, Rachel Ray! Info: hammacher.com.
---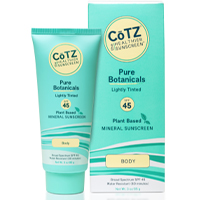 SCREEN TEST
As 2019's sultry season winds down, it helps to remember just how essential it is to protect whatever skin is exposed to the sun's rays, regardless of the season. Granted, sunscreen may not be the most bewitching part of your face-the-day game plan, but with skin cancer lurking behind every sunny outing, it is absolutely the most imperative. So why not opt for what I've found to be the safest and most effective kid on the block—i.e., CōTZ® The Healthier Sunscreen®. And while I'm not going to dis other SPF products, I will say CōTZ's minimal mineral formulations—Titanium and Zinc only—are plant-based, unscented and, with their matte finish and silken application, provide top tier broad-spectrum protection year-round. I wouldn't have it any other way and you shouldn't either. Info: cotzskincare.com.
---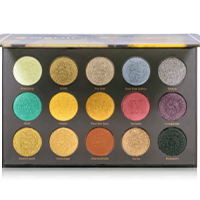 INTERNATIONAL EYE-TINERARY
In my years of makeup trial and error, I've come to believe in the tantalizing power of eye shadow—more specifically, eye shadows built on a palette of pigments laid out like the Prang watercolor paints that blew me away in grade school. Of course, myriad versions have been around for a while, but none became my requisite eye shadow until Nomad Cosmetics introduced their global-inspired collection. The travel-savvy wife and husband creators—Felicia and Antti Rintanen—embraced the distinctive hues they identified with several favorite destinations, infusing each palette with a different oil. My choice was their Berlin Underground Palette (hemp seed oil), a glorious collection of killer shades that boldly stand-alone or blended in fierce harmony. My eyelids are officially a lush color canvas. Info: nomadcosmetics.com.
---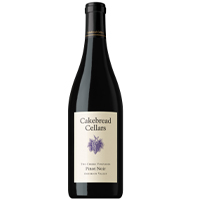 LET THEM DRINK CAKE
Napa Valley's Cakebread Cellars have a 45-year reputation for creating some outstanding wines. And now that cooler weather looms I've been diving—sip first—into their red varietals. As a one-person judge of a contest of my own creation, I decided to test which of two reds made my taste buds happiest. And while I don't pretend to be a wine connoisseur, I am no stranger to cocktail hours and at least two wine tastings. My two contenders: #1—Cakebread Cellars 2016 Two Creeks Vineyard Pinot Noir what experts would call complex won me over for its smoothness and fresh flavor. #2—Cakebread Cellars 2015 Napa Valley Cabernet Sauvignon seemed spicier with a nice sweep of fruitess. Info: cakebread.com.
---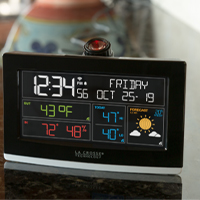 TIME WILL TELL
I may be sitting at my laptop typing away, but I am dreaming of…well, dreaming. More precisely, sleeping. It's one of my superpowers. Recently, though, I have managed to quadruple my pre- and post-slumber skills with La Crosse Technology's Wi-Fi Connected Projection Alarm Clock. I know, it's a mouthful, but it's also a lifesaver once you download the app that delivers a bunch of totally relevant functions, like the ability to monitor home conditions, view and share data, and customize alerts. And because the La Crosse is in partnership with AccuWeather for the clock, I'm privy to first-class forecast info, from highs and lows to wind direction. Did I mention weather predictions are not one of my superpowers? Snooze control is, of course, a given, but this compact bit of engineering also shows indoor temperature and humidity. It's about time! Info: lacrossetechnology.com.
---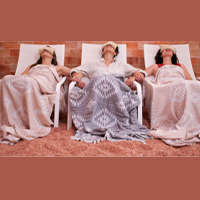 METRO BLISS
Downtime: Luxury? Necessity? Don't ask? My therapist has been urging me to explore meditative breathing. I try. But my world—a blur of needy kitties, a tyrannical cell phone, restless thoughts, and other miscellaneous stimuli (garbage trucks and such), dictate this to be a formidable challenge. Thankfully, my distracted self-discovered Salthaus, an idyllic little sanctuary on the Upper East Side where tiny pink salt nuggets scrunch between your toes as dry, salty air heals, revitalizes and soothes. Recline (or not); cover up with a blanket (or not); meditate, write, read or socialize (besties and groups welcome); or take a class. September's schedule includes regular and "Salt + Renew with Five Pillars Yoga," "Food for Thought" as well as "Kids Salt + Music" and other individual classes. I have my eye on a Thursday night "Salt and Breathe" meditation. Clearly, my Zen is calling. Info: salthausny.com.
---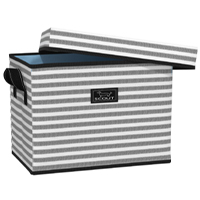 BOX SEAT
To a college student, "off to school" can turn into a rallying cry to transform a sterile cubby of a dorm room into a viable living space. Posters, sheets designed exclusively for elongated (why?) twin beds, mini-fridges and microwaves, a desk tchotchke or two. But what about the extra stuff? Spare glasses (drinking and reading), blanket, hands-off hair care and/or makeup items, and so on. Where to stash them? And how about an extra place to sit? On the flip side, what if you want to keep your haul away caddy but don't want it hogging precious closet space. The iconic company SCOUT—known mostly for its go-anywhere-do-anything bags—has come up with Rump Roost, a super-strong lidded storage bin that doubles as a seat or folds flat. Many design choices, but I zeroed in on the unisex, gray-striped "Oxford News." Info: scoutbags.com.
---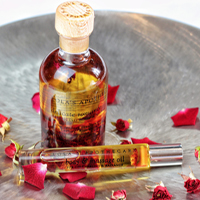 SCENTS AND SCENTS-ABILITY
If I were as decadent as I aspire to be, a good portion of my time would be spent in an ultra-deluxe spa getting my (holistic) massage groove on via skilled hands and sweet and savory aromatherapy oils. And while my decadence may not be sufficiently bankrolled for continuous "spa-fication," my desire for transcendent aromatherapy oils can be indulged whenever I choose. I choose oils from Lola's Apothecary, a British company that has created at least three I am hooked on. (It's a passion, not an addiction, I swear.) My favorite oil, though, is Delicate Romance, a mix of a variety of scents, the most dominant being roses, whose petals float in the bottles. And while all Lola's blends are available in regular bottles, "Delicate Romance" is among those offered in a portable roll-on tube for an anytime aromatherapy boost, to strengthen nails or smooth foundation. Info: lolasapothecary.com.