A TALE OF TWO CITIES
A Mother-Daughter Reunion
By Natasha Bazika
It's over a year since I last saw my mom and now here I was, sitting on a five-hour flight from New York City to San Francisco anticipating a long overdue rendezvous. My mom lives 9,291 miles away from me in Sydney, and this was her first time on American soil.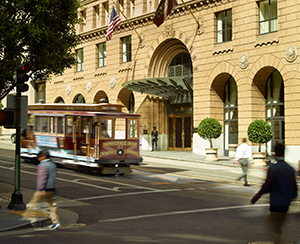 EXPLORING THE BAY CITY
I landed just in time to see the sunset on the Golden Gate Bridge before arriving at Omni San Francisco Hotel. I was whisked away from the Uber to the golden age of opulence. The man at reception told me mom had checked in. I guess the sound of a broken luggage wheel was enough for a mother's cat-like instinct because I barely swiped the room key when a waft of air brushed my face, followed by my mother suffocating me with a bear hug.
We walked through the city, getting lost as usual, but eventually finding our way to MKT Restaurant and Bar at Four Seasons Hotel San Francisco. It's always good to spoil your mom, even if it's splurging on dinner. We wined, we dined, and mom tried her first baked Alaska. I'm happy to announce every bite was a success, but there was a moment during dinner when we stopped reminiscing and catching up on current news and just sat in silence. I looked over to see her gazing at the buildings, and I saw a little glimmer in her eye. Maybe she was falling in love like I did the first time I saw New York's starry skyline.
The next morning we decided to walk to the Golden Gate Bridge. We strolled along the waterfront until we landed at Fisherman's Wharf. The shops, eateries, and carnival-like atmosphere reminded me of Luna Park in Sydney; it was enchanting, especially under the warm sun. We weaved through hordes of people, dodging pop-up stores, children inching farther from their parent's grip and, of course, restraining ourselves from eating our way through every ice cream store before succumbing to the sounds of seals, who were lounging on docks. I felt like a kid in a zoo, standing by my mom's side.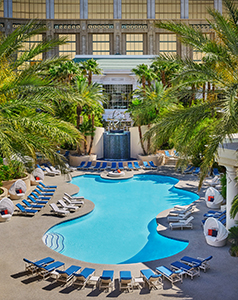 We got lost, and while I prefer to turn to my phone for directions, my mom has always turned to people—I would say it's a generational thing. She approached a waiter standing behind a counter. "Excuse," she muttered. "How do we get to the Golden Bridge?" The man replied. "You mean the Golden Gate Bridge?" She looked at me for confirmation. "Yes, that one." The man told her it was about seven miles north from where we were, and after walking in circles for five minutes, we decided Uber can do the hard work for us. If you know anything about San Francisco, the hills are tall enough to challenge most buildings in Sydney, and there was a slim chance she was going to make it up one. The driver dropped us at the welcome center, where we walked to the best spot to see the bridge, which was a dirt path on the edge of a cliff. In classic mother-daughter fashion, we snapped several tourist photos, of which 10 minutes later a Facebook notification popped up on my phone. Mom had already posted photos, whereas I was contemplating which filter to use. After getting the perfect shot, we sat on the concrete bench overlooking the bridge. I don't remember how long we sat there, but the glow on my cheek disappeared.
PAINTING SIN CITY RED
The next day we woke up in Sin City following a two-hour flight and eight-minute drive from the airport to the Four Seasons Las Vegas Hotel. Our first glimpse of the city was The Strip lined with shops, restaurants, towering signs, and a palm-lined oasis that emerged as if a mirage. Our grand bedroom (mom deserved this splurge!) was complete with magnificent views of The Strip and the Mojave Desert peaking in the background.
Getting acquainted with Vegas was almost surreal and like being on the movie set. We stopped to see the Bellagio's dancing water fountain show, dodged advertisers looking to make a quick buck, and managed to steal the spotlight of the Sin City Cowboys, who grabbed me for a cheeky photo. When dawn fell, lights shone on the city, illuminating every structure, street, and tourist. People sported extra-large novelty cups, filled to the brim with daiquiris. We continued down The Strip, walked to New York, explored Italy's finest cuisine and beverages, then settled in Paris, at a chic casino under the Eiffel Tower.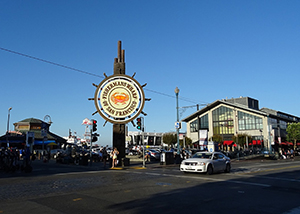 As with all mothers, photos, especially awkward selfies, are compulsory, regardless if I didn't want to partake, but she insisted. Anything with a sign, word, or fountain was in danger of a snap. Especially the sign outside Mandalay Bay, which read "Thunder Down Under, Made in Australia." I'm not sure how many daughters have been to a male strip show with their mothers, but if you haven't, put it on your bucket list. At first, I thought it would be awkward, but it was far from that. We watched men, hairless, oily, and six-packs included, dance on stage and with women in the audience. I looked over to see mom, who had a grin ear to ear. This may have been her favorite part of the trip.
Our sultry night led to a relaxing day by the pool, and lunch at Gordon Ramsey's Burgers. I would say mom is his biggest fan, so trying one of his restaurants was a priority. After being seated, the burgers arrived, standing a foot tall and bigger than our hands. Mom's eyes expanded as did her stomach with every bite as juicy as the next. "He lives up to my expectations," she said as if she were a world-renowned food critic.
As I sat on the plane back home, I looked around to see mothers and daughters sitting side by side. I looked at mom, held her hand, and thanked her for my incredible life. The light faded, the city disappeared in the clouds, and I felt my mother's heartbeat once again.
We're already planning our next journey. Stay tuned!