EAST MEETS WEST
Florida's Beautiful and Bountiful Beaches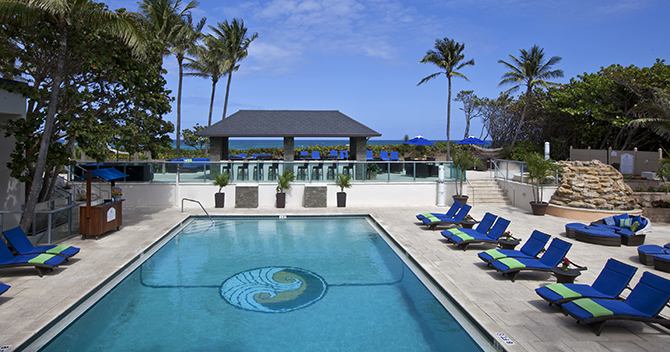 By Ruth J. Katz
East Side, West Side, all around the town…" So go the opening lyrics to James W. Blake and Charles E. Lawlor's The Sidewalks of New York. I paraphrased those words recently as I road-tripped between Florida's Atlantic and Gulf coasts. I decided to explore two Florida properties, both part of the Opal Collection's 18 hotels and resorts that dot the Eastern seaboard, from Key West to Bar Harbor, Maine. Here's what I found…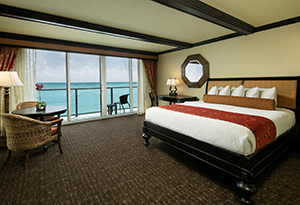 Jupiter Beach Resort & Spa Bedroom
EAST COAST
First stop, the Jupiter Beach Resort & Spa in Jupiter, which is nestled along the largest stretch of secluded beachfront in the Palm Beaches. (It is literally twenty minutes north of Palm Beach). The resort boasts 1,000 feet of pristine beachfront (chair/umbrella service, of course), and an oceanfront pool and spa waterfall. Many of the 168 rooms have panoramic views of the sea, as does the in-house restaurant, Sinclairs Ocean Grill. Aside from drinking in the vista, you'll savor the cuisine, too: I could not resist the rack of lamb seared in a blackberry, barrel-aged port reduction. (Yes, of course, there is plenty of seafood on the menu—it is Florida, after all.)
The atmosphere is family- and pet-friendly, as well. (The Opal Paws Program is for canines 30 pounds and under.) You won't lack for things to do, especially if a poolside movie is screened one night; there is a state-of-the art fitness center; luxurious spa (with enveloping eucalyptus steam room); night-lit tennis courts; basketball and shuffleboard courts (and nearby golf).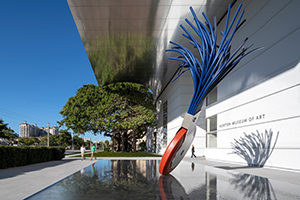 Norton Museum of Art ©Nigel Young
"Off-campus" I would recommend, first and foremost, the remarkable Loggerhead Marinelife Center, a stone's throw from the resort. It is an educational nonprofit, focused on ocean and sea turtle conservation. "Green turtles and manatees are the lawnmowers of the ocean," the docent explained. There are guided turtle walks, sunrise nest excavations, hatchling feedings, and for the kids, sleepover nights with the turtles, as well as a junior veterinary laboratory. I witnessed a thrilling treat: Five volunteers removed a giant loggerhead from his tank, to take him into the hospital for treatment. The nearly two-hundred-pound fella was gingerly lifted onto a gurney and then seat-belted (!) with a crisscross network for safety, lest he consider a frisky escape! The Center protects this endangered species, and is well-equipped to care for and treat sick and injured turtles.
Also, within driving distance is the Norton Museum of Art, known for its five core collections. Also nearby is the astonishing Morikami Museum and Japanese Gardens, with exhibitions, tea ceremonies, and traditional Japanese festivals, including the wildly popular Obon Festival (this year, October 19th)—when thousands of lit lanterns are floated on the lake, honoring our forebears. Do not pass up an evening at the former Burt Reynolds Dinner Theatre, now the Maltz Jupiter Theatre.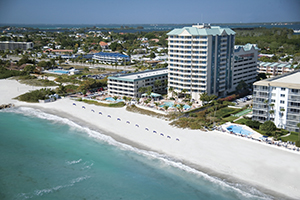 Lido Beach Resort
WEST COAST
Equally noteworthy are some of the diverting sights on the "left" coast, where I settled into Opal's Lido Beach Resort, in the Sarasota area. The property, with 300 feet of private beachfront, features 222 smartly decorated condo-style suites, many with terraces and well-equipped kitchenettes. While it might be hard to tear yourself away from the two pools, the three Jacuzzis, the fitness center, and the resort's amenities, there is shuttle service to the charming shops and boutiques at St. Armands Circle.
And beyond the Circle, are more interesting sites. Sarasota was the location John Ringling chose for his dream home and today that mansion, Ca' d'Zan (Venetian dialect for House of John), is open for touring, as is the museum he built to house the "trinkets" (think Velazquez, van Dyke, and Rubens) he snatched up in Europe. The Ringling Museum itself is a marvel. Arguably, the highlight of the Museum is the to-scale (3/4" to the foot) model of a circus, with nearly one million pieces. Dubbed the Howard Bros. Circus, it was painstakingly built by Howard Tibbals. Nearby and under the stewardship of Florida State University, is the celebrated Asolo Repertory Theatre, which stages top-flight plays from fall until early summer. Originally erected in Asolo, Italy, in 1798, the theatre was brought to Sarasota in the early 1950s and meticulously reassembled. Another must is the bucolic Marie Selby Gardens, which features, among its vast collection of some 20,000 plants, a living and preserved collection of epiphytes (plants that get their nutrition from the air), 5,500 orchids, and 3,500 bromeliads.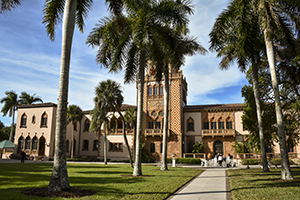 The Ringling Museum
"Back at the ranch," the Lido Beach Resort offers three inviting restaurants and lounges, and a groaning board for Sunday bunch. And speaking of breaking a diet: Head to the upper-level loft of nearby restaurant Euphemia Haye on Longboat Key for—drum roll!—the most mouthwatering, delectable, awe-inspiring, jaw-dropping desserts you'll likely ever see in one place. Come hungry. (Bring insulin.)
Whether you choose Opal's Jupiter or Lido property, prepare to bliss out. As a sign in the Armands Circle Creperie Caffe noted: "We do not have Wi-Fi. Talk to each other, pretend it's 1995." That is sound advice: Disconnect, unplug, relax, enjoy.
For more information on the
Opal Collection, visit opalcollection.com;
Jupiter Beach Resort, visit jupiterbeachresort.com;
Lido Beach Resort, visit lidobeachresort.com;
The Palm Beaches, visit thepalmbeaches.com;
Palm Beach Culture, visit palmbeachculture.com;
Sarasota, go to visitsarasota.org.
© 2019 Ruth J. Katz All Rights Reserved