BITS & BAILEY
The Who, What, Why & Wow Of The Luxe Scene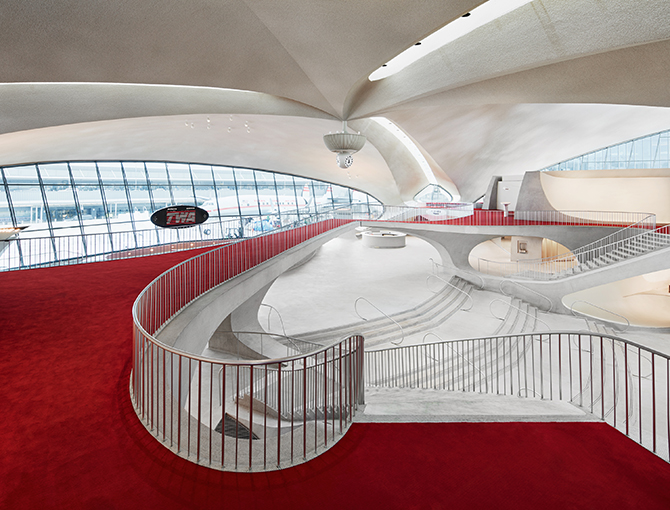 TWA Hotel
By Bailey Beckett
Cheers, dears. Fall is finally upon us. Well, almost. I'm counting the hours until I can wear my Hermès cashmere écharpe. In the meantime, I'm indulging in sunny season's last rites. Yes, there are still a few things to cross of your to do list in these dog days of summer. And leave it to Bailey to find its most chic.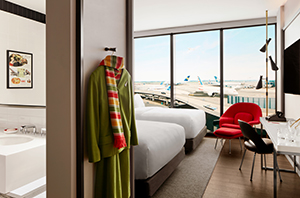 TWA Hotel Guestroom
COME FLY WITH ME
The thought of staying overnight at an airport is something Bailey has never considered. Who wants to sleep on a baggage carousel? Those images of people spending the night in uncomfortable chairs and next to Auntie Anne kiosks are as frightening as a Jordan Peele horror film. Enter the new TWA Hotel, a 512-room throwback housed in the airline's legendary 1962 Eero Saarinen-designed terminal. You know, when flying was chic and flight attendants didn't wear poly-blend. Ahhh, yes: the golden age of travel.
Opened this past May, the hotel turns back the clock with a visually-stunning recreation of the terminal's swanky grandeur, flanked by two connecting towers. It's like an amusement attraction for fans of the aviation age. Employees are dressed in recreations of the airline's original uniforms while accents throughout the terminal feature its logo. And TWA's signature red hue is omnipresent in the décor, furniture and amenities.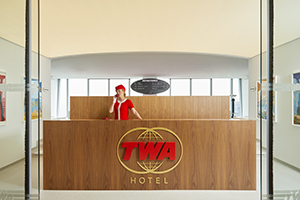 ©Emily Gilbert
While the main attraction is the concept, there's plenty to do on the direct flight through time. The TWA Hotel features five different dining options, including Jean-Georges Vongerichten's Paris Café and Lisbon Lounge, as well as Rande Gerber's (husband of Cindy Crawford and bestie to George Clooney) The Sunken Lounge, the hottest airport bar near the runway. Located in the center of the terminal underneath a split flap departures board, The Sunken Lounge bar serves 1960s classics like the Royal Ambassador (Champagne, orange juice, and Grand Marnier), and the Come Fly with Me, a cocktail inspired by the Frank Sinatra tune that made with Grey Goose, St. Germain, Prosecco and fresh lime juice. Just as nutty is the Connie Cocktail Lounge located in an actual Connie N8083H jet that was restored to her original 1958 glory. And not to be outdone, the hotel also boasts a rooftop bar with views of the runway. The infinity edge pool and observation deck are also run by the Gerber Group and open to guests and the public.
Now, the most pressing question: being virtually on top of the runway, how can one possibly sleep with all the noise? Thankfully, it was built with a 4.5 inch thick glass curtain wall to muffle sounds from nearby runways. In other words: you can see take-offs and landings through the floor-to-ceiling windows—but you'll never hear them. Info: twahotel.com.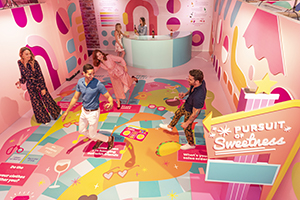 Rosé Mansion ©James Coletta
COME DRINK WITH ME
I call it Disneyland for Adults. The most fun, interactive adventure for New Yorkers is the Rosé Mansion, a wine tasting experience dedicated to the history and allure of the pink-hued wine. Located off Herald Square in a 32,000 square foot space that serves as the second floor of the Manhattan Mall, Rosé Mansion takes wine-sippers (ok, gulpers) through the 7,000-year history of rosé with a labyrinth of 14 different experiences, each more insane (and I say that with love) than the next. Like Cleopatra's Palace, a recreation of her throne where guests can sit and enjoy her favorite Brachetto surrounded by lush fabrics, art and artifacts. Or The Celebration Room, which features a larger-than-life-size cake guests can jump out of (yes, I did it and I'm proud to say it!). Every "room" in the journey includes a different blend of rosé, as well as background on its making. You get to sample each, of course, which makes the experience all the livelier. By the end of the course, you'll be giddy and wanting more. Info: rosewinemansion.com.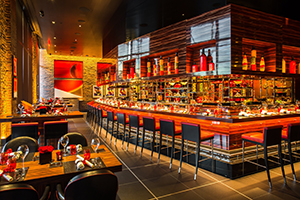 L'Atelier ©Alex Staniloff
COME EAT WITH ME
The best meal I've ever eaten was at L'Atelier de Joël Robuchon in Paris on the left bank. That was four years ago, and though I've circled the globe three times since, I've yet to find an equal. Which is why I hold the brand behind the late culinary genius Joël Robuchon in the highest regard. I recently had the good fortune to dine at its New York outpost in the Meatpacking District and can honestly say Paris has met its match. Three mini courses—scallop carpaccio, beef filet with foie gras, and the chef's signature mini-burgers—grouped together to create the most delicious meal I've had in 19 years of living in New York. And the Robuchon experience is about to get saucier. What was its next door Le Grill de Joël Robuchon has been transformed into a sophisticated club-lounge called, naturally, Le Club. Set to open this month, it will feature French-inspired small bites for sharing, as well as large format cocktails, wines served from magnums, and drinks finished in front of guests. Each night will become its own performance for the dining room team, with "hosts" replacing servers, and a DJ to turn up the energy on the weekends. Info: joelrobuchonusa.com.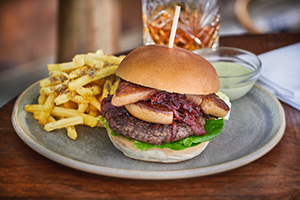 34 Matfair Burger
COME INDULGE WITH ME
Bailey's recent trip to London has me dreaming of many things, but mostly the 34 Mayfair restaurant, where I indulged in their decadent burger. The USDA A5 wagyu patty with bone marrow is topped with foie gras and a brioche bun. Don't forget the truffle pecorino chips. Info: 34-restaurant.com.uk… If steak tartare is on your menu, head to Le Caprice. The menu also features British and American favorites in a classic black-and-white dining room. Info: le-caprice.co.uk.
Finally, the thought of cooler months ahead of us. So, friends, look forward to "chilling with you" in October.