100 FRANKLIN
Tribeca Perfection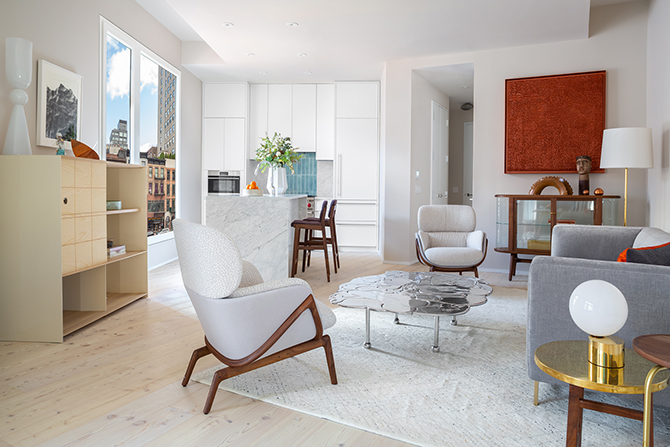 ©Robert Granoff
By AP Connolly
Manhattan's Tribeca is a neighborhood of cobblestone streets, world-famous restaurants, and a way of life like no other. One of the city's most exclusive areas, the zip code also features one of Manhattan's most charming neighborhoods.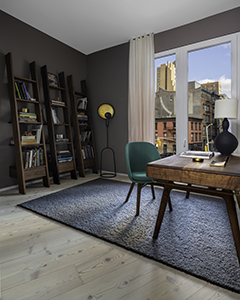 ©Robert Granoff
Tribeca is an abbreviation for Triangle Below Canal, coined by city planners in the 1960s. The area encompasses Canal Street south to Vesey Street and Broadway west to the Hudson River. It may hard to believe, but at one time this was once farmland, eventually to become commercial in the 1850s with warehouses and factories.
Today, new real estate developments have moved into the formerly industrial, cast-iron buildings. One of note is the architecturally-distinct building, 100 Franklin Street, a new ground-up residential development in Tribeca comprised of two triangular buildings uniquely joined together. Located between West Broadway and Sixth Avenue, the project features a striking hand-laid brick facade by Denmark's Petersen Tegl. The project, designed and developed by DDG, represents a homecoming for the firm, which is headquartered in Tribeca and has completed other projects in the neighborhood.
THE RESIDENCES
100 Franklin Street features ten private full-floor homes—including two duplex penthouses with expansive rooftop terraces—that utilize the buildings' unique architecture. Accessed by direct elevator entry, every residence offers a private experience of the unique triangular architecture. The striking geometry amplifies the spacious proportions of each layout and transforms exterior views into exciting perspectives. All floor plans were designed with thoughtful versatility and boast generous storage.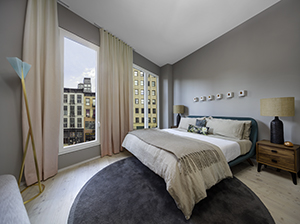 ©Robert Granoff
The interiors possess an enchanting sense of lightness in every element: From the building's eight-foot windows to the residences' signature larch floors sustainably harvested from forests surrounding the Admont Abbey in the medieval Austrian town of Admont. Marble surfaces, Wolf Sub-Zero kitchen appliances, Hansgrohe bathroom fittings, and custom millwork complete the elegant living experience. Pricing starts at $3.3 million.
Like other DDG projects, a secure connection to the arts is prevalent throughout 100 Franklin. DDG has commissioned Paris-based artist and designer Charlotte Taylor to create new pieces to be permanently installed within the building. The building was also recently the site of street art installations by French graffiti artist JR.
For more information on 100 Franklin, visit 100franklinstreet.com.