SHELLY FIREMAN
The Many Faces Of A Restaurateur And Artist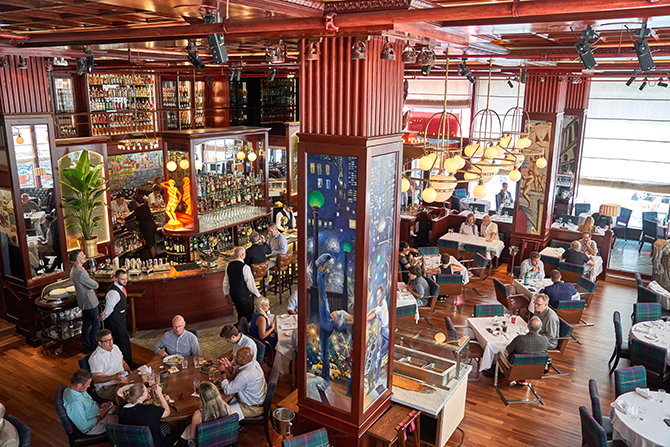 By Patricia Canole
Sheldon "Shelly" Fireman, the accomplished restaurateur behind the Fireman Hospitality Group, owns and operates some of the most well-loved restaurants in New York City—Redeye Grill, Trattoria Dell'Arte, Brooklyn Diner, Bond 45, and Cafe Fiorello. He has branched out with Bond 45 and Fiorella Pizzeria & Italian Kitchen both in the Washington, DC area.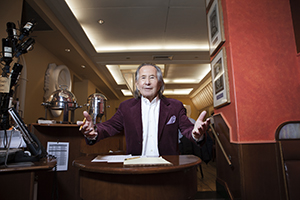 Sheldon Fireman
Fireman has developed an organization of both seasoned and contemporary industry professionals to help execute his vision for design, food, and genuine hospitality. Tackling large spaces in high-traffic areas, the company has grown steadily. Concentrating on the cultural centers in New York City, Lincoln Center, Carnegie Hall, and the Theater District, Fireman has created and run beloved dining establishments in New York for more than four decades.
This restaurateur's passion doesn't rest on creating new concepts for his many restaurants, though. In his spare time, it shifts to the fine arts. Fireman is an avid sculptor and passionate art collector. His work can be found in his restaurants. With homes in New York and Italy, it's very easy to understand his unquestionable appetite for food and art.
New York Lifestyles recent met with the legendary restaurateur in NYC to learn more about the man, his food, and art.
Tell us about your family and growing up in the Bronx
Great parents, great household, and lots of hospitality. To honor my parents, I made a sculpture that reads: To my parents, Frances and Sam, who taught me the blessings of hospitality. I had multiple copies cast, and I hang them in every space I have built: the walls of each of my restaurants, our offices, my homes... Because I owe it all to them.
What inspired you to open your first restaurant?
I got an idea for a restaurant and decided to teach myself the basics of restaurant management. My idea for this was to take a bagel and make it hip. So for three months, I studied the hospitality manuals at the New York Public Library. I had performed an extensive market analysis, looking at every aspect of the market in the neighborhood on the corner of Bleecker and MacDougal in Greenwich Village, and I believed it would work. I got the space, and in 1963, I opened my first restaurant, The Hip Bagel. Before then, you could only get bagels at a bakery. They weren't served in restaurants. I was the first to do it.
Tell us more about the newly re-opened Redeye Grill. Are there any new surprises for guests?
"A lot of surprises. For one thing, we've introduced a new casual section of the restaurant called the Café & Bar Room (which we were initially calling the 888 Café & Bar). The menu serves breakfast starting at 7:30 am and has its own all-day comfort food menu. Major design elements throughout Redeye have also been completely overhauled and updated, including new lighting, artwork, and sculptures. And we're opening up a Redeye Grill Steak Joint. Coming soon. So yes. A lot of surprises."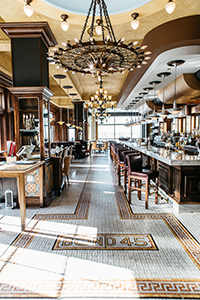 At day's end, what is the secret to your success?
Do you tell secrets? Once I tell somebody, then it's not a secret anymore, and then I'm the big mouth on the block. I protect people's secrets, including my own. So I'm not telling.
What do you look for most in a potential Fireman Hospitality Group employee?
I look for people who have a real respect for their parents, and their family, and have that genuine passion for that hospitality way of life. We also have a highly sophisticated personality test that we give all of our candidates that scientifically defines their personality traits. We do this to ensure they are on the same wavelength as ours. We are very discerning when it comes to our staff. Skills you can teach; personality you can't.
Tell us more about your other love--art.
It's more fun than playing golf. And it's longer-lasting. I know because I was a caddy for two years. My father was a factory worker who loved going to museums and taking me with him, because he had a deep appreciation for art. My mother, no matter how broke we were, was a compulsive reader. I learned if you read 100 books on anything you could lecture on it, that's how the world is, and that's how I learned about art.
Did you study art in school? What inspired you?
What inspired me to be an artist? I don't know what the word inspired means. After learning to appreciate art from my parents, I got tired of all these artists moaning about how life's unfair to artists. They think they're creating things that will change the world. What has art done? Except make a few guys rich and a few guys proud, what does it do? So I wanted to try it myself.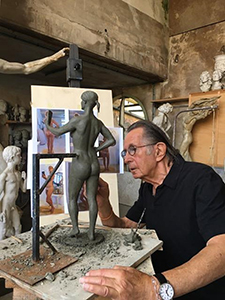 Sheldon Fireman ©Benvenuto Saba
Aside from your art collections, have you displayed your own creations?
Yes. My restaurants incorporate original art commissioned from Red Grooms, Milton Glaser, and Peter Max. The first sculpture of my creation, which I have on display in National Harbor, is one of the most photographed pieces of art in Maryland. At both Bond 45 NYC and the new Redeye Grill, I have two of my giant bronze female nudes dominating the main dining rooms. My colorful illuminated giant jelly candy fruit sculptures are displayed in Trattoria Dell'Arte. There's so much. I could go on. I love to share it with the guests dining in our restaurants, because to me when you welcome people into your restaurant, you're welcoming them into your home.
What's in the future for Shelly Fireman?
More restaurants. New restaurants. New art. New concepts. All exciting things. My team and I never stop moving. But we sure make time for meditation, exercise, and a lot of laughs and good humor along the way.