MARILYN HOFFMAN
The $100 Million Realtor

By AP Connolly
Marilyn Hoffman's expertise in selling extraordinary estates and ranches attracts a clientele that reads more like a Who's Who of Business, Sports, Entertainment, and the Social Register.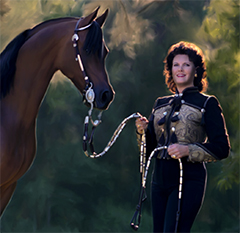 Golfer Lee Trevino, a world-famous fashion designer, a Saudi Prince, sports legend Deion Sanders, a billionaire Texas oilman, Horatio Alger member Carl Westcott, cosmetics queen Mary Kay, Merv Griffin, Indy 500 winner Andy Granatelli, the CEO of the country's largest corporation, Alan Paulson the CEO of Gulfstream, a Trump cabinet member, and a major sports team owner have all been her clients.
Marilyn sold a 35,000 square foot waterfront estate for the full price of $20,000,000 in only 24 days. This home is believed to be the most significant waterfront estate sold in the country. This estate was previously listed with another international broker and did not sell. The remarkable thing is that she sold this home sight unseen to a famous California family.
Marilyn was also the first broker to list a $100,000,000 Texas estate. Her famous sales include Kentucky's Summer Wind Farm, with a 25,000 square foot mansion sold to James Thornton, and one of the largest estates in Texas which was sold to the new owners of the Texas Rangers. Her sale of a $9,995,000 Penthouse in Dallas was the most expensive ever sold in Dallas. She sold this home to the most famous Texas oilman in only 79 days after it had been listed with other brokers for 807 days. Marilyn also sold a $13,500,000 estate to the owners of a Scottish castle after she met them at the Keeneland sales where they were buying Thoroughbreds.
A WORLD OF EVENTS
Marilyn does the most unique marketing in the world, with real estate exhibits at such prestigious events as the Cavallino Classic Yacht Hop in Palm Beach, the Cattle Barons Galas, the Bal de la Mer in Monte Carlo, the Yacht Rendezvous at Fisher Island, the Saddlebred World Championship Show, the Military Ball in New York, the Barrett-Jackson Classic Car Auction, the Breeder's World Cup, the Rolex Three Day Event, the Winter Equestrian Festival, and at a charity gala at Mar a Lago, Donald Trump's Palm Beach estate. Marilyn donates champion Arabian horses to many charity auctions, such as the Watermill Gala in Southampton, where her donation sold for $35,000 to a European princess. She has also donated over $200,000 to the Cattle Barons Ball, benefiting the American Cancer Society, and has topped the charity auctions many times.
Not too many brokers can claim they have sold the largest home in multiple states, but Marilyn certainly holds the record. She has sold one of the most famous Texas ranches, the Double Diamond Ranch in Boerne, with 2,000 acres, 20 homes, and an exotic game preserve. She sold a 20,000 square foot home in Oklahoma for Cowboy Bill Watts, the world champion wrestler, and a 28,000 square foot Tulsa estate. The energetic realtor also sold the Fox Ranch in Colorado, home of a 150,000 square foot log home, reported to be the largest private residence in the country. Her most recent sale was $11,000,000 which she sold to the CEO of the most famous Japanese corporation for $10,875,000.
For more information on any of the following properties, contact Marilyn Hoffman at Hoffman International Properties (marilynhoffmanrealtor.com; 214-698-1736 or 214-674-3961).
---
Own A Part Of American History
The former Rockefeller estate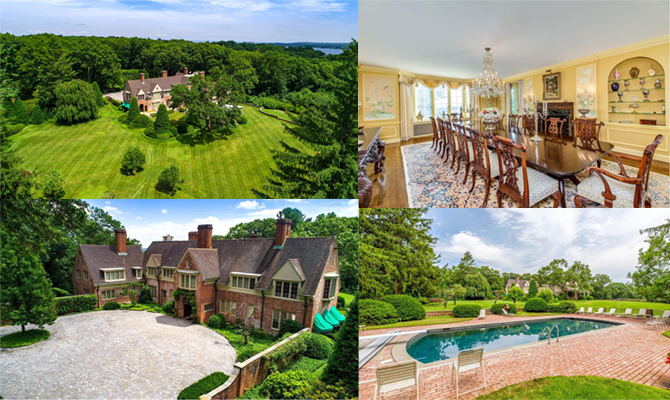 NEW YORK
Laurel Hill: The Former Rockefeller Estate
Secluded on over 56 prime acres of property in the prestigious village of Mill Neck, New York, this Baronial 10,000 square foot manor home is rich with history and amenities. Built for the Pratt family and later acquired by the Rockefeller family, Laurel Hill is accessed through wrought-iron gates by a half-mile tree-lined driveway.
This fully updated brick manor home features 16 bedrooms, 12 bathrooms and 3 half bathrooms. The central air-conditioned lavish home is perfect for grand-scale entertaining with its living room and formal dining room, 3 eat-in kitchens, 6 fireplaces and a fully finished basement. The home has retained all its grandeur and elegance of a bygone era.
The house comes with a 4-bedroom full staff wing, 2 guest houses, a pool and pool house, greenhouse, tennis court as well as a stone patio. A large 9-car garage is a finishing touch for the property.
Contact Marilyn Hoffman at Hoffman International Properties (MarilynHoffmanRealtor.com; 214-698-1736 or 214-674-3961). RockefellerEstate.com
---
Four F Ranch
A World Class Texas Estate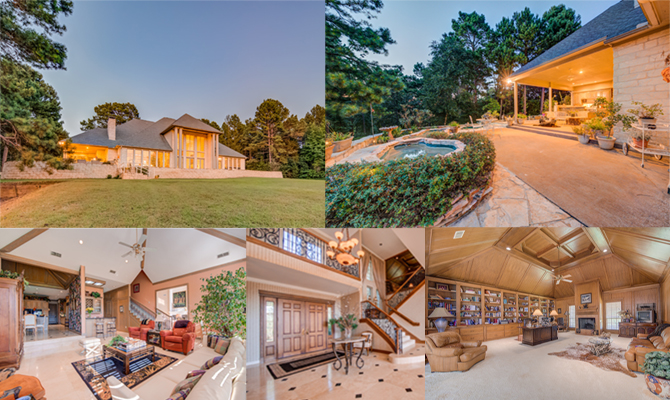 TEXAS
Four F Ranch: A World-Class Estate This is an opportunity to buy your Garden of Eden. Custom designed and built; this 6,900 square foot estate rests on 240 acres of pristine land with a lake and artesian well. "The owner of this one-of-a-kind estate ranch told me that when he was a youth, he would have to go out to a spring and haul water into the house. It left an indelible impression on him, and he vowed that a source of freshwater would be an essential part of his future home," said Marilyn. "When this great ranch property amid piney woods became available, the first thing that got his attention was the artesian well flowing perpetually through the property!"
The artesian well became the source of freshwater when the owners designed and constructed this four-bedroom and 3.5 bath two-story structure. An equestrian stable with eight stalls was added, and an existing cabin on the property was renovated as a caretaker's home.
The pictures tell the story of elegance and style put together by one of the country's foremost interior designers for her own personal estate— comfortable yet posh abode. The entry foyer is grand, with the stairway going to the upstairs level guest rooms and study. The main level encompasses the two-level Great Room with floor to ceiling windows and a fireplace, Master Bedroom, Library, Game Room, and a Kitchen with every amenity and high-end appliances and granite countertops for the gourmet chef. Four fireplaces inside and one outside add the warm ambiance.
Imagine a location just one hour from Dallas in the lush, green rolling hills of East Texas.
Offered at: $5,100,000
Contact Marilyn Hoffman at Hoffman International Properties (MarilynHoffmanRealtor.com; 214-698-1736 or 214-674-3961). 4FRanch.com
---
Missouri's Finest Equestrian Estate
A Royal Approach: A Mansion With Everything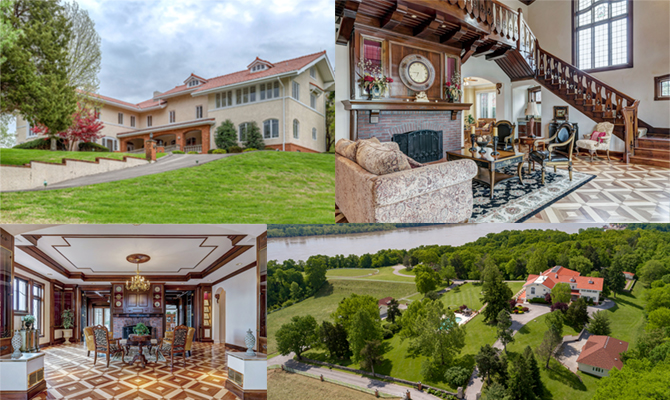 MISSOURI
A Royal Approach: A Mansion With Everything
A wealth of spectacularly good architecture is represented in this superb estate on 120 breathtaking acres. A beautifully elevated point is home to an equally stunning residence of nearly 14,000 square feet overlooking the loveliest views of the Mississippi River in the quaint area of Imperial, Missouri.
Drive the sloped driveway to the magnificent property, and you might even feel like royalty not just because the estate is in a town with such a regal name! You will have an incredible opportunity to keep the acreage as a private estate or develop part of it. The property has an excellent equestrian facility that can house 12 horses with a riding ring, a pool and spa, along with a detached carriage house, greenhouse, tennis court, workshop and hobby area, and a garage for 16 vehicles. There's also a caretaker's home quietly nestled on the land.
Built in 1915 and lovingly restored and kept up pristinely, the two-story foyer invites one to enter the multi-level structure. An amazing staircase greets upon entry and reflects the stature the home deserves. Both levels of the mansion have complete master suites with a total of 6 bedrooms and 6.5 bathrooms. The interior is sublimely comforting with built-in bookcases, cathedral ceilings, historically significant period millwork such as the fireplace mantle. There are three wood-burning fireplaces altogether within the home.
This very private estate lies in splendor and awaits another Imperial family to live inside it and to enjoy all the amenities of the area.
Offered at: $4,950,000
Contact Marilyn Hoffman at Hoffman International Properties (MarilynHoffmanRealtor.com; 214-698-1736 or 214-674-3961). MissouriEquestrianEstate.com
---
Kentucky Governor's Mansion
A Rare Opportunity To live In The Governor's Mansion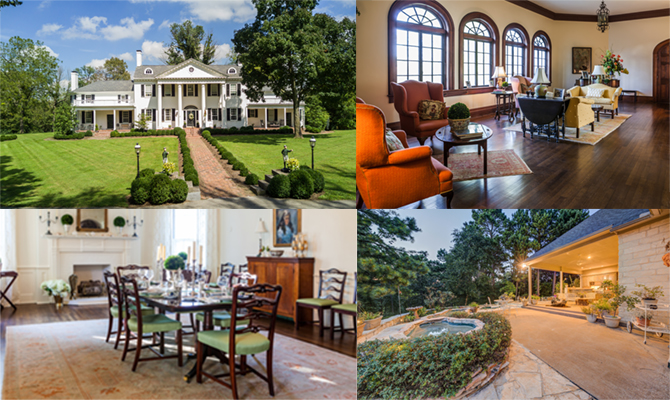 KENTUCKY
Own a part of Kentucky history and have your next Derby party in the Former Governors Mansion of Kentucky. This grand Federal Colonial is secluded at the end of a private drive only 7 minutes to the Bluegrass Airport.
With 17 acres of emerald green lawns and huge towering trees, this 8,260 sq. ft. architectural masterpiece has been lovingly restored yet retaining all the elegance and grandeur of a bygone era. Constructed in 1810, this Historical Landmark has 5 bedrooms, 5 bathrooms and 1 half bath, a 30' Dining Hall, original hardwood flooring, pool and pool house with bath and tennis court.
Prime location for party venue with unlimited income potential. Formerly the home of Governor John Y. Brown and Miss America, Phyllis George.
Offered at: $3,500,000
Contact Marilyn Hoffman at Hoffman International Properties (MarilynHoffmanRealtor.com; 214-698-1736 or 214-674-3961). KentuckyGovernorsMansion.com
---
Misty Meadow
Florida's Finest Equestrian Estate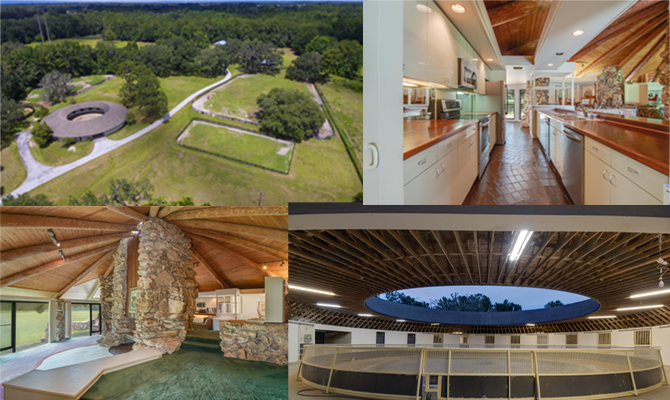 FLORIDA
Misty Meadow: A Unique Equestrian Estate
A rare opportunity to own a Legacy Horse farm with a 20-year history of breeding champion Arabian bloodstock, which are included with the purchase. This 70-acre estate is secluded and private in a prime location only 10 minutes from the New World Equestrian Center, billed to be the nation's largest. Located in the desirable "Golden Corridor" area of beautiful farms in Northwest Ocala, and is so convenient to HITS, horse show venues, major thoroughfares, shopping, and entertainment.
This architecturally charming home boasts a curved design with a stone fireplace as the focal point of the living room. The home dramatically rises from the earth and boasts a copper roof and soaring dramatic wood ceilings. The curved theme continues into the round barn incorporating a round pen within as well as office/feed/tack rooms, etc. There is also a separate guest cottage! The land offers idyllic surroundings to your horses and peaceful views to the owner.
Offered at: $2,000,000
Contact Marilyn Hoffman at Hoffman International Properties (MarilynHoffmanRealtor.com; 214-698-1736 or 214-674-3961). FloridaEquestrianEstate.com
---