BARBADOS BOUNTY
IVORY BEACHES, RARE NATURAL WONDERS &
PLENTY OF HISTORY. HERE'S YOUR PLACE IN THE SUN.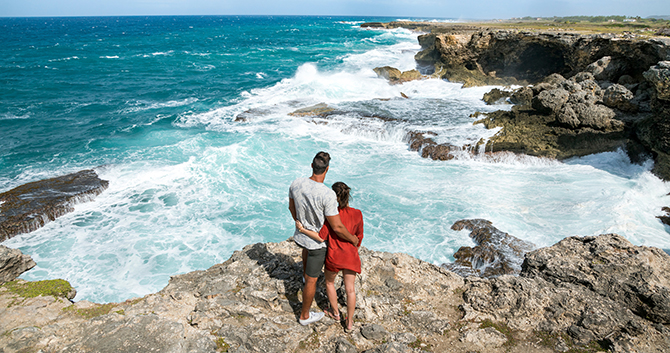 By Patricia Elonac
On the island of Barbados—where monkeys are green, bread grows on trees, and fish fly—how could a Caribbean getaway be anything but magical? It's the perfect blend of relaxation and adventure. Lazy hours on a palm-fringed beach balanced by time spent exploring; memorable dinners at picture-perfect restaurants combined with forays into the local culture. If you enjoy getting up close and personal with multi-hued coral, tropical fish, and hawksbill turtles, there's plenty of scuba diving, snorkeling, as well as catamaran sailing. This easternmost and most British of all the Caribbean isles—it didn't gain its independence from England until 1966—offers all that and more. And Bajans (as islanders call themselves) deliver their hospitality with a warmth and charm that can't be beaten.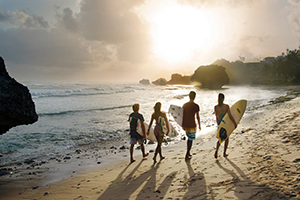 Barbados Bathsheba Surf
THE BEACH & BEYOND
With more than 80 beaches to call your own, it's no wonder travelers call this island one of the best to soak up the sun. For a breathtaking view of the roaring surf, head to the island's east coast—the Atlantic side—where the waves pound the rugged coastline giving the area some of the best surfing in the Caribbean. Or in Bathsheba, enjoy the typical Bajan lunch at the Atlantis Hotel like West Indian Pepperpot, Flying Fish Trio, or Roti Fusion. Then head to Bathsheba Beach, with its unspoiled expanses of windswept sand, in otherworldly rock formations looking more like giant mushrooms. The sparse crowds will entice you to take a stroll in search of your surfside hideaway.
While Barbados' sandy shores are its main attraction, there is plenty to discover beyond the beach. The island's many historic plantation Great Houses are testaments to the fertile land, which sprouts countless farms. Stop and visit St. Nicholas Abbey, built in 1660 and believed to be the oldest building on Barbados. This architectural gem has Dutch gables, finials of coral stone, and beautiful grounds to stroll. Nearby Cherry Tree Hill provides one of the most scenic views of the island. Drive to the crest for one of many photo-ops. Be sure to explore the Barbados Wildlife Reserve where monkeys roam free—as do tortoises, hare, otters, and brightly colored tropical birds. And for a look at Barbados on the inside, visit Harrison's Cave situated mid-island, east of St. James. Explore a natural cavern of coral limestone with waterfalls, streams, stalactites, and stalagmites. The tour offers a captivating look at the mysterious wonders in the underworld.
You'll find some of the best walking tours in the world, thanks to a stunning backdrop and the perfect climate. Getting out and about on a walking tour is one of the most enjoyable ways of discovering the beauty of the landscape, from lush forests to flawless beaches. At the same time, you'll be learning about the rich culture of the island and its fascinating history. Some have been developed with beginners in mind, with little or no climbing involved. Truly an excellent way to get to know Bajans, explore the villages, and get a close-up glimpse of the local wildlife.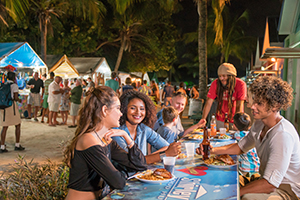 WINE & DINE
Nightlife in Barbados is endless with its many festivals, clubs, and excellent restaurants. A dining experience unlikely to be matched awaits you at The Cliff. Perched atop a seaside precipice, each candlelit table overlooks the water, offering a stunning view to complement your unforgettable meal. Daphne's is where to go to see and be seen. For more local fare, search out The Village Bar, tucked away in the tiny village of Lemon Arbour. Sample such specialties as Pudding and Souse (a pickled pork dish) along with Baked Macaroni Pie. Wash it all down with a local beverage such as golden apple juice or a ginger beer. Don't miss your chance to mingle with the locals at Oistins Fish Fry in Christ Church—a lively Bajan-style weekend street festival where Calypso music, local delicacies such as flying fish and jug-jug (guinea corn and green peas), and the island's laidback mood all add up to carefree fun.
No trip to Barbados is complete without a visit to the Mount Gay Rum Distillery—the oldest, most famous rum in the world. Expertly crafted from the rich sugar cane, then processed into molasses, it is eventually turned into liquid gold. After the tour let the master bartender make a special rum-based cocktail for you.
WHERE TO STAY
Resorts and hotels are generally small and luxurious. Most offer entertainment, activities, water sports and a spectacular sunset every night.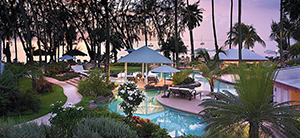 Colony Club
Colony Club Hotel The signature hotel of the seven Elegant Hotel properties on Barbados is certainly elegant but with an understated style and tone that's primarily targeted to adults. The resort boasts a beautiful beachfront and a lagoon-style pool that meanders through the 7 acres of tropical gardens—a romantic setting, indeed. Excellent service is a hallmark here.
Turtle Beach Resort You'll find plenty to do at Turtle Beach at this mostly family resort. First of all, it's all-inclusive—so all meals, beverages, and activities are included in the rate. And the Flying Fish Kids' Club keeps youngsters busy with treasure hunts, supervised swims, and games. That allows parents to play tennis, learn to windsurf or sail, relax on the beach, go exploring, or enjoy a dinner for two. Families also enjoy time together—cooling off in the three pools, riding the waves on boogie boards, and patronizing the famous ice cream parlor!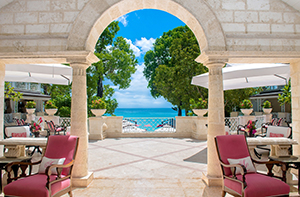 Sandy Lane
Sandy Lane Hotel & Golf Club Few places in the Caribbean can compare to Sandy Lane's luxurious facilities and ultrapampering service—or its astronomical prices. But for the few who can afford to stay here—guests include royalty, celebrities, and the otherwise rich and famous—it's an unparalleled experience. Enjoy elegant dining, the Caribbean's best golf courses, a tennis center, and a full complement of water sports…even an airport welcome and round-trip transfers via luxury car. A 5-bedroom villa is available to those who wish to vacation in their private mansion.
The Crane Founded in 1887 on a seaside cliff near the site of a small commercial port, it was the island's first resort and has remained the Caribbean's oldest hotel in continuous operation. Today, it has been transformed into a luxurious, gated, villa community with numerous pools, several restaurants and one of the best beaches in Barbados. The historic hotel rooms and suites are decorated with original antiques; corner suites have walls of windows and wraparound patios or balconies with panoramic views of the sea.
For more information on Barbados, go to visitbarbados.org.