FALL FOLIAGE GETAWAYS
Sensational Escapes To Suit Every Interest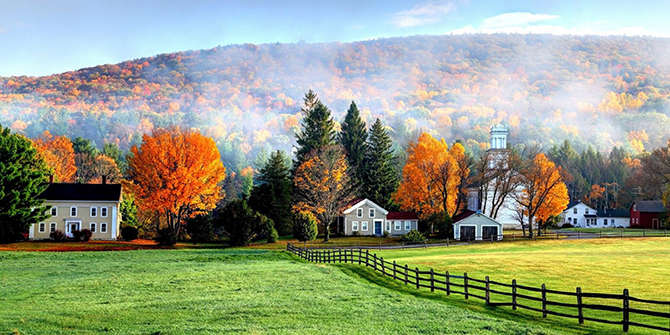 By Patricia Canole
Fall Foliage is here! And one of the best ways to take in Mother Nature's spectacular show is to hit the road and include your favorite interest. Whether you're a foodie or a thrill-seeker, a romantic escape or simply yearn for a luxurious lakeside stay, there's a fabulous trip out there with your name on it. Read on for some fabulous fall escapes.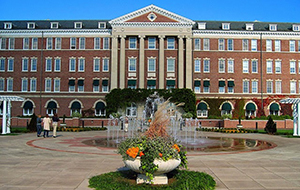 Hudson Valley
CULINARY DELIGHTS
HUDSON VALLEY, New York
Located in Hyde Park, The Culinary Institute of America is one of the country's top schools. After a tour of the campus—be sure to visit its terrace offering sweeping Hudson River views—dine in one of its restaurants such as the farm-to-table American Bounty and the modern French Bocuse Restaurant. Throughout the Hudson Valley, you can visit farmer's markets to buy local produce. Or if you prefer to pick your own, there are plenty of apple orchards to be found. Info: travelhudsonvalley.com.

Buttermilk Falls Inn & Spa
BEST STAY On the 70-acre Hudson Valley estate Buttermilk Falls Inn & Spa, you'll find a restaurant, spa, and inviting rooms and private cottages. Henry's at the Farm sources from its organic garden, orchard, and beehives, plus nearby Millstone Farm, which welcomes guests who hunger for a peek at the country lifestyle. Wake up to a power plate (quinoa, avocado, vegetables, and eggs sourced from the inn's chickens), then book a massage at the eco-friendly spa, where only organic and biodynamic products are used. Info: buttermilkfallsinn.com.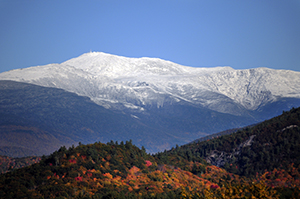 Mount Washington Fall
ADVENTURE THRILLS
WHITE MOUNTAINS, New Hampshire
Bikers and hikers will love this region loaded with scenic trails that take you beside cascading waterfalls and covered bridges. With its many rivers, streams, and lakes, the White Mountains also offer plenty of aquatic adventures including whitewater rafting and kayaking. Still, crave more adventure? Sign up for a Bretton Woods Canopy Tour, a three-hour excursion that takes you across a series a treetop ziplines—a beautiful trip in spring and summer, but even more so when the leaves have turned. Info: visitwhitemountains.com.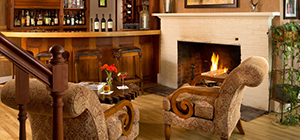 Sugar Hill Pub
BEST STAY Nestled in the White Mountains, Sugar Hill Inn is known for culinary adventure and warm, inviting guestrooms and cottages. Built in 1789, the inn was originally the home of many hardy families who came to the White Mountains to farm. Today, the charming inn still retrains the original fireplaces and has been impeccably restored. You'll be immersed in country inn ambiance, New England hospitality and all the recreation of the Franconia region. Whether you seek a convenient base for the many wonderful attractions and outdoor activities of Franconia Notch and the White Mountains or a special candlelight dinner, Sugar Hill Inn awaits. Info: sugarhillinn.com.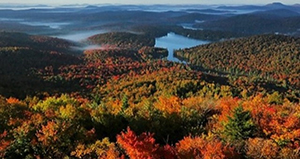 Lake Placid
LAKESIDE LUXURY
ADIRONDACKS, New York
In the village of Tupper Lake is the Wild Center, a nature-focused non-profit museum. One of its biggest draws—and one the kids will love—is the Wild Walk, 1,250-feet of elevated trails across the treetops, which in fall, is quite magical. In Lake Placid, there are endless hiking trails, including family-friendly Cobble Hill, which offers fabulous views. In Lake George, you can take a replica steamboat cruise, enjoy a round of mini-golf, or browse the many farmer's markets for some one-of-a-kind treats. Info: visitadirondacks.com.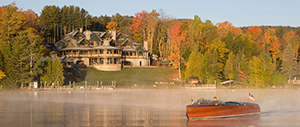 Lake Placid Lodge
BEST STAY The rustic Lake Placid Lodge, set on the lakeshore in the Adirondacks is stunning inside and out. Typical of most Relais & Châteaux properties, accommodations are exquisitely designed with rustic objets d'art, custom-made beds crafted from tree limbs and the occasional private balcony overlooking the waterfront. And then there are the hotel's cabins, which offer couples a more secluded (but still lavish) retreat. Guests don't have to travel too far for dining pleasure: The Artisans Restaurant and Maggie's Pub offer excellent fare. And there's plenty of outdoor activities ranging from hiking to canoeing. Don't miss the evening cocktail cruise at sunset. Info: lakeplacidlodge.com.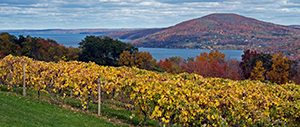 Finger Lakes
GRAPE ESCAPES
FINGER LAKES, New York
Finger Lakes Wine Country is home to more than 140 wineries. This picturesque landscape entices visitors from around the globe to discover our world-class wine and award-winning craft beverages. It's hard not to be charmed by the tiny village of Aurora on the eastern shore of 37-mile Cayuga Lake, the longest of the Finger Lakes. Here you find Long Point Winery, overlooking the lake. At Knapp Winery, sample dry Riesling in its rustic tasting room. Take the time to visit Seneca Lake where you will find Chateau LaFayette Reneau perched on a hillside. It's one of the prettiest settings imaginable to sample wine. Info: visitfingerlakes.com.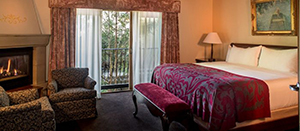 Mirbeau Inn
BEST STAY Located on the southern tip of Skaneateles Lake is Mirbeau Inn & Spa, one of the Finger Lakes' most popular properties. All rooms feature wood-beamed ceiling and gas ceilings. Borrow one of the inn's bikes to explore: Browse the shops, visit the historic sites, and brave the lines to lunch on a fish sandwich at Doug's Fish Fry. For dinner, try The Krebs restaurant in a meticulously restored 1899 house. Enjoy a superb menu of oysters and duck, along with incredible local wines. After a day in the vineyards, take in a massage at the award-winning spa. Info: mirbeau.com.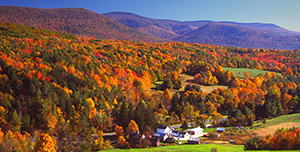 The Berkshires
MOUNTAIN TREASURES
THE BERKSHIRES, Massachusetts
The rural region is not only a prime leaf-peeping destination, but it's also known for its many antique shops, especially in the southern Berkshires. Head to Sheffield, where you'll find Painted Porch Antiques and Cupboards and Roses Swedish Antiques, two favorite shops. In Great Barrington, the Antiques Center has 50-plus dealers under one roof, selling everything from American quilts and antique clocks to estate jewelry and 19-century furniture. Additionally, as you head north on Rte. 7, you'll find even more shops to browse.
For more information on The Berkshires, visit berkshire.org.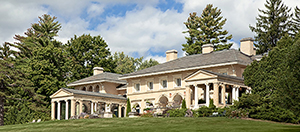 Wheatleigh
BEST STAY Built in 1893, Wheatleigh was a wedding present for a Gilded Age tycoon's daughter. The Florentine Renaissance-style mansion sits on 22 acres of grounds designed by Frederick Law Olmstead (the man behind New York's Central Park). Now a member of Leading Hotels of the World, the intimate property has just 19 rooms and suites, a tennis court, sculpture garden, and three restaurants and bars including The Portico by Jeffrey Thompson, an elegant fine dining restaurant in an enclosed glass colonnade with just eight tables. Info: wheatleigh.com.