HARBORING LOVE
A Cozy Inn Has Hearts Aflutter On The North Fork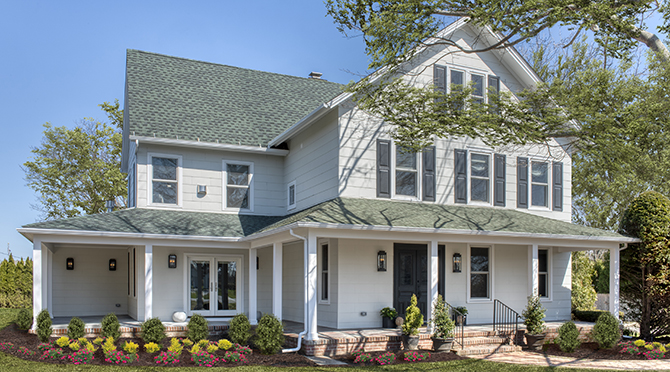 By Bailey Beckett
It's not uncommon for guests at the South Harbor Inn to get déjà vu: haven't I been here before? It may be an Inn, but it feels like a Four Seasons or Mandarin Oriental. There are Frette linens on the bed, Diptyque amenities in the bathroom, plush robes hanging in the closet, and small hidden clues that you are indeed somewhere different, like a lint brush, make-up remover and even a hair dryer. It is these details that make the upscale B&B a magnet for discerning travelers looking for a quiet or wine-soaked retreat to Long Island.
Hospitality veterans and owners Alex Azcona and Dan DeVito, from (surprise!) Four Seasons and Mandarin Oriental respectively, would have it no other way. "We both have such a passion for the hospitality business—now we can do what we love in a place that we love," said Azcona. Echoes DeVito: "It's a dream come true to be able to introduce guests to Southold's small-town charm, delicious local restaurants, wineries, and the natural beauty of the area's beaches, bays. and countryside."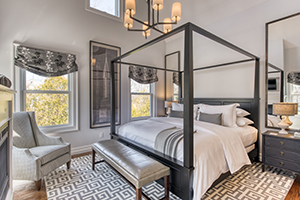 South Harbor Inn
THE PERFECT WEEKEND AWAITS
That's if you want to leave. With just four rooms, South Harbor Inn, originally built as a cross gable-style farmhouse in 1898, is a cozy respite in the country. In addition to luxe guest rooms, including one with a free-standing bathtub that makes bubbles bountiful, the inn features lots of small, stylish public places, like living room, parlor, and patio. The attention to detail is impeccable: bespoke furnishings, a fascinating collection of books, impeccable décor. South Harbor Inn also has a large communal dining room table for breakfast, which Alex makes with the enthusiasm of the most seasoned chef. Simply put, this is the perfect place to curl up with a good book, glass of wine, plate of cheese, or just scroll through your phone to delete messages you now have time to delete.
Of course, the main attraction is the North Fork and its beaches, bays, wineries, restaurants, boutiques and seasonal fares make it especially convenient. Nearby Greenport has dozens of dining options, from the casual to upscale, like the breezy American Beech (americanbeech.com/home), offering unpretentious dining in a 19th-century horse stable, or the sleek Noah's (chefnoahs.com/about), where seasonal fares are reinterpreted by chef Noah Schwartz through the lens of Sonoma-meets-the-North Fork. A burger at the Whiskey Wind (whiskeywindtavern.com), a shabby chic tavern on the main drag of town, is also a relaxed way to enjoy a spirit and burger in the middle of the day. Even closer to South Harbor Inn is A Lure (alurenorthfork.com), a chowder house and oyster-ia offering terrific seafood in a bayside setting.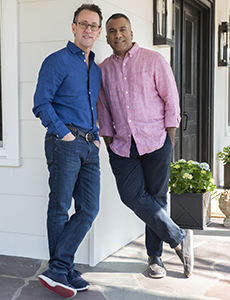 Alex Azcona (right) and Dan Devito (left)
GRAPE ESCAPES
A prime reason to go to the North Fork are the wineries, and there are several in particular you'll want to visit. Shinn Estate Vineyards (shinnestatevineyards.com) is perhaps the most upscale. The family-owned winery and farmhouse, in the heart of the island, offers a variety of blends for tasting or purchase, including a 2018 "First Fruit" Sauvignon Blanc, 2016 Sparkling Brut, or Estate Merlot among others. Jamesport Vineyards (jamesportwines.com) offers what it calls "an iron first in a velvet glove," owed to its "artful balance between ripeness and restraint, softness, and structure" (there are also pizza bites on the menu. Sold!) The oldest winery in Long Island is Castello di Borghese (borghesevineyard.com), which offers French grape varietals in a family-like setting. And just up the street from South Harbor Inn (we promise, because we walked it!) is Croteaux (croteaux.com/home), the only rosé vineyard in the U.S. where merlots, cabernet Francs and sauvignon blancs are made on the estate, mixing traditional tastes of southern France with the signature, seaside style of North Fork.
So, grab the weekend bag and get going. The wine is perfectly chilled, and your luxury bedding awaits.
For more information on South Harbor Inn, visit southharborinn.com.