BITS & BAILEY
The Who, What & Wow Of The Luxe Scene
By Bailey Beckett
Cheers, dears. The social scene is in full swing, offering a calendar filled with parties, galas, benefits, dinners, restaurants, store openings and cultural events, not to mention foliage in Central Park and on residential streets. It's one of my favorite months (I also like January when I get to wear Hermès sweaters). In the meantime, dear readers, feed on these tasty morsels.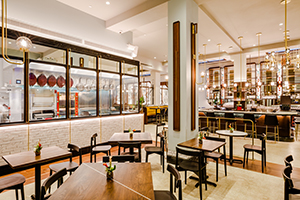 Leonelli Taberna Dining Room
©Alex Staniloff
ROME HOME
A delightful surprise on the culinary scene is Leonelli Taberna, a casual Roman-inspired trattoria, craft cocktail bar and lounge located in The Evelyn Hotel in the city's chic NoMad neighborhood. Its ambiance—art deco design and rich color palette of dark woods, green marble, and amber tones—bridges Old New York with Old World Italy, but it's the menu that charms: rustic Italian cuisine inspired by historic Roman eateries. Some of the favorites include Pesce and Carne; vegetables which Chef Jonathan Benno sources from produce in the neighboring Union Square Greenmarket; bread baked using flour milled at the restaurant; Salumi sourced from artisanal producer New England Charcuterie; and selections like stuzzichini, antipasti and pasta Al Forno that can be shared by the table, or enjoyed as an entrée with an Insalata of fresh vegetables.
"Since I was a kid, I've always had a love affair with Italian food," says Benno. "The comfort of it reminds me of sitting around the table with my family and eating my grandma's eggplant parmesan, made with eggplant picked from our garden. That's the feeling I want to recreate for guests at Leonelli Taberna." In naming the restaurant, Benno wanted to pay tribute to The Eternal City. Leonelli, he reasoned, refers to the significance of the lion and the "strength, courage, leadership, and 'the majesty of the Roman people." Info: leonellitaberna.com.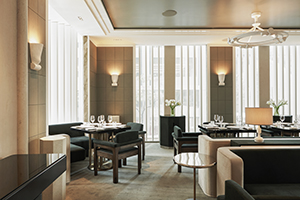 Shun ©Adrien Dirand
SHUN THIS SPOTLIGHT
Also tickling my fancy this month is Shun, a contemporary French restaurant with Japanese influences in midtown off Lexington Avenue. Helmed by Michelin-starred Chef Alain Verzeroli, longtime protégé of legendary French Chef Joël Robuchon and designed by award-winning French architect Joseph Dirand, the Art Deco-designed restaurant and bar features a 58-seat dining room and open kitchen and Bar Shun, a cocktail lounge with 38 seats. Pronounced "shoon," the restaurant is named for the Japanese culinary tradition that celebrates seasonal food at its peak flavor, which is deeply ingrained in Japanese culture.
Its menu features cuisine grounded in French technique, selectively integrating Japanese flavors and aesthetics. Divided into four sections, it includes dishes like Scallops Crudo, Beets & Radishes, Citrus, King Crab, Daikon & Herbs, Honey, Lemongrass Lobster, Tomato Confit, Leeks and Shun's Long Island Duck à l'Orange, Peach and Cherries. "Shun combines my experiences working in both France and Japan," said Verzeroli, who most recently served as Director of Culinary Operations at Château Restaurant Joël Robuchon in Tokyo. "Our aim was to create a luxurious yet minimalist space focusing on the Japanese philosophy of seasonality. Everything will serve to calm the senses from the exquisite design and the chosen color palette to the menu, and artisanal tableware settings imported from Japan and France." The décor is just as striking. Interior elements evoke Art Deco glamour with a dramatic mix of rich materials, including two tones of Alcantara fabrics for the walls and seating; Italian ivory marble walls and floors; striking dark woods; mirrored glass, and three types of bespoke lacquer. Dirand also custom-designed the furniture including velvet upholstered banquettes, armchairs, tables and consoles. French artist and sculptor Philippe Anthonioz was commissioned to create chandeliers and wall sconces with a white plaster finish that adorn the double-height ceilings. Info: shun-nyc.com.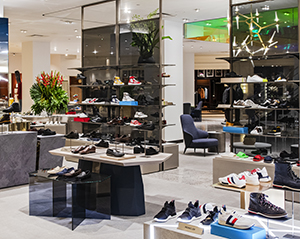 Saks Men's Shoe Floor
MAD FOR SAKS
It's no secret Saks Fifth Avenue is one of Bailey's favorite abodes—I once had my mail forwarded there—and I'm not yet over-the-swoon of its recent renovation, which included creating a second floor beauty destination and adding the chic-eat-meet L'Avenue to its top two floors.
But my Y chromosome attracted me to something more over the top: An 8,000-foot shoe destination bringing all its 60 brands—including Alexander McQueen, Balenciaga, Brunello Cucinelli, Burberry, Celine, Dior, Fendi, Givenchy, Gucci, John Lobb, Prada, Saint Laurent, Salvatore Ferragamo, Valentino, Versace and 15 new brands—on the sixth floor. Also on the floor, you'll find AGLIT ITALY Lace Bar for personalization; made-to-order programs with luxury brands and a Leather Spa shoe shining and repair station. "Luxury footwear is the gateway for men's customers into fashion and the new shoe experience is just the beginning of exciting things to come for our menswear offering," said. Marc Metrick, President, Saks Fifth Avenue. "Men's is a growing category at Saks, where we have seen a consistently positive customer response both in our stores and online. We are continuing to redefine the luxury shopping experience while giving our customers another compelling reason to shop with Saks." I'm sold!
But the lux doesn't stop with the lads. As part of its grand renovation, Saks also premiered The Vault, 12,000 square foot space dedicated to high fine jewelry and watches. The Vault houses an assortment of more than 25 brands, 20 of which are new to Saks New York, including one-of-a-kind and limited-edition pieces. It's the largest selection of men's watches Saks has ever offered. Accessed by a Rem Koolhaas-designed escalator, the new space also features six high fine jewelry shop-in-shops, eight vendor-designed watch shops, and two additional private VIP rooms.
In addition, there's an International Lounge, which offers a multilingual concierge service for global visitors, daily store tours and jewelry and watch repair services. A centrally located Exhibition Space will serve as an area to feature brand partners, guest curators, special collaborations and more. "We have created the ultimate luxury destination for high fine jewelry and watches in New York City," said Tracy Margolies, Saks Fifth Avenue, Chief Merchant. "The Vault takes the Saks Fifth Avenue flagship experience to the next level." Info: saksfifthavenue.com.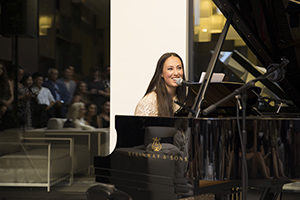 Sasha Siem ©Caroline Fiss
FASHION SLEEK
On the eve of New York Fashion Week, British singer/songwriter Sasha Siem serenaded a VIP gathering at the tony Park Loggia, a new luxury residential building on the Upper West Side. Sponsored by the Daily Front Row, the intimate party featured Siem performing five of her songs from her upcoming album, Holy. More than 100 guests stood mesmerized as Siem sang as she played the Steinway piano, even eliciting a sing along to her hit single "Holey, Wholly, Holy." Attending the soiree were Siem's business partner Shani Lehrer from Sound Sanctum Records, the label they have started. Also in attendance was People magazine editor-in-chief Dan Wakeford, super model Alex Lundqvist, made famous from Hugo Boss; The Voice winner Chris Weaver, ShoesOf's Lexi Cross and Huston Conti. Hosted by Gillian Miniter and Marc Rozic, the event served as a pre- kick off to NY Fashion Week, where Siem would go on to win New Wave Artist of the Year at the Fashion Media Awards. The setting of the Park Loggia for Siem's coming out party proved brilliant: the soaring structure on West 61st Street is one of the most buzzed about buildings in Manhattan. You just knew you were in for a special night as soon as you entered the Park Loggia's private porte-cochere entrance into a lobby featuring a double-height ceiling with a sculpted terra-cotta detail and and custom rock crystal chandeliers. Info: Sasha Siem (sashasiem.com); Park Loggia (15w61.com).