SISTER ACT
How Hackett Interiors Brings Design Detail To Make The Look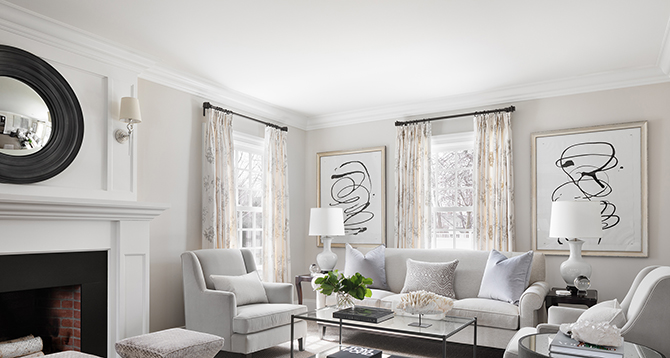 ©Emily Sidoti
By Cecilia Ruane
Officially founded in 2016, Hackett Interiors is a passion project between two sisters, Meghan Hackett-Cassidy and Erin Hackett. Meghan has been working in the interior design industry for over ten years, and before starting her own business, worked for Ken Gemes of Bronxville, NY and Victoria Hagan of New York, NY. With her little sister's background and expertise in marketing and business operations, the two decided to join forces in the launch of Hackett Interiors—the Bronxville, NY-based interior design firm known for its incredible mix of high and low, its sophisticated yet functional projects, and its adored sister duo behind it all.
"The best part about a project is getting to know our clients and their families," says Meghan and Erin. "We take a lot of pride in designing spaces that are reflective of how they're utilized and make sure that style is not sacrificed entirely for function." When it comes to working with a designer and finding the best fit for your next renovation project, Meghan and Erin highly suggest taking your time to find a design team. Search for someone who understands not only your design interests and style, but also your lifestyle, your family needs, and all of the other daily functions of a household.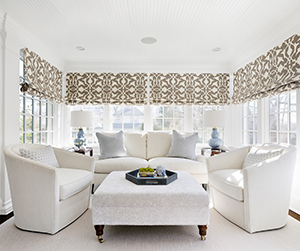 ©Emily Sidoti
PERSONALITY & LONGEVITY
It's crucial. If you find someone that understands the details that go beyond your favorite paint colors or pillows (though, important!), the process will be far more enjoyable and effective. The duo recommends asking questions at the beginning and throughout the design process. They also stress asking additional questions that touch on your lifestyle and its function. When designing or renovating your home, the process should never be rushed, as full home projects are typically a longer-term commitment that a single-room renovation.
The duo loves to mix high and low pieces, and their ultimate goal is to design a home with personality and longevity. Most recently, they completed a stunning home in Bronxville (pictured here on these pages) that represents the ultimate marriage of livable luxury. The clients, a husband and wife duo who work full time in New York City and who grew up in Bronxville, wanted the design to be reflective of the home's classic architectural elements. Sticking with a primarily neutral color palette, Meghan and Erin brought in a variety of accessories for the client that add sophisticated color and pattern pops. From playful wall-coverings to chic wall art, and beyond, the living spaces, kitchen nook, and the bedroom were given a bright revamp.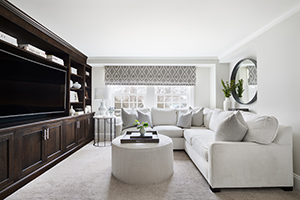 ©Emily Sidoti
MAKING THE MOST OF SPACE
The home's natural bright light and windows throughout set the scene for a muted and tonal color scheme, but the sisters wanted to ensure that each space didn't fall flat. In the living spaces, for instance, sleek accent décor was added throughout including ottomans that could be easily-transitioned for entertaining or extra seating, along with coffee tables, mirrors, and artwork. The scale of each room was extremely important to the duo as well. Meghan and Erin always make sure to map out a floor plan to ensure that they can make the most out of a space without overwhelming or underwhelming the room. For example, in the TV viewing room, the duo incorporated an L-shaped sofa against the wall with a single ottoman and side table facing the built-in television. These choices allowed for a functional and comfortable room that wasn't too overcrowded or busy.
The kitchen nook is perfect for quick or on-the-go mornings which is typical for many of Hackett Interiors' busy clients. Meghan and Erin wanted to give this client, in particular, an area in the kitchen that was designated for more than just sitting. They added a wide variety of plush pillows, a round eating table, and two additional chairs on the opposite side, creating a more formal eating area without making it feel like an entire dining table or setting. With a muted and tonal color palette in the decor, space strays from all-white and lackluster without feeling out of place in the primarily white kitchen. Meghan and Erin often opt for sleek grays, and off-blues, to beautifully enhance an otherwise neutral space without clashing in the overall theme. The entire home ultimately carries a cohesive color palette and aesthetic throughout each room that allowed the duo to bring in pieces that could function in a variety of spaces.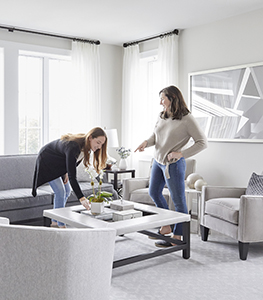 Erin (left) ad Meghan (righ) ©Emily Gilbert
RETHINKING YOUR FOREVER HOME
Very true to the style that Hackett Interiors have become well-known for and much sought after, the result of this home was an environment that felt and looked luxurious while it also functioned as an every-day space for work, play, entertaining, and beyond for the client.
If you're looking to design or renovate your forever home, Meghan and Erin suggest looking for a design team that not only create for longevity but also reflects your style as well as a style that is in line with your home and its bones. Often, the project goes far beyond the "big stuff," and it's the details that your designer will be bringing in that will make the most difference for you and your family.
For more information on Hackett Interiors, visit hackettinteriors.com.